Welcome to Web Summit Lisbon 2022, one of the world's leading tech conferences, which brings together the most important personalities from the tech world! Here is our overview of the agenda.
Web Summit took place on Nov. 2-4 and brought together over 71,000 people from 160 countries. 1,050 speakers from very different fields shared their ideas on multiple topics from medicine to leadership and engineering. Aside from tech developers, world leaders, sports stars, musicians and actors took part. For example, Olena Zelenska (Ukraine's First Lady), Noam Chomsky (American linguist, philosopher, cognitive scientist, historical essayist, social critic), Cristina Ferreira (Portuguese television presenter and businesswoman), Toto Wolff (Austrian billionaire motorsport executive, investor, and former racing driver) and Her Majesty Queen Rania Al-Abdullah of Jordan - the mix was impressive. In 2022, Web3 was one of the biggest topics for discussions at the WebSummit without exception.
Here is the list of highlights that we would like to share and discuss with you:
On the second day, heated debates on the future of cryptocurrencies took place. The positions varied from "Crypto is ruining people's lives" by Molly White, Web3 Is Going Just Great creator, to suggesting that crypto can be the alternative to the existing financial system that "let's be honest, fucks people," by Charles Hoskinson, founder of Cardano.
CZ talked about Binance's $500 billion investment into Twitter and shared his opinion on this crypto winter saying that crypto is the most stable thing - and it hasn't changed:
Herman Narula a British Indian businessman, the co-founder and CEO of Improbable Worlds Limited, explained why Facebook Meta has nothing to do with real metaverse and is more like a video game. In a nutshell: a completely closed platform, the experience that is not appealing to users and lacking in hardware. By the way, Facebook Oversight Board said that allowing former US president Donald Trump to return to the social media site is now possible.
Theneo won PITCH contest - a live onstage battle for the world's leading early-stage startups. Theneo is a Georgian AI platform to generate high-quality, interactive API (application programming interface) docs and converts them into a variety of programming languages. Among other finalists were Gataca, an enterprise software solutions startup from Spain, and Biome Diagnostics, a medtech and pharma startup from Austria. All in all, nearly 2,300 startups were presented at the Summit (and more than 1,000 investors - we hope there were a lot of good matches).
Representatives from the world of sport were here too. Toto Wolff, team principal and CEO of Mercedes-AMG PETRONAS Formula 1 talked about giving F1 a tech edge - using technology and real-time analytics to make champions on the tarmac. Besides Socios.com CEO Alexandre Dreyfus with a former Italian footballer Alessandro Del Piero discussed blockchain's influence on fandom in sports.
Julia Goldin, global chief product and marketing officer in Lego Group talked about the safe inclusion of childrenin Web3:
"We want to make sure that children have the opportunity to participate in this world [metaverse], and to protect their right to play. This is really important, because web 2.0 was not designed with kids in mind. The majority of kids are on digital platforms that are not safe for them; that don't protect them,"- said Julia.
CBDCs were discussed too: Japanese pavilion hosted Soramitsu that talked about Cambodia's Bakong digital payment system. Richard Werner — development economist and professor at De Montfort University, called CBDCs "a declaration of war against the banking system.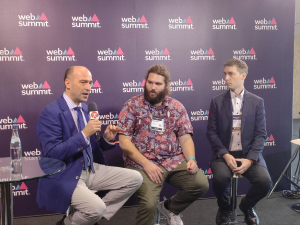 No big event can be free from politics: Ukraine's First Lady Olena Zelenska took part in an opening ceremony and Ukraine's Vice PM Mykhailo Fedorov came to look for alternatives to Starlink and to attract investments to the country:
"Ukraine is future IT hub of Europe. Time to invest in our IT, because leading technologies is a way to victory," he said talking about building a better Ukraine.
Another [surprising for a tech conference] topic for discussions was "femtech": women's health, the challenges that business women and female leaders face etc. Also, the use of NFTs for philanthropic initiatives was discussed:
"How can we connect more people throughout the world, raise more money, create more impact, and do it in a more transparent way?" - asked Eva Longoria while talking about it.
Some more announcements that we found interesting:
It was announced that leading blockchain and Web3 players including Bonfida, Tezos Domains, Polkadot Name System, Hedera, Syscoin, and Klaytn Name Service, formed the Web3 Domain Alliance which aims to prevent malicious phishing attacks, bad actors impersonating Web3 "top-level domains," cybersquatting and Web3 domain collisions:
"There's not an ICANN [Internet Corporation for Assigned Names and Numbers] for Web3. We don't think there should be. We think there should be some sort of self-regulating in the spirit and ethos of Web3. We think there should be a group like that, that helps to discuss and talk about that. That's the group that we have just announced today."
Arevo which produces 3D printing parts has partnered with Animoca Brands to produce a line of custom carbon fibre bikes inspired by and decorated with individually owned NFT artwork to link "unique digital goods with unique physical goods".
💡 To have a deeper dive we recommend you to watch broadcasts of the WebSummit here: Day One, Day Twoand Day Three.
Have you visited WebSummit or watched it online? Please, share your experience with us! What was the most interesting and most important in your opinion? What would you like to learn more about? We're looking forward to your comments and plan to visit WebSummit next year to share our observations with you in real time.
Comments