At the end of October, Huobi announced the exclusion of the HUSD stablecoin from its listing, after which the stablecoin quickly began to lose its peg to the dollar. The exchange's headquarters will also be relocated to the Bahamas.
In 2022, there were already cases when HUSD sank greatly in price and lost its peg to the dollar. There were quite a lot of reasons for such a deviation on August 18 , but what the main reason was is still not clear. Today the situation looks more unambiguous.
As part of the development of the Huobi Global blockchain ecosystem, on October 27, the exchange announced the termination of the HUSD listing. Users have also been notified that their HUSD assets will be converted 1 to 1 to USDT.
"The service termination and delisting of HUSD will start at 08:00 (UTC) on October 28, 2022. In the meantime, users' HUSD assets will be converted to USDT assets at a 1:1 ratio. We will publish another announcement to notify users of the completion of the conversion, which is expected to occur before November 4, 2022 (GMT+8)."
This decision has had a very strong impact on the value of HUSD. According to CoinMarketCap, after the announcement of the delisting, the cost of the stablecoin began to decline, reaching a low of $ 0.2887 on October 31.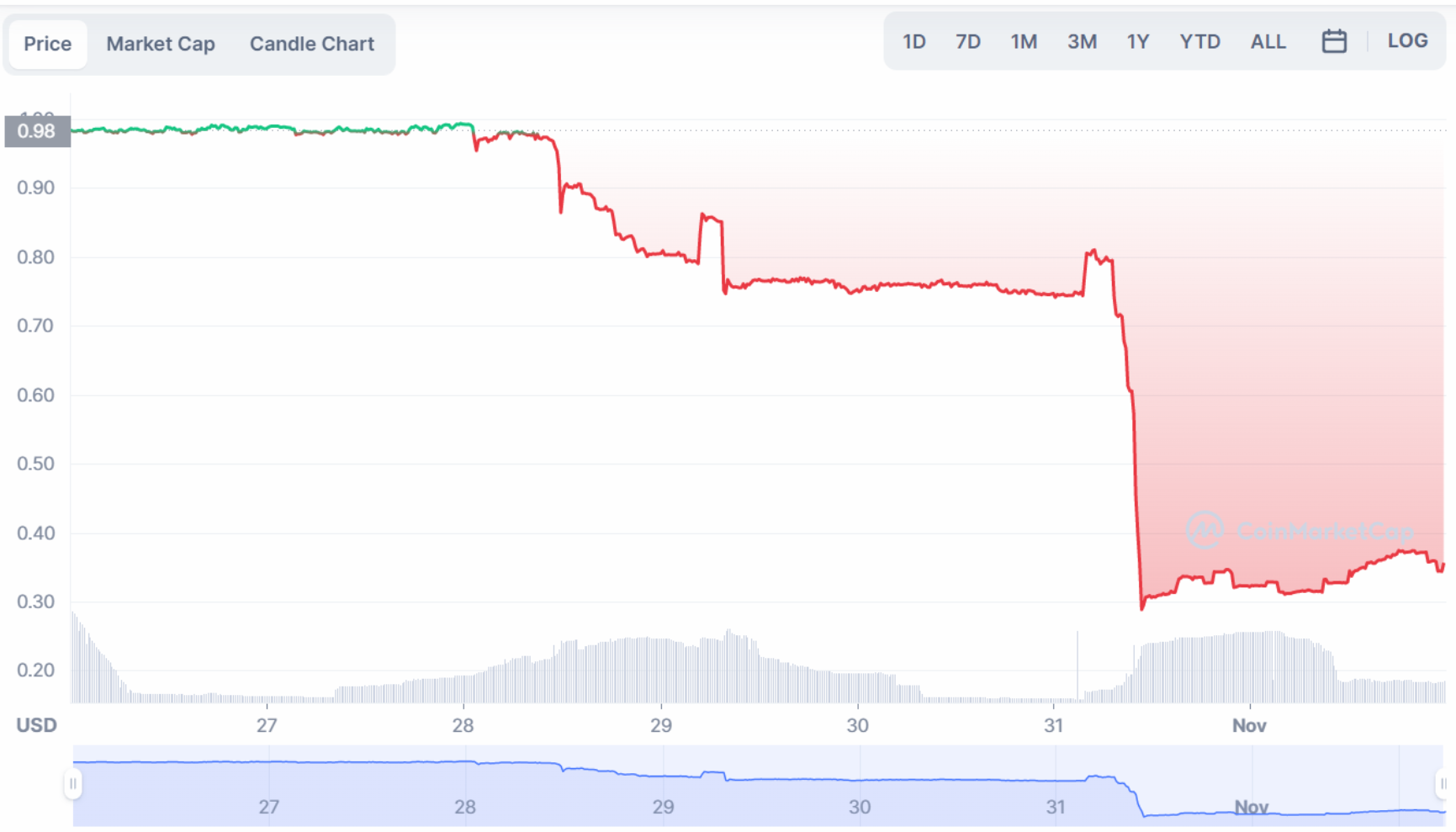 A few days later, an appeal to users appeared on the official website of the company, from which it transpired that Huobi was no longer associated with HUSD since April of this year.
"HUSD is a stablecoin that's issued by Stable Universal Limited. As early as April 2022, Huobi and its then affiliates already sold out all their stakes in the HUSD business after friendly negotiation with HUSD's issuer. At present, Huobi Global has no business relationship with HUSD or its issuer".
Huobi was recently acquired and is currently going through a restructuring process. New people in management have actively taken up work, so the exchange is waiting for innovations. Recently it became known that it has plans to move the headquarters of the exchange to the Caribbean. This was announced in an interview for the Financial Times, one of the new managers of the company, Justin Sun, also shared this news on his Twitter.
Huobi are not the first to realize that the Caribbean is a great option for running a crypto business. For example, in September last year, the large FTX exchange also moved its headquarters from Hong Kong to the Bahamas.
We can assume that in the near future we will be hearing news about Huobi more often, because big changes are clearly taking place in the company now. Let's hope that the innovations will benefit the exchange and will contribute to its development. And we will continue our observations and share the news with you.
Comments