Just a couple of months ago, we were mourning the slow growth of the NFT markets, which now is showing us the highest trading volume recorded since June 2022. According to data from platform DappRadar, NFT sales jumped up by 38% on a month-to-month basis to $946 million in January. What's more, NFT sales increased by 42% compared to December 2022 – and the numbers keep on rising. So, this February, we finally see the light at the end of the tunnel in terms of NFT trading.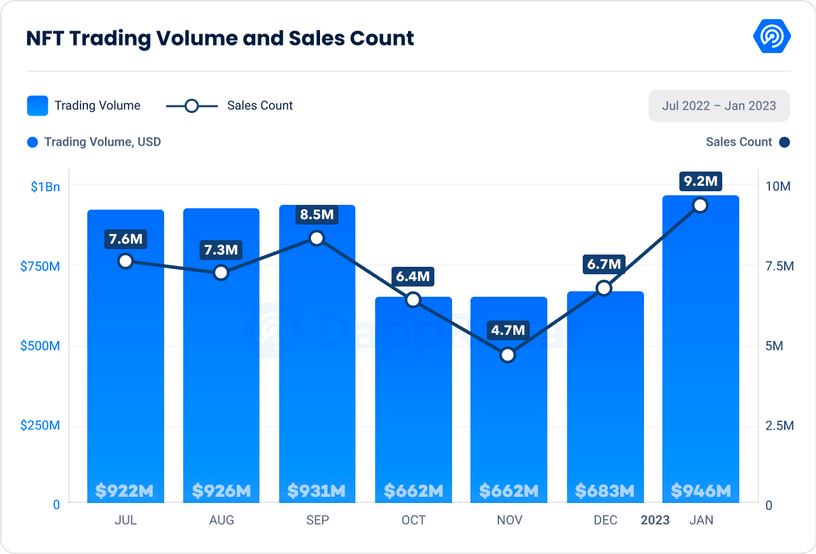 Ethereum is leading the NFT blockchains charts as usual. The popular blockchain solution reached +36 billion in all-time sales (as of January 2023). However, Solana and Polygon blockchains are close contenders. In fact, Polygon reported a 124% increase in NFT trading volume this January.
Many believe that the NFT market surge in January was partly fuelled by the release of Yuga Labs' Dookey Dash game and the Sewer Pass. This coveted NFT pass was accessible only to the elite members of the Bored Ape Yacht Club and Mutant Ape Yacht Club.
Sceptics had declared the NFT market a thing of the past as activity and prices dwindled in recent months. But with broadening activity and growth in the prices of major projects, it remains to be seen if the recent upward trend, largely propelled by the Bored Ape Yacht Club, will carry on. We continue to observe.
Comments