Sui is declared as a Level 1 blockchain running on the Move programming language. It supports smart contracts and its architecture is designed to provide for cost-efficient storing of on-chain assets. The main network was launched on May 3, 2023. All caps SUI is its utility token used to pay network fees, staking rewards and governance.
Sui collaborated with the largest cryptoexchange Binance to launch the token. On April 30, Binance announced that two pools, BNB and TUSD will be opened for SUI token farming in Binance LaunchPool.
💡
Binance LaunchPool is part of the Binance LaunchPad platform - a tool that helps projects with crypto crowdfunding, formerly known as ICO. Unlike Launchpad, where the new tokens are exchanged for crypto, LaunchPool temporarily locks the investment funds and participants receive the new tokens as rewards, similar to staking. For the users, it provides an additional return on their crypto assets. The token-issuing projects get Binance's support in marketing and listing, as well as get their tokens distributed to active users. Binance gets additional liquidity on its platform.
According to the announcement, Binance planned to distribute 40 million SUI tokens in staking rewards, 0.4% of the total circulating balance, in BNB and TUSD pools. (BTW, noted TUSD again? Binance focused on TrueUSD stablecoin after being blocked from issuing its own BUSD)
The successful launch of the main Sui network took place on May 3, as planned.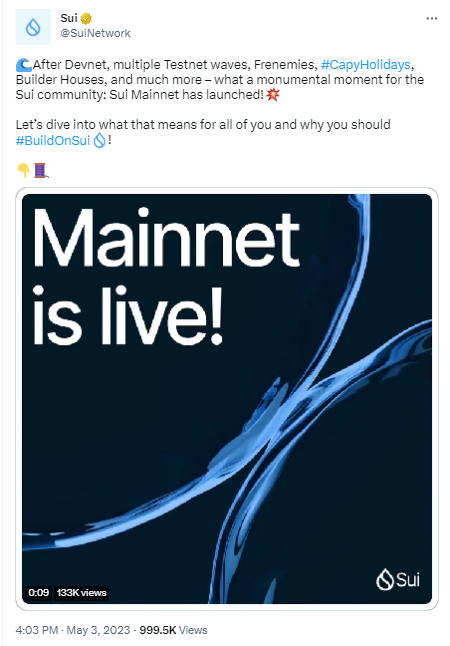 Managing Director of the Sui Foundation, Greg Siourounis, shared his excitement with the launch, emphasizing the advantages that the new project brought:
For the first time, builders and users have access to a Layer 1 blockchain that allows developers to build freely, without being inhibited by complex infrastructure…
The SUI token has been listed not only on Binance but also on Huobi, KuCoin, ByBit, OKX and Poloniex. In just one day after the launch of Sui, spot trading volumes on exchanges exceeded $2 billion. Market makers performed perfectly as was noticed by a Twitter observer. SUI traded briefly at $2 then decreased sharply. At the time of writing, according to CoinGecko, the price of SUI is $1.37, which shows a 36.8% price reduction.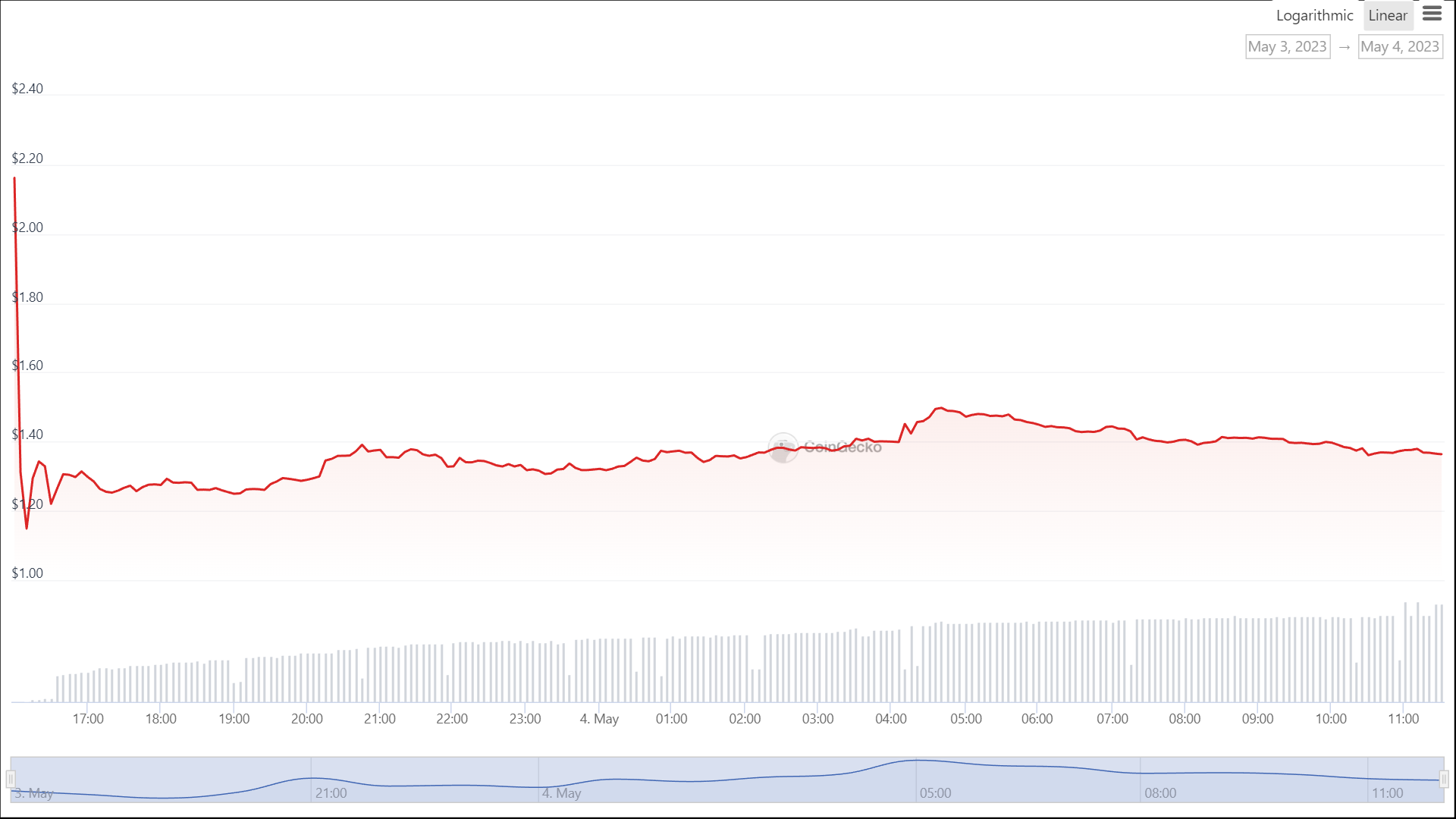 Before the launch of Sui an incident occurred that alarmed the crypto community. On the first day of Binance LauchPool Whale Alert reported that Tron founder, Justin Sun, transferred 56.1 million TUSD to Binance pool. Binance's CEO, CZ, immediately responded to that by tweeting that the exchange team had notified Sun. He warned H. E. that Binance "would take action against it" because LaunchPool is not intended for a few whales but for ordinary retail users.
After that, Justin Sun took to Twitter. He apologized and explained the translation of TUSD by a Tron emloyee mistake. He added that Tron DAO's primary objective in depositing TrueUSD was to "facilitate market-making between leading TUSD exchanges." In conclusion, the Tron DAO team contacted Binance and arranged a full refund.

This small incident made a big noise and attracted attention to Sui launch, so probably the incident with Justin Sun was not a mistake but a planned advertising move.
In any case, the objective is reached, Sui is live, and we have it on our Observation map.
Comments