On September 15, the Merge that many were waiting for, finally happened. Now that Ethereum's environmental footprint is the lowest ever, the crypto world has decided to celebrate with a new batch of eco-friendly NFTs.
Right after the Merge happened on Thursday, September 15, some creators launched new NFT collections based around the network's new eco-friendly identity. The Merge meant that the Ethereum network transitioned from proof of work to proof of stake. It was a software update that eliminated mining to verify blockchain transactions and reduced Ethereum's environmental footprint by more than 99%.
The Merge is the biggest upgrade since the blockchain debuted in 2015, and it's been in the works since 2020. The upgrade would shift the blockchain away from miners, who used high-powered energy consuming computers to solve complicated puzzles to verify network transactions. Pre-merge, Ethereum was using about 23 million megawatt-hours of electricity per year, but that figure is expected to plummet to 2,600 megawatt-hours annually, according to a study published by the Crypto Carbon Ratings Institute on September 15.
Well, let's switch to the new era of NFT minting on PoS. For instance, one of the many merge-themed projects that just launched is called Merge Apes, a collection of 10,000 NFTs with a starting price of 0.06 Ether, or about $90.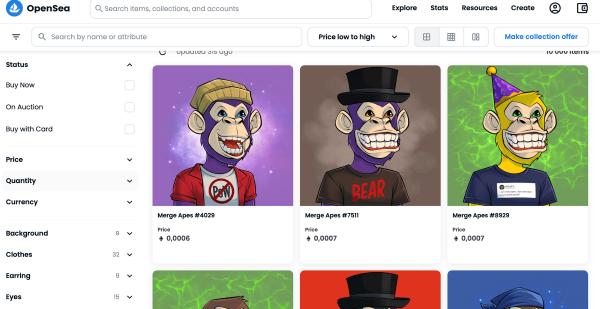 The collection is inspired by a tweet of Ethereum creator Vitalik Buterin in which he said, "I don't hate apes, I just want them to fund public good," in reference to the popular NFT collection Bored Ape Yacht Club. Merge Apes, according to the project's creators, plans to donate 42% of all revenue to funding open-source projects in and around the Ethereum community via Gitcoin Grants. As of September 22, all the Merge Apes have been minted out.
Another collection, "TheTransition: First NFTs Proof-of-Stake," includes 20 NFTs listed on OpenSea that commemorate the first block from the upgraded blockchain. Although created very early on September 15, the collection already has a minimum price of 0.35 ETH.
While some are releasing the first NFT collections on PoS, others in the Ethereum community are proudly displaying their first purchases on the new system.
Consensys, a blockchain software company, is also encouraging community members to make their first transaction on PoS by minting one of their own commemorative NFTs celebrating the Merge.
Overall, sales and prices of NFTs have surged after the Merge, according to crypto data tracker DappRadar. The event has also benefited marketplaces that sell NFTs based on Ethereum, which is the most popular blockchain for this type of token. The top NFT marketplace by all-time sales, OpenSea, saw trading volume increase 77% to $10 million on September 15, according to DappRadar. Let's further observe the future of NFTs after the Merge.
Comments