Earlier in September we wrote about Starbucks new NFT reward program on the Polygon blockchain, and there were not a lot of details about it at the time. Now when the beta of Odyssey is on, and some US users have had a unique opportunity to test it, we can look at it more thoroughly.
Starbucks Odyssey is an extension of Starbucks Rewards that unlocks access to new benefits and experiences for members. Selected participants are now able to enjoy Journeys, a series of entertaining, interactive activities to earn collectible Journey Stamps (NFTs) and Odyssey Points that will unlock access to experiences. These Journeys aim at promoting the brand and teach customers about coffee and the company's history. The activities can include watching videos or taking quizzes, playing puzzles or even tasting new drinks.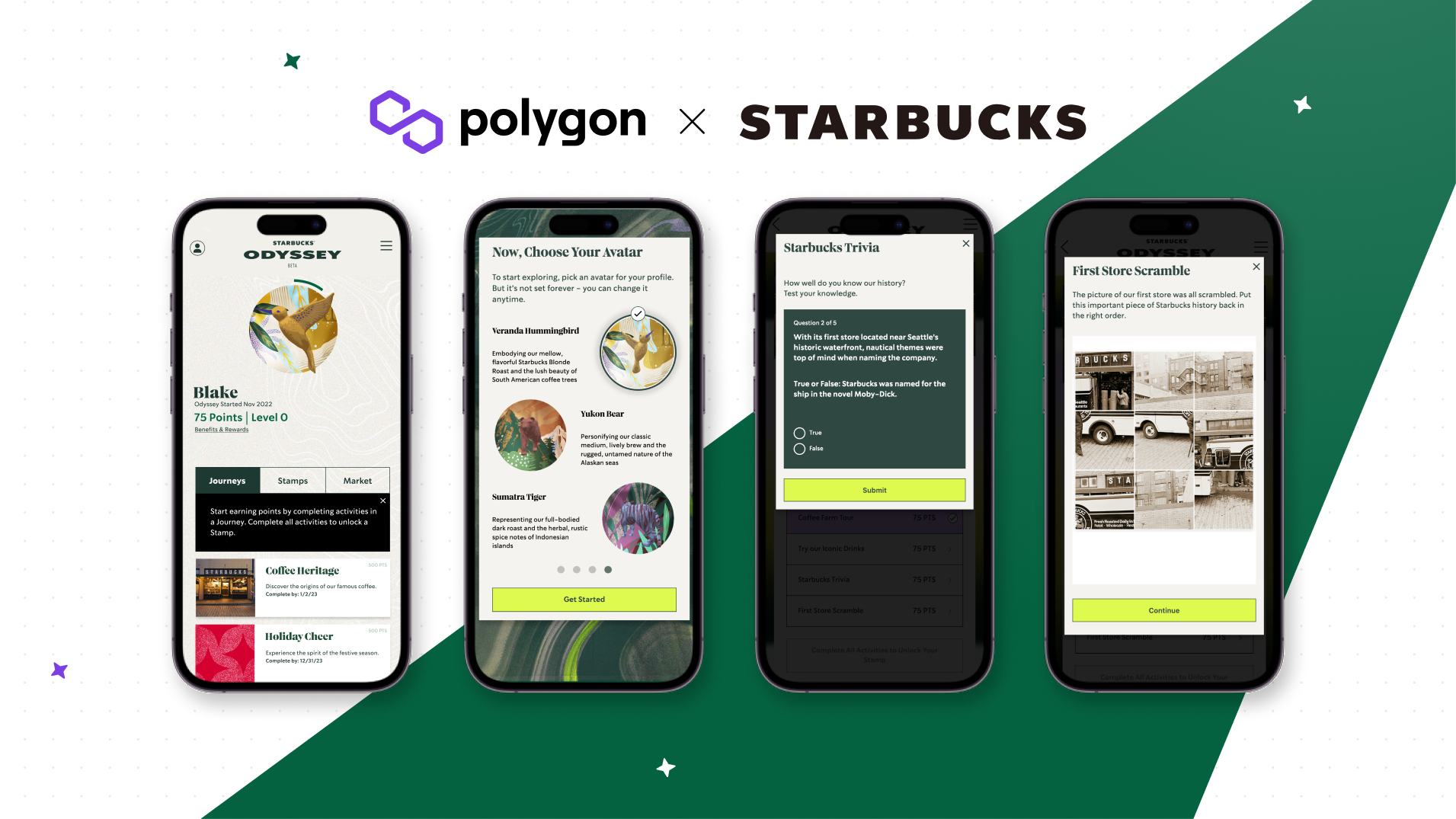 Starbucks Rewards members can join the waitlist to receive an invitation to join Odyssey. Then members will login to their Starbucks Rewards and start engaging in Journeys. For completing each Journey they will be rewarded with a Journey Stamp (NFT). Members who were invited to the beta launch also have access to the Starbucks Odyssey market powered by Nifty Gateway, where users can buy and sell their Stamps via the Polygon blockchain. Odyssey participants can purchase Stamps directly with a credit card, without the need for a crypto wallet or using cryptocurrency. The company believes this will make it easier for consumers to engage with the Web3 experience by lowering the barrier to entry.
Some Stamps are going to be unique and limited-edition. The artwork will be co-created by Starbucks and outside artists, and a part of the proceedings will be donated to support causes chosen by Starbucks employees and customers. As Stamps are collected, members' Points will increase, unlocking access to rewards and experiences that could range from a virtual espresso martini making class, to unique merchandise and artist collaborations, to invitations to exclusive events at Starbucks Reserve Roasteries or even the opportunity to join a trip to Starbucks Hacienda Alsacia coffee farm in Costa Rica.
The idea to use the Web3 world to create a one-of-a-kind loyalty program with easy consumer access is a great one. In the past, Starbucks introduced Wi-Fi in their stores to encourage customers to spend more time during visits, pushed the idea of mobile wallets and enabled mobile ordering before the COVID pandemic. However, this whole Odyssey could be just another marketing stunt from a big company. Starbucks is denying this as just a marketing ploy, but only time will tell how serious this thing is.
Comments