Telefonica, one of the world's largest telecom companies, has invested in Bit2Me, the Spanish cryptocurrency exchange. This will allow Telefonica to use Bit2Me Commerce payment method.
💡
Earlier we
noticed
that Bit2me seems to feel good despite the crypto downturn. They have got approval from the Bank of Spain to be the "first provider of services for the exchange of virtual currency for fiat currency and the custody of digital wallets", expanding to Latam and hiring more people. Still, it's worth mentioning that on CoinMarketCap Bit2Me is not at the top at all (place 90).
After concluding the investment, which according to some unverified sources is around  $30 million, Telefonica has started a pilot program that allows customers to pay with crypto at its online store, tu.com, for orders between €200 and €500. The deal is simple: just choose Bit2Me as the payment method: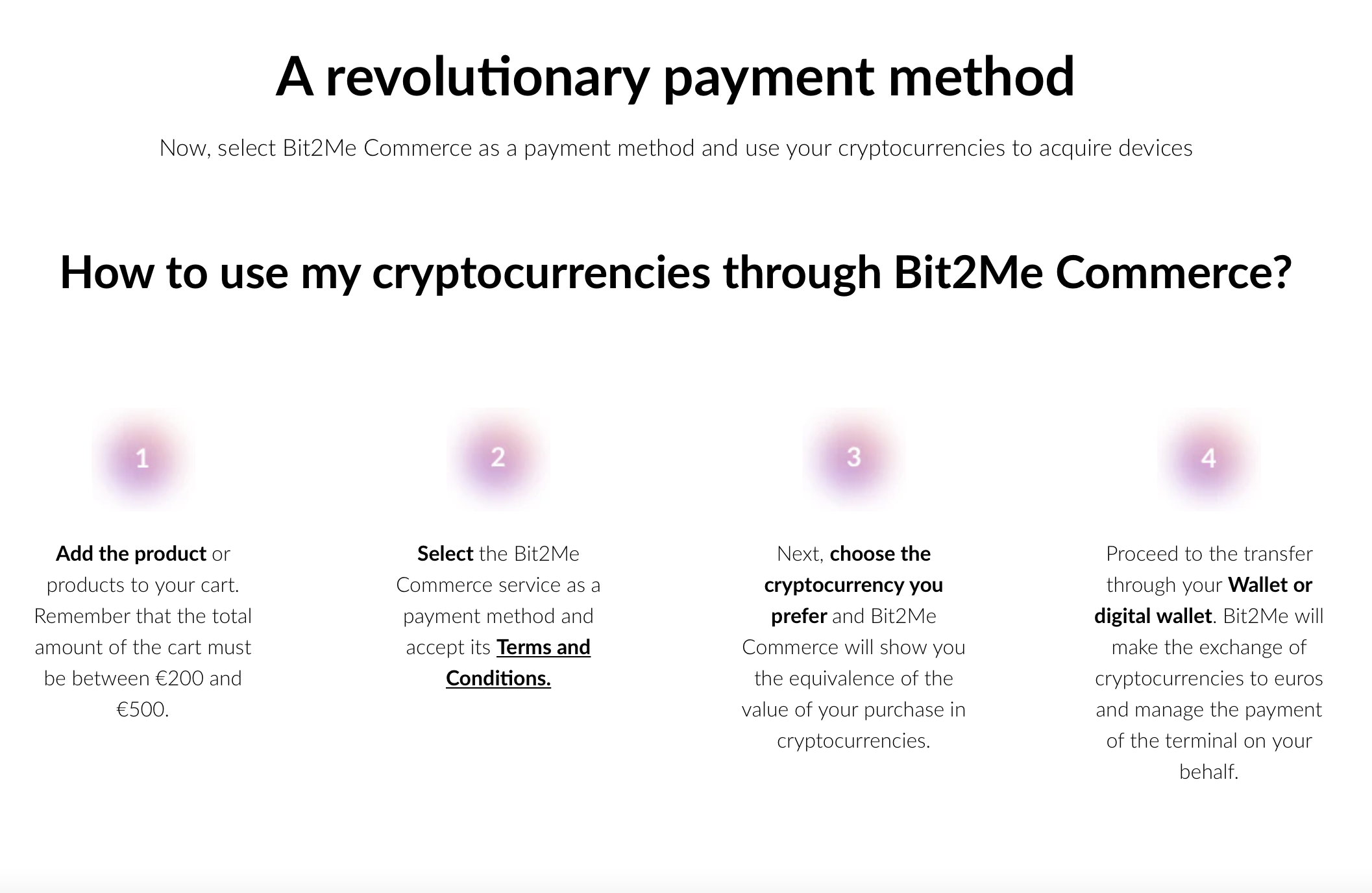 The payment can be made through 8 different currencies: Bitcoin, Litecoin, Bitcoin cash, Ethereum, Ripple , Tether USD TRC20 token, USD coin and TRON, but Telefonica will not receive any cryptocurrency: it will be exchanged for euros by Bit2Me. The exchange will provide customers with an address of a wallet where transfers are made and the exact amount in the chosen currency, according to the exchange rate.
No further plans for this project have been announced as yet but we think if the pilot programme is successful, Telefonica will allow bigger crypto payments on a wider range of services, for example, payments for telecommunications. Besides, the digital unit director of Telefonica, Chema Alonso, stated that the company might accept crypto directly sometime in the future.
The announcement about the partnership was made at Telefonica Metaverse Day where the telecom giant shared its latest achievements in Web3 and expanded reality.
Earlier the company set up its own NFT marketplace and started a collaboration with Qualcomm, a multinational corporation which creates semiconductors, software, and services related to wireless technology, to "strengthen their position as leaders in the future of XR and the Metaverse".
Comments