Solana's co-founder and CEO, Anatoly Yakovenko, initially announced the launch of Saga, a web3-focused Android smartphone, back in June 2022. Last week it was finally rolled out.
Solana says Saga was launched to make crypto products and services more accessible by including native key functionality within a mobile phone.
Apple's app store enforces strict rules around its payment system, and many Web3 apps have to make compromises just to get their app in the store. For instance, Uniswap's app was stuck in limbo for a month before it finally reached the public a few days ago.
This is one area that Saga addresses. A separate Solana app store sits alongside native Android apps. The mobile device is designed with two key technological aims: added utility for a Web3 audience and ensuring their security.
The phone previously known as the Osom OV1, built by a team consisting of former engineers and designers from Essential, has been renamed and repurposed for the crypto market. It's priced at $1,000, and preorders are already open. A $100 deposit is required, and Solana says the Saga will ship in the second quarter of 2023.
Let's talk about the basic characteristics of the device. It comes packaged in a black box that includes the phone itself, a USB-C charging cable, and a physical seed phrase paper card. This card allows you to write down your recovery phrase, which is a sequence of random words you need to access your crypto wallet. The phone's operating system is based on Android 13, and it has a 6.67-inch OLED display with 512 GB of storage.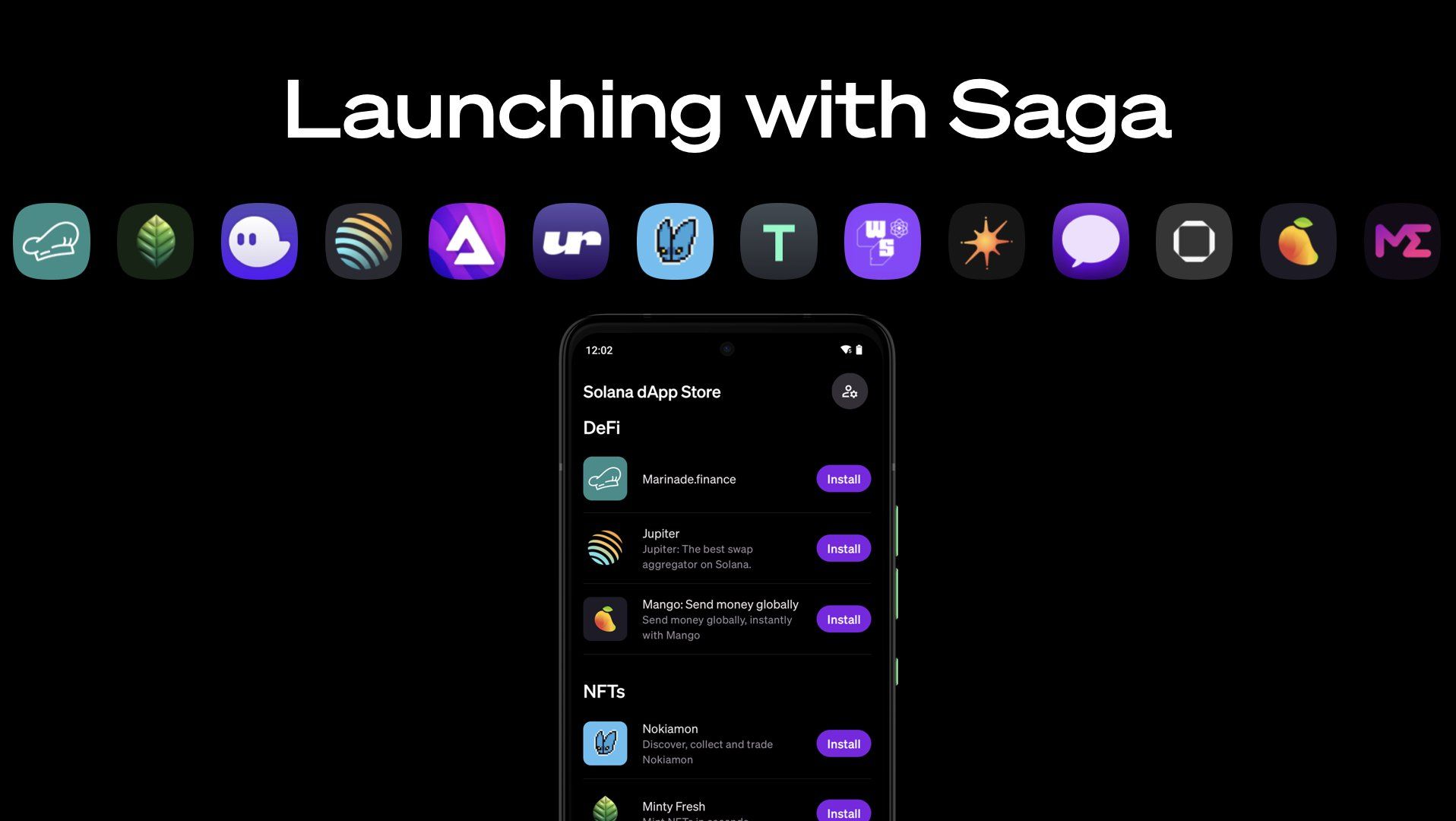 Of course, Saga can be used as a regular smartphone, but it also has a set of additional features for crypto enthusiasts:
Built-in crypto wallet: Saga enables users to store, manage, and make transactions with digital assets directly from their mobile device.
Reliable connection to Web3: The Saga crypto smartphone is optimised for interacting with dApps. Device owners can participate in DeFi protocols, while developers guarantee a secure and protected connection to decentralized networks.
Solana Pay system: A built-in payment system for fast mobile payments using digital funds from your wallet.
Ability to connect to different blockchains: The Saga smartphone ensures compatibility with various networks, allowing users to access decentralized services.
Enhanced security: Solana's crypto phone employs biometric authentication for key and personal data protection.
Seed Vault function: Keys, passwords, and seed phrases are stored separately from application software. Applications do not have access to them unless the owner opens the gateway.
AES encryption: This 128-bit block cipher algorithm provides reliable protection against exploits.
Solana Mobile Stack: Saga smartphone owners are automatically connected to a crypto app store for Android devices. The open-source software (Solana Mobile Stack) allows developers from other projects to easily adapt their mobile applications to the features of the Saga.
The dApp store features quite a few apps:
Four wallets: Phantom, Solflare, Ledger and Squads
Three DeFi apps: Marinade.finance, Jupiter and Mango
Three NFT apps: Nokiamon, Minty Fresh and TIEXO
Three social apps: Dialect, Audius Music and urFeed
And the dApp "workspace"
In addition, owners of Saga receive $20 worth of USDC and 0.01 SOL, or 0.0026 dollars, as part of the dApp store welcome package. However, the 0.01 SOL may not be sufficient to use some of the applications. The owner's reward package also includes an airdropped Saga genesis token, which is an NFT that grants access to rewards offered by dApps.
Unfortunately, our team couldn't test the phone, but judging by third-party reviews, Saga has been met with mixed feelings. The Tech Crunch reviewer admitted that using the phone was not the smoothest experience, it was generally slow and kept freezing, which was not what you would expect from a brand new phone. Decrypt, however, published a much more positive review, complimenting design, functionality and Web3 features, but still noting some issues with Web3 functionality.
Despite the setbacks Solana has faced, Saga appears to be a step forward. Solana had previously dropped out of the top 10 in market cap, experienced network outages, and seen the arrest of its biggest supporter, Sam Bankman-Fried.
However, this phone provides developers with a solid starting point for rebuilding the network's prominence. Hopefully, the phone will be interesting not only for Web3 enthusiasts, but also for a broader audience.
It's worth noting that even experienced phone makers like HTC have gone down a similar path in creating a 'crypto-phone' and failed to make any real impact. We will continue to observe the progress.
Comments