Some over-the-counter traders of FTX creditor claims are currently paying over 50 cents on the dollar according to Thomas Braziel from 117 Partners, a distressed investing specialist. He recently stated that a claim worth over $20 million was sold for between 52 cents and 53 cents on the dollar at auction on October 20. However, according to him, only the "cleanest" claims can find a buyer willing to pay these prices, while others are trading at cent values in the high 30s and low 40s.
❗
It should be mentioned that Thomas Braziel's company is actively buying FTX claims, so if nothing else, his claims to the press are a smart marketing move to attract more sellers.
Other claims trading platforms are offering prices up to 46 cents at the time of writing, compared to only 37 cents at the end of September, the last time that prices surged. The price for FTX claims has risen above those against BlockFi and Celsius, proving that traders are increasingly optimistic about the eventual settlement.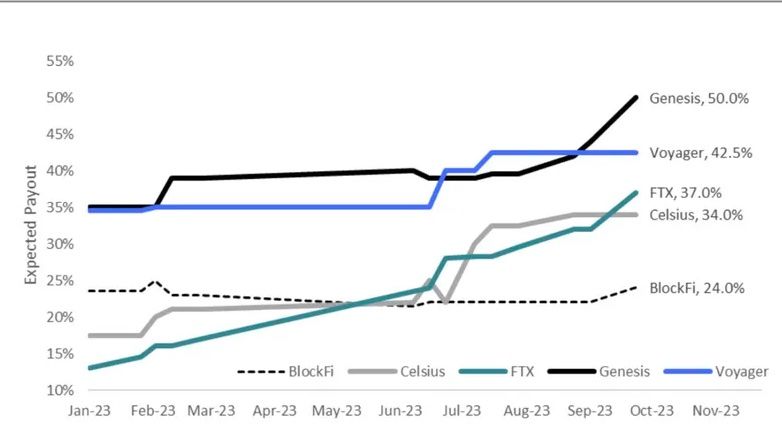 The latest price move closely follows the publication of a confusing Customer Settlement Plan and subsequent media reports wrongly claiming that customers would be receiving over 90% of their missing funds, and that $9 billion was to be distributed.
A more solid contributor to the rising value could be the recent capital-raising efforts of Anthropic, a company FTX had previously invested $500 million in. This September, Amazon announced a $4 billion investment in Anthropic, which is aiming to raise capital at a $20-30 billion valuation. Such a high valuation of the company would increase the value of the SBF's investment to around $3.5-4 billion, which should go towards recovery funds for creditors in the FTX bankruptcy.
The Anthropic investment could allegedly have been used by Sam Bankman-Fried's defence lawyers to support the argument that FTX customers and other victims would always ultimately have been made whole. However, the prosecution asked the judge to bar the use of this argument, saying that:
"such evidence would therefore be wholly irrelevant, and present a substantial danger of unfair prejudice, confusing the issues, misleading the jury, undue delay, and waste of time."
Selling their claims could be a serious consideration for many FTX customers who just want to put the whole affair behind them as quickly as possible. Although buyers of claims clearly believe that the eventual settlement will be worth more than they are paying, there is no guarantee on the timescale in which this will happen. Not only are customer funds currently tied up in the bankruptcy process for an unknown period of time, but they are also being targeted by a merciless phishing scam.
According to social media, the (already scammed) FTX victims have started receiving e-mails falsely claiming to be from restructuring administration firm Kroll, which FTX appointed to track all claims. The e-mails state that priority clients can already withdraw missing funds and provide a link from where their details will be harvested. Apparently, the users' e-mail addresses leaked from Kroll's database.
Do you feel optimistic about the eventual settlement, or would you rather sell your FTX claim? Share your thoughts, and try not to fall into the clutches of any scammers!
Comments