Rune Christensen, CEO and co-founder of MakerDAO, spoke about the need to rebrand MakerDAO's DAI stablecoin during a March conversation with the community.    
Christensen made the comments in the course of a meeting to discuss his "Endgame" proposal. The proposal aims to reorganize the decentralized ecosystem into new, self-sufficient DAOs called MetaDAOs, and is designed to help improve the Maker protocol.    
The Endgame overhaul would provide an opportunity for a full rebranding of MakerDAO, Christensen suggested, calling for a new look and name, as well as the development of novel strategies for acquiring users.  
Christensen continued by stating that he saw DAI's association with the dollar as essential for attracting users and that this should be taken into consideration when rebranding, possibly by renaming the stablecoin.
"What's the right name for a stablecoin if you're going to try to appeal to normal people? It has to have USD in it." - Rune Christensen
However, Christensen noted that a name associated with the dollar would imply a binding, but there is no guarantee that this would remain the case.
💡
To date, DAI is the fourth largest stablecoin. According to
СoinGecko
, its market capitalization is at $5.4 billion, and its daily trading volume is at $206 million.
The rebranding is discussed amid the problems MakerDAO project faces with its positioning in the competitive stablecoin market. Originally positioned as a fully decentralized design, DAI slid to a coin with more than 60 of its backing done by custodian stablecoins, mostly USDC.
On March 11, following the USDC's depegging, DAI also saw its price drop to $0.88, with the stablecoin managing to climb back to its $1 per 1 Dai valuation by March 14.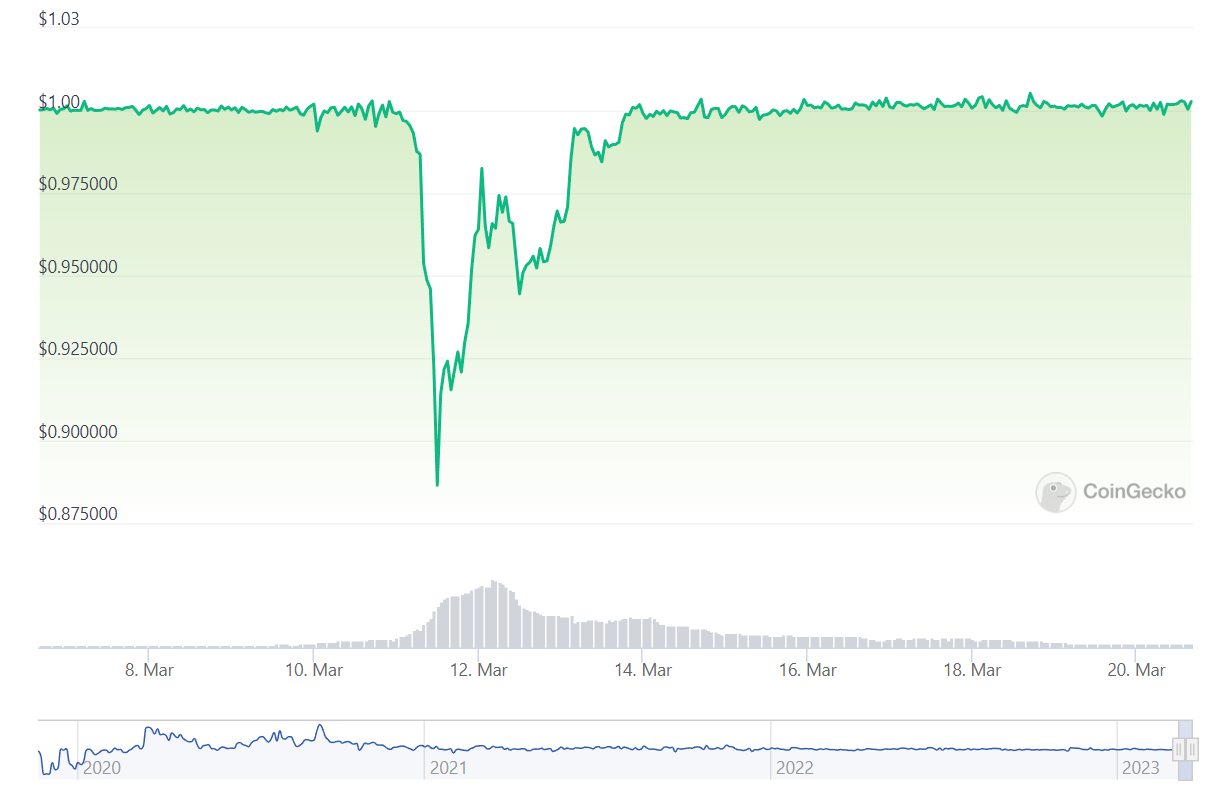 Due to the risks posed by its association with USDC MakerDAO is considering diversifying its Price Stability Module (PSM) by including $1.5 billion Paxos USDP stablecoin in it.
In the second part of the meeting, the community discussed the upcoming proposal MIP 104 on "The Decentralized Collateral Scope Framework". The proposal aims to improve how stability fees are governed and sets the minimum levels of these fees on "non-strategic collateral asset types". According to MIP 104, such vaults must generate at least 1 million DAI per year in net surplus after maintenance, oracle, and other expenses.
It appears that significant changes are due for the DAI stablecoin. It is only reasonable to expect that the current state of the market will further accelerate this process. We continue observing the transformations in MakerDAO.
Comments