Meme-coins used to be a degen's thing. Degen - short for degenerate, is often used in the crypto community to refer to a person who is trading or investing in risky crypto tokens. Or, it was a term for the occasional pump games from non-crypto celebrities like Elon Mask, who is again quite active this season, with LADYS and Spaceships tweets.
The new meme-coins, however, have also attracted many serious figures in the crypto industry.
On May 11, Justin Sun informed his Twitter followers that he wanted to engage in meme-coin trading. Of course, he warned users about the risks and promised to send all profits to charities. He also tried to distance his businesses, saying that the two exchanges he controls, Huobi and Poloniex, won't automatically list his trades.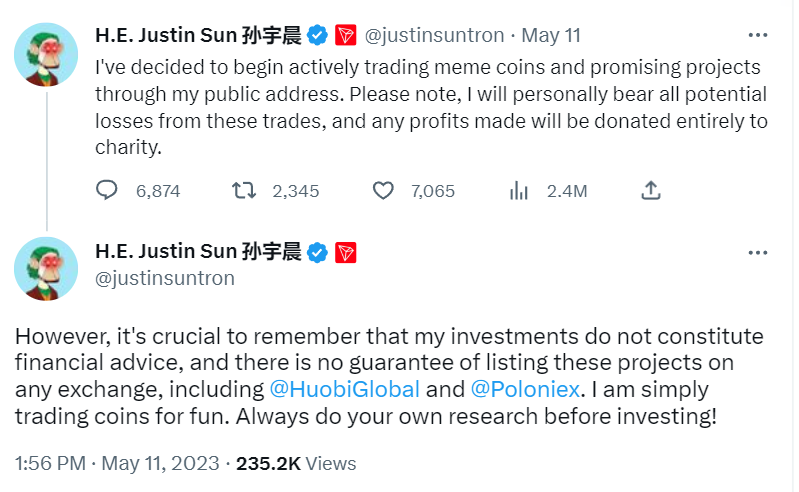 Justin Sun's move produced some immediate results. Following the announcement, he began to receive all kinds of meme-coins to his public address from projects seeking attention.
On the same day, the founder of Cardano, Charles Hoskinson, who is considered one of the most faithful blockchain theorists, opened a discussion thread about Snek meme-coin, marking it with hashtags for a larger reach.
💡
Snek is a meme-coin project on Cardano created by a Twitter account
Goofy Crisp
. The presale was done with Cardano's ADA token. At the time of writing the SNEK price was $0.000205, with a daily trading volume of $1.2 million.
The tweet caused different reactions among Cardano fans. Some welcomed the trending activity on the relatively passive blockchain project. The others showed disappointment about Hoskinson's uncovered promotion effort.
The world's largest crypto exchange Binance also took part in the promotion of Snek. On May 17, Binance released detailed instructions on how to buy SNEK tokens, although the meme-coin has not yet been listed on the exchange.
Changpeng Zhao, the head of Binance, recently expressed his overall position on meme-coins and mumbled about the listing criteria:
"…I don't really understand them, but I'm deliberately not involved in Binance's listing process. I don't have the time. And I don't want to get involved. I don't want to be pushing any coin for listings because I don't want to be associated with that process… If a coin has a lot of users trading it, wanting it, playing with it, etc., then we'll most likely list it. If the coin only lasts for two weeks, then we probably won't. But if it holds, then we probably will. So we view coins from a user perspective."
He also pointed out that SHIB meme-coin, listed on Binance, is one of the most traded coins on the exchange, implying the importance of this segment for the exchange.
We have observed the NFT rush and we are currently observing the much sillier Ordinals and BRC-20 mania. Time will tell which of these trends has a greater impact on the development and adoption of crypto technology, and for this reason we will also continue our Observations of meme-coins.
UPD: Before we could publish this article, Justin Sun has stated that Huobi and Poloniez will ease the listing requirements for meme-coins.
Comments