Our Observer from Georgia Giorgi Apkhazava shares his experience of being part of "Binance Angel" program
Who are Binance angels and what are their roles?
The position is completely voluntary and unpaid, with a flexible schedule that allows Angels to contribute in a way that suits their individual capabilities and availability. There are no specific duties, working hours or requirements associated with the position. According to Binance, there are currently 500 volunteers who serve in this role.
Binance Angels are expected to be active in local community channels, such as Telegram, where they can provide support to members by sharing relevant information about Binance. They are also encouraged to support local online and offline meetups and create content for social media activities. Additionally, Angels may test new features and products as part of their role.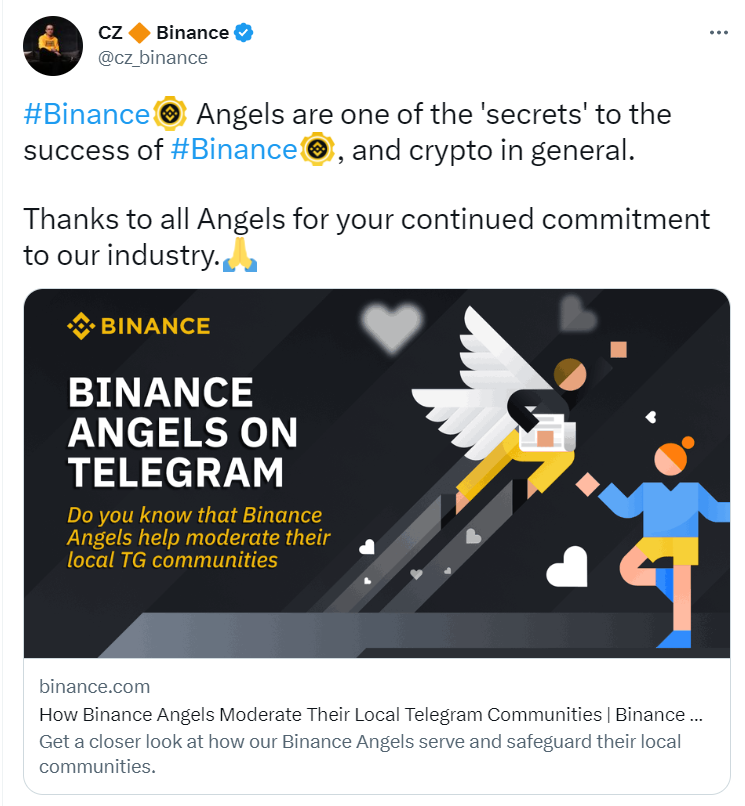 What does the Angel onboarding process look like?
Applicants who wish to become Binance Angels are required to submit their CV and other relevant information. Shortlisted candidates are then invited to participate in a brief interview with the Binance crew.
If the interview is successful, candidates are added to several Telegram groups, including a "Bootcamp" group where they can connect with other Angel candidates and a regional angel group. They are also added to their local community group, where they will be asked to provide support and follow the guidelines provided.
After a two-week evaluation process, a decision is made regarding whether the candidate will be granted Angel status or not. This process ensures that only the most qualified and dedicated volunteers are chosen to serve as Binance Angels and support the Binance community.


What are the benefits?
Although there is no financial compensation for serving as a Binance Angel, volunteers are rewarded with special limited edition Angel Swag that cannot be purchased elsewhere. Additionally, Angels are given exclusive access to all Binance events and may have the opportunity to meet with CZ and other Binance representatives during frequent online and offline meetings.

Brand ambassadors or free labor power?
Despite continued appreciation from CZ in Twitter there is an ongoing debate about the classification of Binance Angels under labor law.
In many countries, labor laws require that individuals who perform work for an employer be classified as employees or independent contractors. This classification is important because it determines the legal rights and obligations of both the worker and the employer. The classification of Binance Angels under labor law has been the subject of debate in recent years. Some argue that Binance Angels should be classified as employees because they perform work for Binance and are subject to the company's rules and guidelines.
One of the key factors in determining whether someone is an employee or an independent contractor is the degree of control that the employer has over the worker. Binance Angels are required to follow the company's rules and guidelines, and they are subject to oversight by Binance staff. This level of control suggests that Binance Angels may be classified as employees under labor law. Because of the above, U.S. citizens as well as applicants from Thailand, Singapore, Malaysia and Korea are not allowed to participate in the Angel program.
If you are interested in helping Binance and CZ, we leave here a link to the Angel program form. Otherwise, become an Observer to bring more interesting news to the world with us!
Comments