Binance has been by far the crypto giant most hit by US authorities' crackdown on crypto, which helps explains why when @cobie tweeted "Interpol Red Notice for CZ," investors skipped the fact-checking and immediately drew funds from the exchange, leading the price of both Bitcoin and BNB to plunge.
While the markets weren't down for long, Binance position as the world's largest centralized crypto exchange seems to be weakening as reports unveiled the crypto exchange ended the first quarter of the year losing 16% of its market share.
On Monday, a tweet from @cobie, a popular private crypto Twitter account, turned the crypto Twitter, and later on market, into turmoil.
The tweet was not meant for the public eye as it was initially encrypted with an SHA-256 hash function. However, the owner of the account was betrayed "someone I discussed the rumour with (handful of possible ppl) leaked the seed, to 'create a stir' at my expense, removing the context of rumour," he told in a following tweet.
The uncoded message read "Interpol Red Notice for CZ,".
According to Interpol, a Red Notice is "an international alert for a wanted person, but it is not an arrest warrant, " and Changpeng Zhao happens to not be on the public list of red notices issued by the international organization.
But in the first hours of the tweet being unencrypted the veracity of the rumor was of no matter to investors. @hyuktrades, a "somehow a profitable trader" who is followed by many investors in the crypto community, led the rumor to spread when he announced that he would be withdrawing funds from Binance.
Many were quick to follow causing over $50 million in liquidations on Binance, as well as the price of Bitcoin falling below $28 000 and BNB dropping by 4% to $300, the lowest value in almost a month.
@cobie and CZ quickly came forward letting their followers know that the rumor was just that, a rumor.
Binance's CEO added a clap back at those who redeemed their positions "If you panic sell on FUD or photoshopped images, well, you aren't likely to become rich." adding, "Block the FUD sources."
While events like this aren't new, the blow hit Binance at one of its most challenging times.
After the FTX collapse, Binance was successful in showcasing itself as a safe alternative. By absorbing much of the defunct crypto exchange's customers, its market share rose from 50% to 65%.
However, last year's disarrays led US authorities to start a cruel crypto crackdown, that so far has hit Binance the most.
In early February, a combined legal attack by the U.S. Securities and Exchange Commission (SEC) and New York regulators on Paxos led the blockchain infrastructure firm to halt the minting Binance stablecoin (BUSD).
According to a Glassnode report, this resulted in the supply of the third largest stablecoin decreasing by 52%, and is now worth $7.7 billion.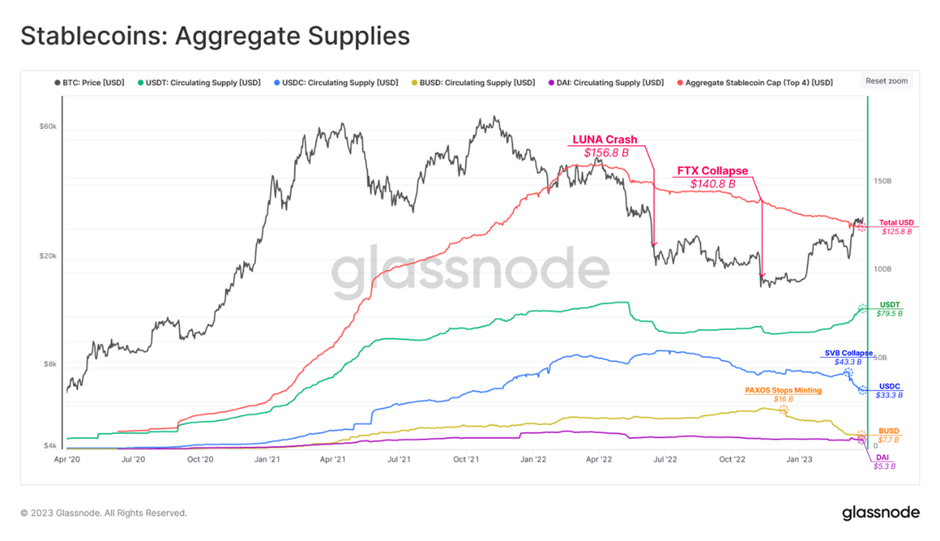 Then, after months of threatening to sue Binance, the US authorities finally went forward with it last week. The United States Commodity and Futures Trading Commission (CFTC) sued both CZ and Binance for allegedly violating trading regulations and offering unregistered crypto derivatives products.
A new report by crypto data provider Kaiko revealed that Binance lost 16% of its market share of trade volume at the end of this year's first quarter, and is now down to 54%.
Lawsuits aren't new in the crypto ecosystem and Binance has so far been able to sustain multiple attacks on its credibility and service provider performance.
Instead, investors' decision to move away from the platform was mainly due to the company's putting an end to its zero-fee spot as well as 13 margin trading pairs.
For Clara Medalie, director of research at Kaiko, this means that "traders are far more cost-conscious,".
"The CFTC lawsuit barely made a dent in derivatives volume or volumes on Binance.US," continue Medalie, as the crypto exchange American arm was not a part of the zero-fee program.
Throughout the first quarter of the year, Binance US' market share tripled from 8% to 24%, benefiting from Bittrex's announcement that it would wind down operations in the country and Kraken stopping its staking activities.
Yet, as the legal circle hampers centralized exchanges (CEXs), investors are moving their funds to decentralized exchanges (DEXs). In March, Uniswap overcame Coinbase's trade volume by over 45%.
As the position of Binance as the world's crypto exchange market leader weakens, days of false rumors might soon seem like a glorious past in CZ's eyes. As always, we are there to Observe what comes next.
Comments