Over the weekend, the leading derivatives DEX, dYdX, faced a "targeted attack by a well capitalized actor(s) designed to drain funds from the dYdX insurance pool," according to the exchange founder Antonio Juliano.
After key player in the DeFi realm Yearn.finance's token (YFI) took a sharp turnaround in price, the exchange had to use the v3 insurance fund "to fill gaps on liquidations processes in the YFI market." The token's price has steadily risen from the beginning of this month and then sharply dropped by almost half on November 17-18.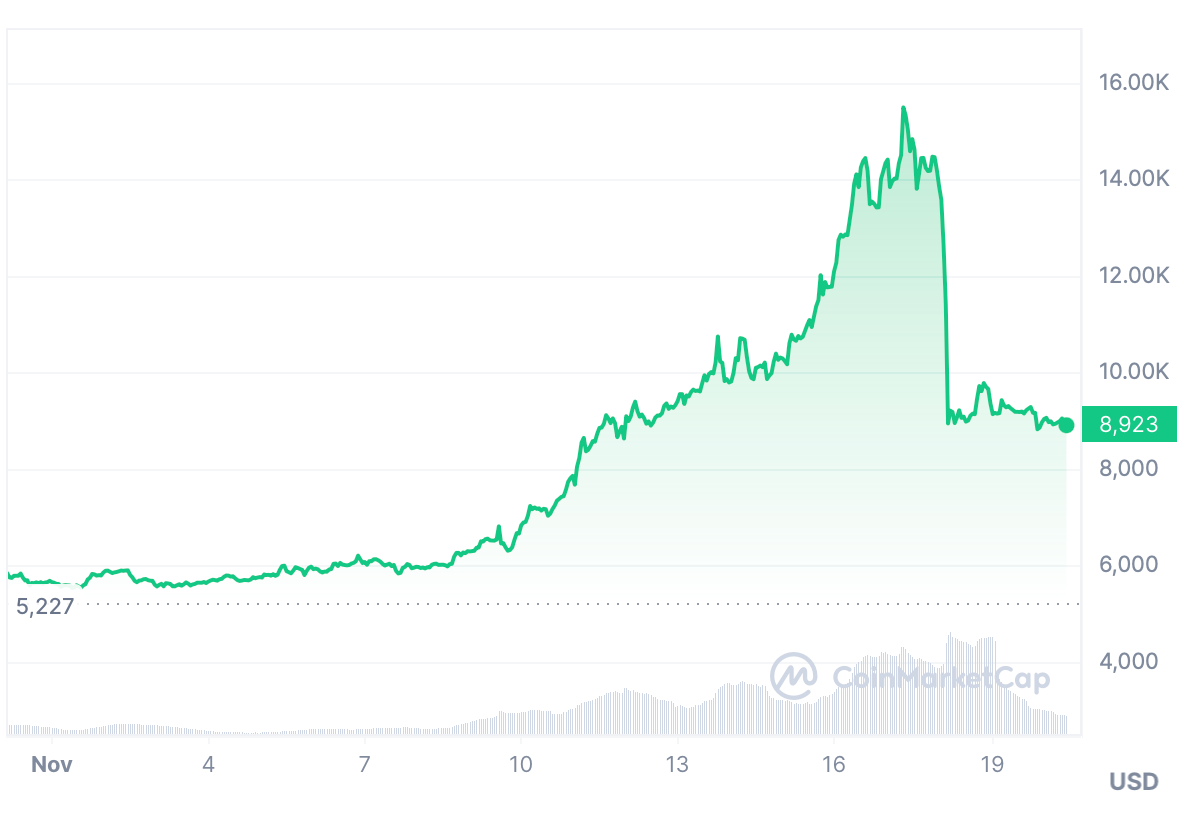 Just a few days before the slump, the YFI open interest on the exchange spiked from just $0.8 million to $67 million. Allegedly, this was driven by one actor, which could be traced through on-chain fund movements, according to the project team. Despite the team's attempts to protect the funds by increasing initial margin ratios, the actor withdrew "a good amount" of USDC right before the price plunge.
It is unclear at the moment whether the price turnaround resulted from the same actor's manipulation, but it is believed that the situation was provoked intentionally and might involve an insider job. The exchange is offering a bounty in exchange for helpful information at the moment. Juliano claimed that the team had made significant progress in identifying the attacker and was now reporting the information to the FBI. Allegedly, the same person attempted to attack the dYdX $SUSHI market two weeks ago.
No user funds have been lost in the incident, but the debacle has cost the exchange about $9 million. It now claims to have $13.5 million remaining in the insurance fund, which, after just losing $9 million, arguably isn't as well-funded as dYdX suggest.
The founder promised to thoroughly review the risk parameters and make appropriate changes to v3 and potentially the newly launched dYdX Chain software as well. The day after the alleged attack, the exchange posted that it had banned "highly profitable trading strategies" and increased margin requirements for some "less liquid markets," including AAVE, YFI, SUSHI, etc.
Last week dYdX unveiled the beta mainnet of its Version 4 platform and migrated to a new blockchain for greater scalability and decentralisation in derivatives trading. It is expected that the existing version (V3 on Ethereum) will be soon wound down. Juliano pointed out that dYdX Chain's new features, including those connected to the liquidation engine, would have significantly helped the $YFI situation.
Comments