Taproot Wizards, a Bitcoin Ordinals project, just raised $7.5 million in seed funding. Led by Standard Crypto, a venture capital firm specializing in crypto investments, the funding round also saw contributions from Geometry, Collider Ventures, StarkWare, UTXO Management, Bitcoin Frontier Fund, Masterkey and Newman Capital. This diverse investor base reflects a growing interest in innovative applications within the Bitcoin ecosystem, particularly those that expand its utility beyond standard transactions.
Embracing the ethos of 'making Bitcoin magical again,' Taproot Wizards offers a unique digital art collection of Microsoft Paint wizard JPEGs. This collection draws inspiration from a decade-old Reddit meme describing Bitcoin as 'magic internet money.'
Led by prominent Bitcoin figures Udi Wertheimer and Eric Wall, the project has stirred interest for its use of the Ordinals protocol. Introduced earlier this year, the Ordinals protocol has revolutionized the Bitcoin ecosystem by enabling the creation of NFT-like assets on the blockchain. This protocol allows users to assign unique data to individual satoshis, whether digital art, profile pictures, or text.
💡
A "satoshi" is the smallest unit of Bitcoin, named after its creator, Satoshi Nakamoto. It represents one hundred millionth of a single Bitcoin, equivalent to 0.00000001 BTC.
This development has opened new avenues for Bitcoin's utility, extending its traditional transactional role. Despite some debate within the Bitcoin community regarding the use of blockchain space for such digital art, the Ordinals protocol has rapidly gained traction, although not without controversy, due to concerns about network congestion.
Co-founders Udi Wertheimer and Eric Wall envision Taproot Wizards as more than just a bunch of digital collectibles, Wertheimer told TechCrunch+ last week. They aim to reignite the experimental and innovative spirit that characterized the early days of Bitcoin. As explained in its manifesto, the project seeks to build a "wizard village," symbolizing a revitalized, competitive Bitcoin ecosystem capable of challenging major blockchains like Ethereum and Solana. Wertheimer and Wall highlighted their mission to introduce new ways of engaging with Bitcoin beyond its use as a digital currency.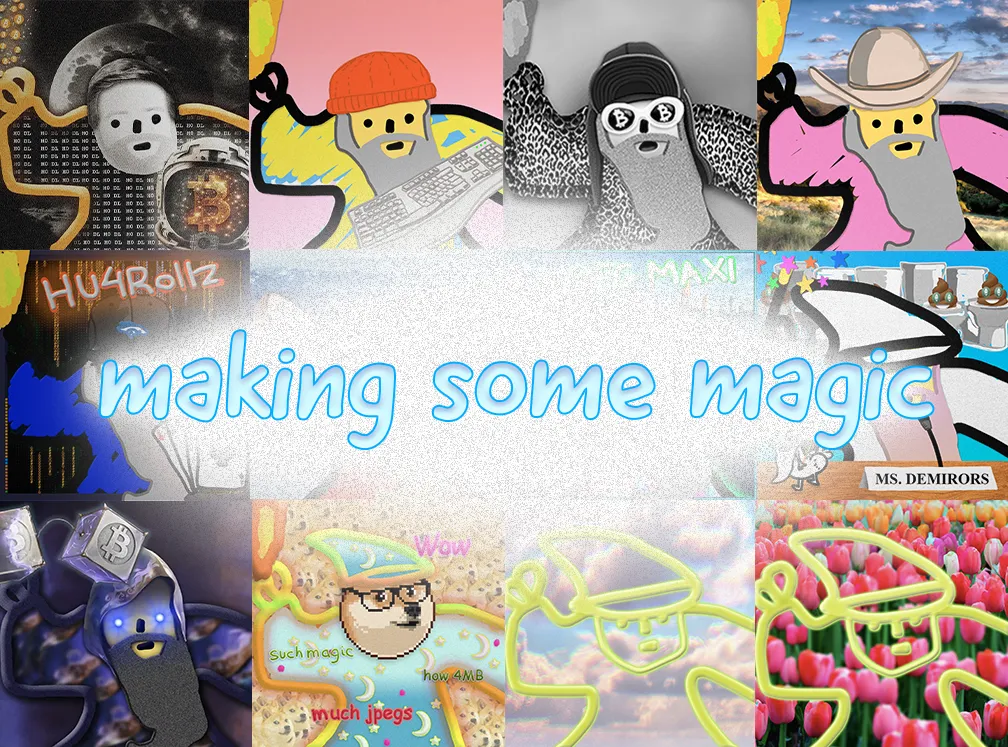 The Taproot Wizards collection is limited to 2,121 wizards as a homage to Bitcoin's total supply of 21 million. So far, 99.3% of these wizards have been inscribed, though only a tiny fraction has been distributed. The project focuses on rewarding active community members and enthusiasts who demonstrate a genuine commitment to the project, such as participating in 'wizard school' or showcasing their fan credentials through unique contributions.
Standard Crypto co-founder Alok Vasudey likened the investment's potential to Yuga Labs' Bored Ape Yacht Club. He highlighted the opportunity for brand building and developing a more dynamic Bitcoin ecosystem. This funding round is seen not just as support for an NFT collection but as a catalyst for broader innovation in Bitcoin.
Bitcoin Ordinals witnessed a significant surge in transaction volume on November 7, reaching its highest levels since May, with around $14.7 million worth of Bitcoin-based assets traded. This spike aligns with the listing of the ORDI token on Binance. The exchange had mistakenly referred to the token as "Ordinals" and incorrectly cited ordinals.com as the official website of ORDI. The price of the Bitcoin-based ORDI token increased by 124% in a day, more than doubling its initial price on Binance's platform.
The majority of the trading volume on that day occurred on OKX, a crypto-exchange that began supporting Ordinals in May. Reportedly, OKX accounted for 60% of daily Ordinals transactions. The listing of ORDI on Binance has had a ripple effect across the broader Bitcoin NFT ecosystem, boosting the momentum for BRC-20 tokens, which are powered by the Taproot and Ordinals protocol.
Charlie Spears of Bitcoin mining firm Luxor Technologies told Decrypt that Binance's support for ORDI, as well as the Bored Ape Yacht Club project, has dramatically boosted everything related to Ordinals. This includes the fungible token aspect and the NFT, JPEG side of Ordinals, such as the Wizards collection.
Comments