On June 13, Celsius banned users from transferring and withdrawing funds due to "extreme market conditions." Thereafter, Celsius customers watched the bankruptcy trial of the company and looked forward to when they would be able to withdraw their funds. After more than six months, on March 2, Celsius announced that some holders of deposit accounts may start withdrawing their funds.
Earlier, some Celsius customers received a letter informing them of the details of the upcoming withdrawal access.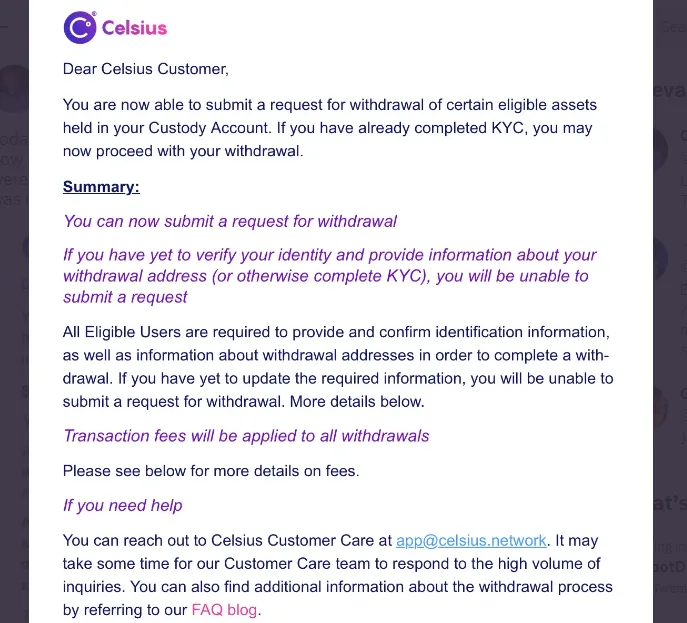 Who can start withdrawing funds:
The funds can be withdrawn by the owners of deposit accounts, for funds which have never been part of the Earn Program or Borrow Program.
Clients whose depositor accounts hold "Transferred" Custody Assets. But there are some exemptions here. First, "Transferred" assets transferred to the deposit program from the "Earn" or "Borrow" program should have been there 90 days prior to Celsius filing for bankruptcy on July 13, 2022. Secondly, the maximum amount for withdrawal of funds is limited to seven and a half thousand dollars.
"Celsius is authorized to allow withdrawals for customers with aggregate transferred custody assets below $7,575 (an amount defined by section 547 of the Bankruptcy Code). Customers with aggregate transferred assets greater than $7,575 may not withdraw at this time." - informed Celsius.
Both categories of customers can receive only 94% of their funds transferred to Celsius. Users can get the remaining 6% if it is approved at further court sessions.
There is another restriction. Withdrawals are only allowed for users from the United States. This is due to the fact that deposit accounts were initially available only to residents of the USA.
Customers who were able to withdraw their funds actively shared their joy on Twitter, and also expressed the hope that all customers would get their money back.
However, not all clients managed to withdraw their funds quickly. Some users even contacted Celsius support and received a response that their request could take several days to complete.
In December, the court ruled that the funds in the users' deposit accounts were their property and approved the first payments of 44 million. We can assume that users now will receive only a small part of Celsius' debt to customers, since the total deficit in the company's accounts was 1.2 billion. It turns out that the payments that have begun for the owners of deposit accounts amount to about 3% of the total debt.
We are very pleased that users have started receiving their funds from Celsius. Hopefully, the withdrawal of funds will soon be available to other groups of users. We will continue our observations and inform you about the news!
Comments