After much self-congratulatory rhetoric over its development and a vague launch date of 'late July' promised, the U.S. Federal Reserve finally announced that its FedNow instant payments service had gone live in a press release yesterday.
With just 37 early-adopting banks and credit unions (they somehow seem to have lost a full twenty of the 57 participants claimed when we last Observed FedNow just 10 days ago) of the thousands of financial institutions serviced by the Fed, it might seem to be rather underwhelming start.
Although if pushed they could argue that the 20th is still technically mid-July, so if desperate they could call the 'early launch' a win.
Nevertheless, despite being somewhat late to the instant payments game, FedNow checks all the currently important boxes for instant payments solutions. It is a 24x7x365 real-time gross settlement (RTGS) system, meaning that payments are settled on an individual order basis across the books of the central bank.
It also uses the ISO20022 international messaging standard for financial transactions. Although first launched in 2004, this standard is essential in modern payment and settlement systems and is used by financial services organizations in over 70 countries. It is also the messaging system that has been used by FedNow's private sector competitor, The Clearing House's real-time payments (RTP), since its launch in 2017.
The Bank of Korea might also be accused of being rather untimely, as it just this week published its report on Payment and Settlement Systems for 2022. The report also details plans to implement an RTGS-based fast payment system and is working towards the adoption of ISO 20022.
The difference between the two countries is that South Korea has had a 24x7x365 fast payment system for processing customer transactions in real-time since 2001. It also has an RTGS system (BOK-Wire+) for large-value transactions between financial institutions.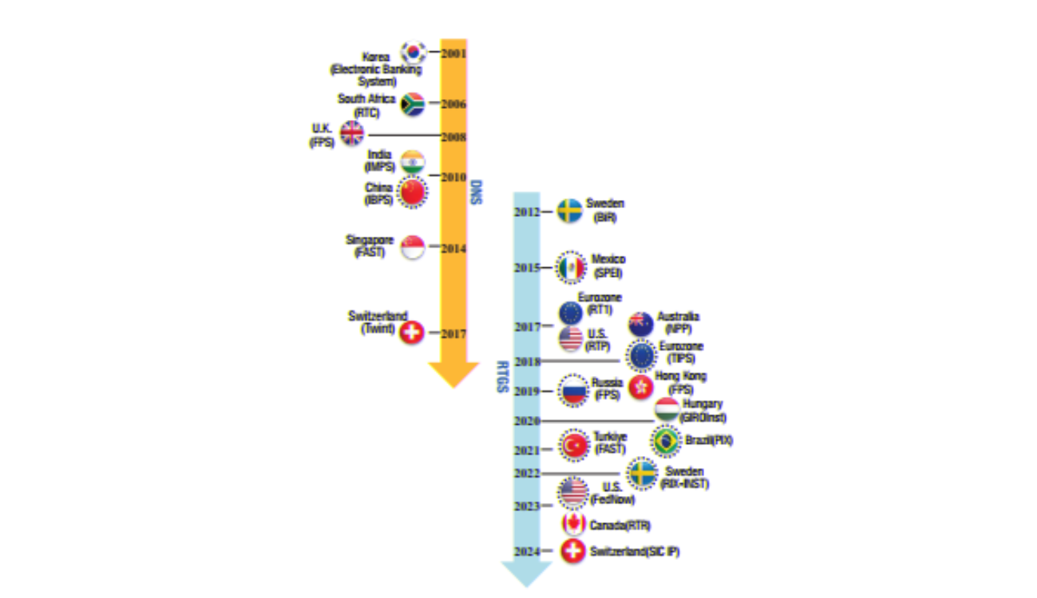 However, while the retail payment system made funds available immediately to the payee, settlement between the banks was on a deferred net settlement (DNS) basis. This means that transactions were bundled up and settled the following day through the BOK-Wire+ system.
While advanced for its time, the DNS system does introduce an element of credit risk, which is why it is now being replaced with an RTGS system. BOK-Wire+ is also being migrated to ISO 20022 to bring it into line with global standards.
So FedNow looks to have stolen a march on South Korea in terms of RTGS and ISO 20022 for retail payments, although it had been languishing so far behind on instant payments, and for so long, that this seems somewhat of a hollow victory.
The Bank of Korea report also has a section on its ongoing investigation into central bank digital currency (CBDC), and looks to be far in advance of the U.S. in this regard. As we Observed in May, it has been continuing to develop offline CBDC payment functionality with Samsung.
Nevertheless, the active enhancement of RTGS systems by central banks indicates that electronic (bank) money will not easily surrender its place to CBDC or stablecoins. The often quoted feature of digital currencies, their 24x7x365 availability and speed, may soon become possible with ordinary bank transfers too.
Comments