Sam Bankman-Fried has a lot to answer for. Whether intentionally deceptive or just arrogantly naive, his actions as CEO of both FTX and Alameda Research, the unchecked commingling of funds between them, and the companies' subsequent collapse, have cost a lot of people a lot of money.
Furthermore, the scope of that infection has not just been limited to Bankman-Fried and his customers, but has also wiped out several other crypto businesses and now poses an existential threat to crypto-friendly players in the US banking sector.
The two biggest of these, Silvergate Bank and Signature Bank, have both had a rather bumpy ride of late, and only time will tell how the story finally plays out for each of them.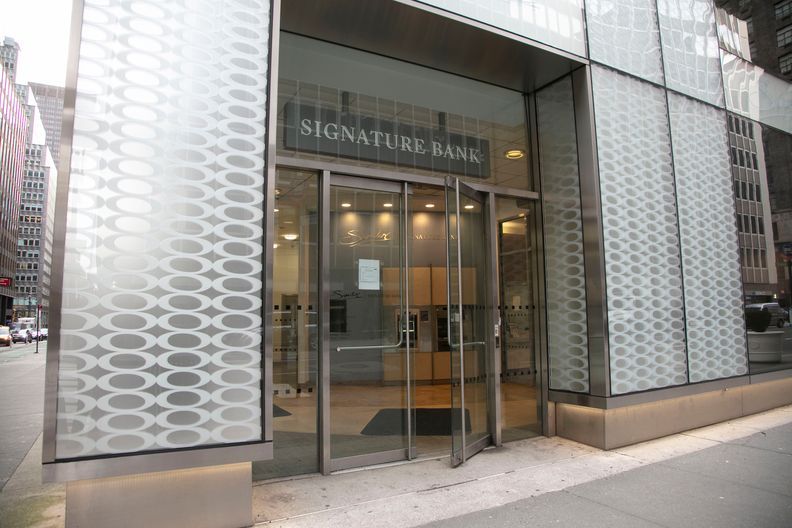 Prior to the FTX fiasco, both banks were heavily involved in the crypto space, notably through the provision of fiat on-ramps for major exchanges. The Silvergate Exchange Network (or SEN) launched in 2018, and allowed customers to use wire transfer to deposit and withdraw US dollars in and out of cryptocurrency exchanges. Meanwhile Signature Bank's Signet platform launched at the beginning of 2019, providing a blockchain-based digital payments service.
As the full extent of FTX's troubles became clear, it provoked a run on crypto-exposed banks, and both Silvergate and Signature experienced a huge surge in withdrawals. In order to plug these holes in their balance sheets, both banks took out loans from the Federal Home Loan Banks system, of nearly $10 billion for Signature and over $3.6 billion for Silvergate.
The FHLB is designed to provide banks with low-cost lending for mortgages and short-term liquidity, so its use as a lender of last resort for crypto banks caused an outcry amongst Washington lawmakers. Following this, Silvergate reportedly sold off assets at a loss and cut 40% of its staff in order to pay back the loan.
Meanwhile, both Silvergate and Signature faced questions regarding their involvement and culpability in the fraudulent diversion of funds between FTX and Alameda, with the banks accused of negligence in the case of Silvergate, and knowingly facilitating transactions in the case of Signature.
Perhaps in lieu of this, along with ever-increasing pressure from US regulatory authorities, Signature also announced a plan to reduce its exposure to crypto. From 1st February it ended support for transactions of under $100,000 for all of its crypto exchange clients, including Binance. This has led several crypto exchanges to temporarily withdraw US dollar wire transfer functionality while they look for another provider, although most still retain the ability to fund and withdraw from customer accounts using credit and debit cards and alternative fiat currencies.
Then in late February, Silvergate filed notice with the SEC that it would miss the deadline for submitting its 2022 Q4 reports, leading to a mass exodus of its big name crypto clients, including Coinbase, Paxos, Galaxy Digital, Circle and Bitstamp. This was swiftly followed by an announcement that the company was discontinuing SEN, then this week's news that the bank is in talks with the Federal Deposit Insurance Corp. (FDIC) over potential ways that it can be salvaged and avoid liquidation.
Some of Silvergate's former clients have announced the transferral of their custom to Signature, but with Signature wishing to reduce and not increase its crypto exposure, this is not necessary a preferred long-term solution.
So what next for the two formerly crypto-friendly banks? Will Silvergate succumb to the curse of FTX and Bankman-Fried? Will Signature's currently lukewarm relations heat up again when the crypto winter thaws? Will another bank step up to fill the gap in the meantime?
We shall continue to Observe from the edge of our seats.
Comments