Circle has created a cross-chain Transfer Protocol – CCTP, according to the company's objectives, and is due to replace cross-chain bridges.
How does it work?
Step one. Using the application, the user starts the transfer process by specifying the recipient's address in the destination chain. The application burns the required amount of USDC in the source chain.
Step two. The Circle attestation service confirms the fact of burning coins in the source chain, and then issues a signed attestation to the application authorizing the release of the specified amount of USDC in the destination chain.
Step three. After receiving the attestation, the application starts minting the required amount of USDC in the destination chain and sends it to the specified recipient's wallet.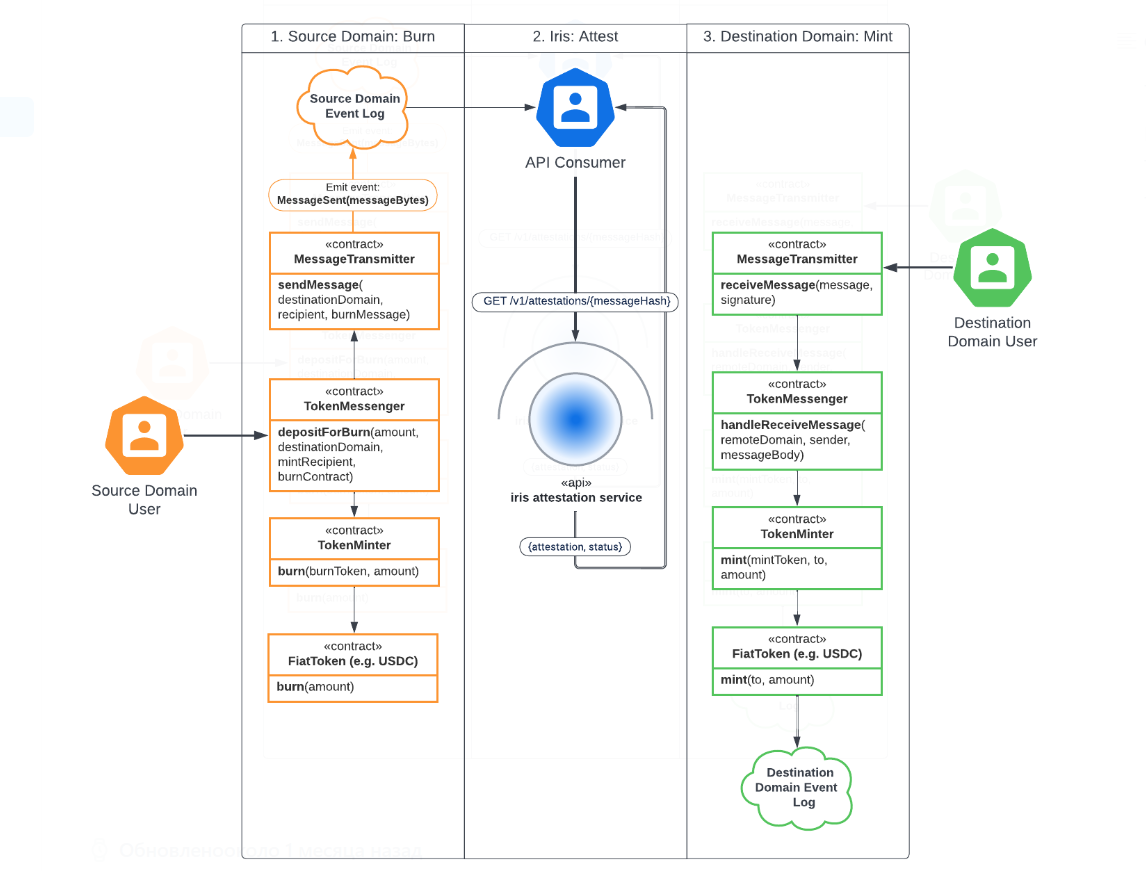 To date, according to the FAQ section from the Circle site, the protocol has already been launched and is available to developers on the Goerli test network on Ethereum and the Fuji test network on Avalanche. A global launch on Ethereum and Avalanche is planned in the middle of the first quarter of 2023. It is also planned to be launched on Solana during 2023.
According to the official website, CCTP has three main directions:
Cross-chain deposits;
Cross-chain swaps;
Buying NFT online.
According to the developers, CCTP can be effectively used for the successful operation of inter-network applications. These applications can be used for trading, lending, payments, NFT and more. Circle tweeted an example of using:
A message on the official Circle website once again stressed that interconnect bridges pose a risk and a security threat, so CCTP is a safer alternative.
"CCTP eliminates the need to use a conventional "lock-and-mint" bridge, which otherwise would lock native USDC on the source chain – incurring a potential security risk – and then mint a synthetic/bridged version of USDC on the destination chain, which results in fragmentation of liquidity and poor UX."
The vulnerability of cross-chain bridges to attacks is really an urgent problem for the crypto community. As we wrote earlier in our review of the "Global Web3 Security Report 2022 & Crypto Regulatory Compliance Research" study, the largest share of attacks occurred on cross-chain bridges and caused $1.89 billion in losses.
💡 To date, Circle's USDC is the second largest stablecoin. Its market capitalization, according to CoinMarketCap, is $43.6 billion. The launch of the CCTP protocol will become a convenient tool for users, and it will also possibly attract new users to USDC, which will positively affect the competitiveness of the stablecoin.
CCTP from Circle looks like a very important and meaningful tool for the community, which is able to enhance security and simplify the use of USDC in various networks. It is worth noting that we could not find similar internetwork protocols from other stable coins, for example, its main competitor USDT. We will continue our observations and report the new!
Comments