The Open Network's TON token scored quite a coup this week, as its price jumped almost 20% to leapfrog TRON as the number 10 cryptocurrency by market cap, according to data from CoinMarketCap. Interest in the network has spiked following the announcement of the 'Giveaways' random prize draw feature on Telegram.
The Giveaways feature allows Telegram channel owners to distribute prizes to followers on a verifiably random and transparent basis. Until now, social media users who wanted to promote a channel, attract new subscribers or reward existing ones with giveaways, lacked the tools to prove that prizes were distributed in a genuinely fair manner.
Channel owners can easily set up a Giveaway, specifying criteria such as duration, number of winners, new subscribers only, geographical and multi-channel subscription requirements. At the end of the Giveaway, Telegram will randomly select the winners and distribute the prizes in the form of gift codes.
Gift codes all include a free Telegram Premium subscription, but organizers can also include additional prizes. Telegram suggests that these might be Teslas, but we assume that most won't be.
And, just in case you think we've forgotten, this is where it all connects back to TON. You see, to start a Giveaway, the organizer must first pay for the premium subscriptions they want to… erm, give away. This can be done through the Telegram app, but for bulk purchase is cheaper through TON marketplace, Fragment.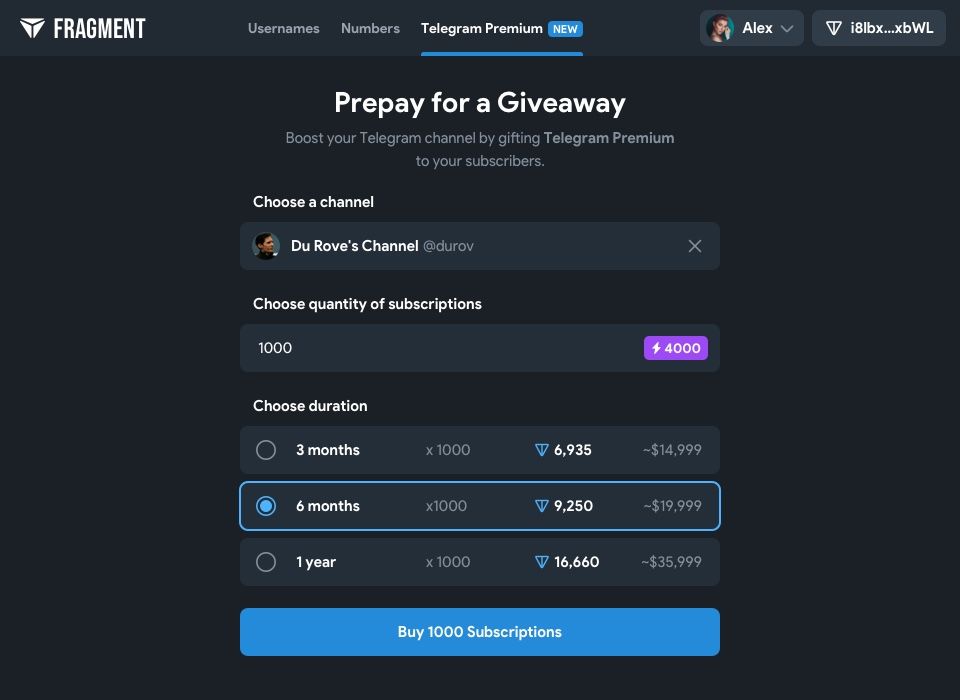 This is exactly what Telegram CEO Pavel Durov did to promote the new feature, buying $200,000 worth of TON on an exchange and then using it to buy 10,000 6-month Telegram Premium subscriptions on Fragment.
💡
The technology behind TON was originally developed by Durov and his elder brother Nicolai. The blockchain was called Telegram Open Network with a native token called Gram, raising $1.7 billion in the second-largest ICO in history. Then the SEC decided that Gram tokens were securities and the Durovs stepped away from the project, leaving the community to take over the development of the open-source code.
TON's remarkable price ascendency isn't just down to saving money on premium subscription prizes though. Last week, TON officially became the fastest and most scalable live blockchain in the world, by hitting 104,715 transactions per second.
And in September, TON and Telegram teamed up to make the TON Space self-custodial crypto wallet we Observed in August, available to 800 million Telegram users directly within the app.
There are also plans to integrate a TON-based Web3 ecosystem into Telegram and transform the messenger into a global SuperApp, similar to Elon Musk's plans for X.
There really are a TON [sorry] of reasons pushing the token price to new heights.
Comments