On December 5, Tether shared with its users the happy news that Euro Tether (EURT) and Tether Gold (XAUT) will become available on the Huobi Global exchange. According to the company's plan, transactions with products from Tether on the exchange will be available on December 8!
CTO at Tether, Paolo Arduino, noted that the cooperation of Tether and Huobi will be useful for the exchange and will contribute to development and growth.
"By gaining access to the stablecoin that represents ownership of physical gold and the Euro-pegged stablecoin that's backed by the same company behind the first, most stable and trusted stablecoin, we believe the Huobi Community will be poised to thrive and continue to grow."
According to Coingecko, at the moment the leader in the total turnover of EURT and XAUT is the Bitfinex exchange, thanks to the trading pairs ETH/EURT and BTC/EURT, as well as XAUT/USD and XAUT/USDT. Perhaps after the launch on Huobi, the situation will change.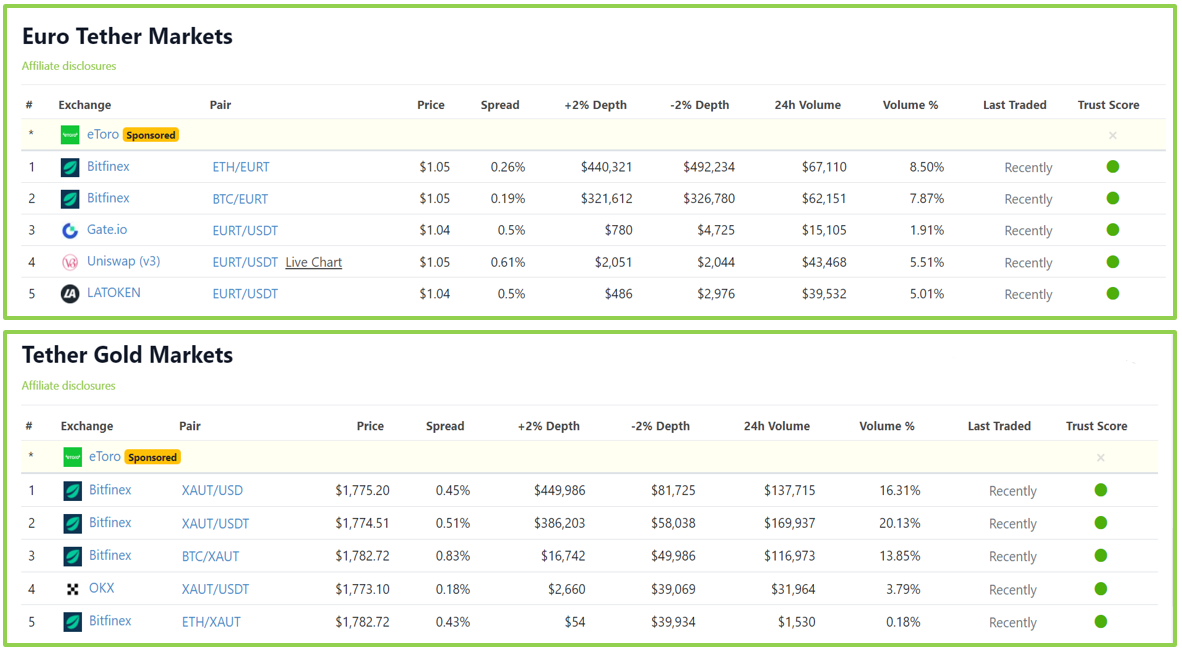 Literally the next day, on December 6, Tether announced another collaboration. The company announced the launch of its own stablecoin linked to the offshore Chinese yuan (CNHT) on the Tron blockchain.
📢 Recall that CNHT was launched in 2019 and is one of the four stable coins owned by Tether. The company's arsenal also has stable coins pegged to the US Dollar (USDT), Euro (EURT) and Mexican Peso (MXNT).
Tron will become the second blockchain on which transactions with CNHT will be available (previously the stablecoin was only available on Ethereum in the ERC-20 token format). The first exchange where users will be able to trade CNH will be Tether's sister company cryptoexchange Bitfinex.
Despite the fact that after the collapse of FTX, the crypto industry is in crisis and losing trust of users, Tether not only maintains its stable operation, but also continues to develop.
"At a time when the crypto market is experiencing immense turmoil, we believe that the best way forward is to keep building. Things are business as usual at Tether and we hope our continued growth and expansion will inspire others to keep going as well." - says Paolo Arduino.
Tether's cooperation with the Huobi exchange and the launch of a stablecoin on the Tron network involuntarily brings to mind Justin Sun, whose name is closely associated with the exchange and the blockchain. In his tweet, he noted the importance of launching CNHT in the Tron blockchain for the Asian crypto market.
Since Justin Sun is a very controversial figure in the world of cryptography, let's hope that the cooperation will be really useful for both parties, as well as the crypto community in Asia, and will not manifest any problems in the future.
We will continue our observations and report the main news from the world of stablecoins!
Comments