On May 9, Terra's chief critic, Twitter account FatMan, reminded everyone about the sad anniversary of the ecosystem's collapse.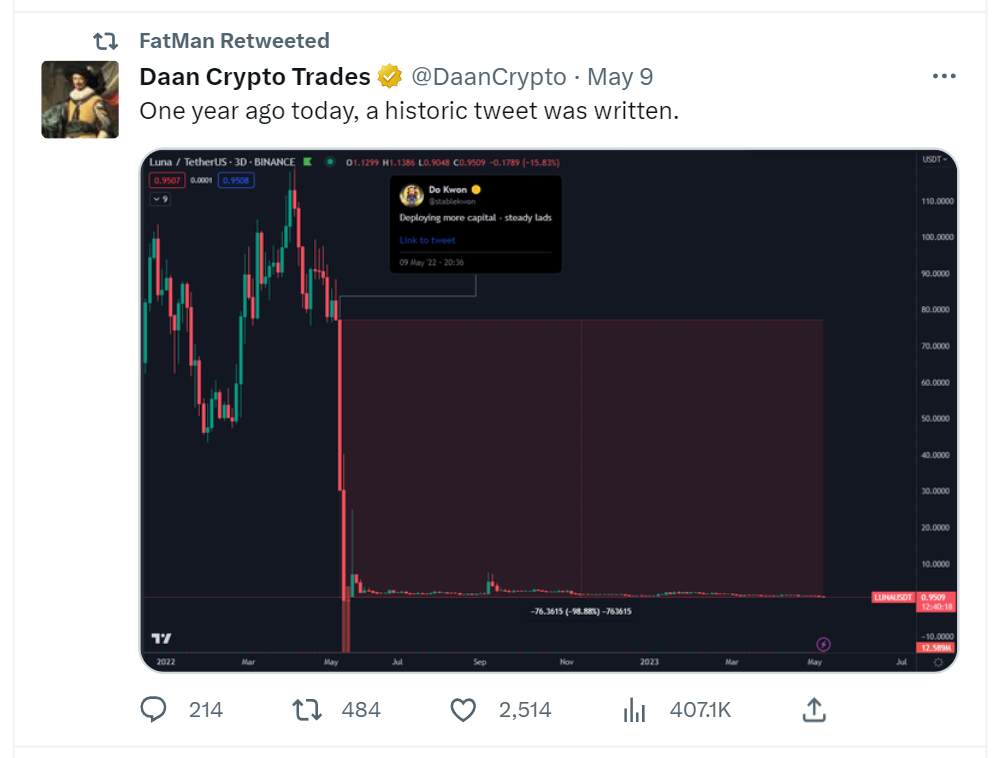 A year may have passed, but we still often hear about Terra and its founders. However, most of the news is about the criminal investigations and litigation happening in various parts of the world.
Do Kwon detained in Montenegro, Faces Forty Years in Prison at Home
As we previously reported, the founder of the project, Do Kwon and his associate Han Chang-joon are facing trial in Montenegro. The two were arrested by Montenegrin authorities in March for travelling with falsified documents. The hearing in the case against Kwon and his accomplices is scheduled for June 16.
On May 12, Montenegrin media reported that the court had decided to release Do Kwon and Han from prison, securing bail of 400 thousand euros for each. However, on May 24 an appeal from the State Prosecutor's Office of Montenegro was accepted and the bail decision was scrapped.
At the same time, South Korea and U.S. are seeking the extradition of Kwon from Montenegro
South Korean prosecutors explain that most of the crimes occurred in South Korea.
"Given the nature of this incident, we think investigating the case in South Korea would be the most efficient way of bringing justice," - said the head of the team of South Korean prosecutors, Dan Sung-han in an interview with WSJ.
According to the South Korean prosecutor, if Kwon's guilt in a financial crime is proven, he could spend more than 40 years in prison.
Terraform Labs Lawyers Continue Fight with U.S. SEC and U.S. investors.
In February the U.S. SEC charged Do Kwon and Terraform Labs with organizing a crypto fraud scheme. Lawyers for Terraform Labs argue that it does not fall under SEC jurisdiction because the stablecoin was neither sold in the U.S. nor constituted a security.
On May 2, a petition was filed by the Terra defense lawyers in another case, the class-action lawsuit that was filed by U.S. investors last year. In this, the lawyers try to protect their client from the charges by appealing to the fact that the protocols were developed and used outside the United States.
Court Freezes Kwon's Assets in Korea
Meanwhile, the property of Do Kwon and some other employees of Terraform Labs has been seized in South Korea.
On May 10, the South Korean news agency Hankyung reported that South Korean prosecutors seized 233.3 billion won ($176 million) worth of Kwon's assets, which included bank deposits and cryptocurrency accounts as well as luxury apartments and cars.
The Terra project was a great FinTech experiment, which is unfortunately now a subject for legal research. While not exactly our topic, we continue to Observe it in the hope of answering the key question: Quis est culpa?
Comments