In many countries, it is considered illegal to provide financial advice without an appropriate qualification. Most often, this law is circumvented with a simple phrase "not financial advice". This is often used by bloggers who talk about investments and do not have relevant qualification.
Also, such content makers often use some emojis in their posts that hint at the imminent rise or drop of some asset. But after a recent case, such emojis will apparently also be regarded as financial advice.
Many people are aware that case law is widespread in the United States and elsewhere. This means that the conclusions of one trial can be referred to other trials in a similar area.
At the end of February, the United States District Court of Southern District Of New York published court documents in the case of Jeeun Friel, individually and on behalf of all others similarly situated (plaintiffs) against Dapper Labs, INC. and Roham Gharegozlou (defendants).
💡
Dapper Labs is an NFT company that deals with blockchain-based experiences and digital collectibles. Dapper Labs works on projects such as NBA Top Shot, CryptoKitties, NFL All Day, UFC Strike, LaLiga Golazos, Cheeze Wizards and others.
In short the plaintiffs accused Dapper Labs and, in particular, the Chief Executive Officer of Dapper Labs, Roham Gharegozlou, of violating the "Securities Act". The charges were brought about because of promotion for NFT collection of NBA Top Shot Moments on Twitter.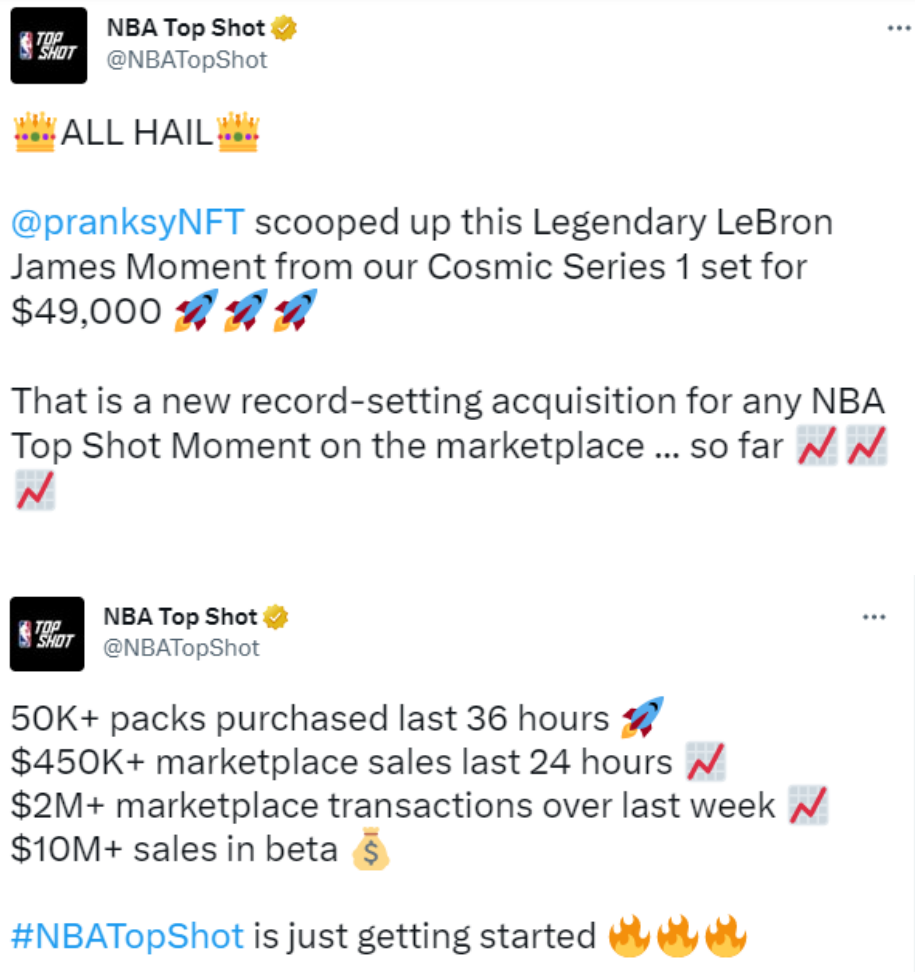 Victor Marrero, a United States District Judge, and the arbiter of the court conclusion, wrote in a chapter "Discussion" the following inferences:
"As to the allegations here, the Court finds that Defendants' public statements and marketing materials objectively led purchasers to expect profits. <…> Each Tweet promotes a recent sale or statistics of recent sales of Moments on the Marketplace. And although the literal word 'profit' is not included in any of the Tweets, the 'rocket ship' emoji, 'stock chart' emoji, and 'money bags' emoji objectively mean one thing: a financial return on investment"
Dapper Labs petitioned to dismiss the plaintiffs' complaint, but this petition was denied by a court decision. Lisa Braganca, an attorney specializing in the financial sector and a former SEC employee, commented about this case and, in particular, about the emoji on Twitter.
Users' reactions were ironic and negative.
What does this case mean for crypto enthusiasts living in the United States? As we stressed earlier, case law is widespread in the United States. This means that now, lawyers will be able to refer to the case with Dapper Labs, which will help them accuse anyone who uses emojis listed in the document in combination with discussing any assets.
If you live in the United States, then you should refrain from using the emojis listed above when discussing any assets. And we continue to observe.
Comments