On Thursday, August 3rd, Nifty announced it would shut down after failing to secure backing for the new version of its platform.
The Web3 social media platform and crypto collectibles marketplace launched in 2021 with the backing of NFT-enthusiast investors Mark Cuban and Joe Lubin, after securing $10 million in seed funding from prominent investors such as Samsung Next, Polaroid, Dapper Labs, and Coinbase Ventures.
A partnership with Warner Bros. gave Nifty a head start - its inaugural collection was based on 1996 cult movie, Space Jam, and was followed by the release of NFTs inspired by equally popular themes such as "Game Of Thrones", "The Matrix", "Shark Week", and "Bullet Train".
However, neither its renowned financial backers nor its eye-catching titles seem to have been enough to prevent the marketplace's downfall.
"Unfortunately, despite our best efforts, the investment opportunities we were working on didn't pan out, and we now find ourselves at the end of our runway. As a result, and with a heavy heart, we are winding down our operations as of today."
To the trained ear, the first alarm bells sounded in May when Nifty announced "big platform updates" as part of a shifting product strategy that required it to shut down the website and terminate access to Nifty's wallet.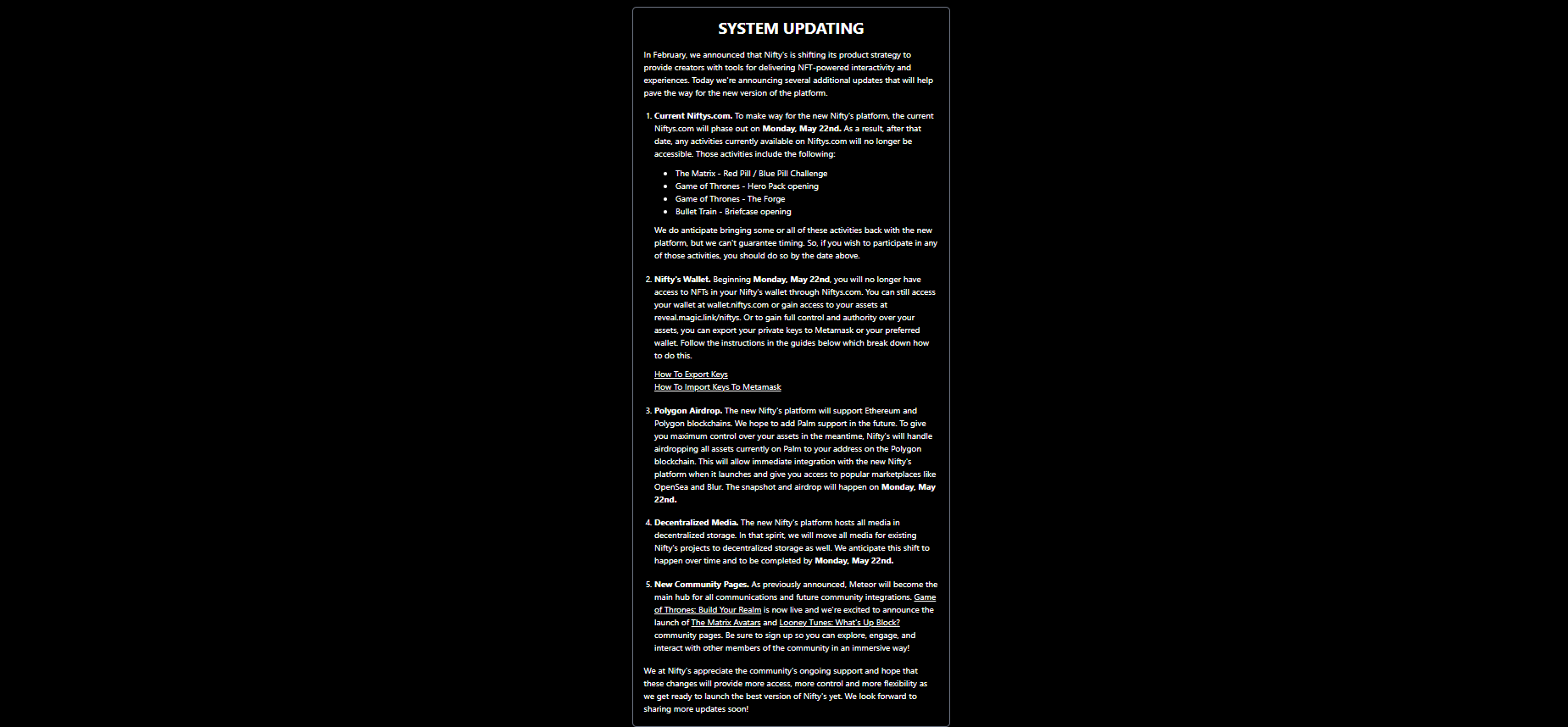 "To make way for the new Nifty's platform, the current Niftys.com will phase out, […] We do anticipate bringing some or all of these activities back with the new platform, but we can't guarantee timing."
A new platform using decentralized storage was promised at the time but never came to fruition.
DappRadar's latest report on the DeFi Market shows that NFT trading volume decreased 68% in the first three weeks of July, from $182 to $57.5 million, with the number of sales dramatically dropping by 49%. The figures are perhaps less pronounced when looking at longer-term month-on-month data, but the "continued downtrend" is undeniable.
The interest in digital collectables may have survived the overall crypto turmoil of 2022 but not without suffering some wounds. In 2023 traders' willingness to spend millions of dollars on "dumb NFTs" was lost as NFT fatigue kicked in, optional royalties in Blur and then OpenSea discouraged creators, and Yuga Labs, the number one NFT studio, lost its Beyonce-like ability to captivate the crowds.
But for those such as crypto analytics firm Into the Block, who have been crying "NFT Capitulation" for the last couple of months, DappRadar's report offers a different perspective - maturity.
"The observed decrease in NFT trading volume across certain categories should not be misconstrued as a sign of stagnation or retreat. It might well signify an industry maturing, undergoing recalibration and expanding into new territories, seeking wider and more diverse participation."
The key changing dynamic in the decentralized market is the "emerging popularity of 'low barrier entry' NFTs, such as Reddit Avatars, that cater to a wider audience. While they don't make the same volume as million-dollar NFTs used to do, they are, in the true spirit of decentralization, slowly taking Web3 art to everyone.
Nifty shutting down is an attestation to an upcoming digital collectables market imperative - quality over popularity. The Web3 marketplace knew how to namedrop, which was enough during the NFT mania of 2021, but not any longer. Although it fooled many into buying the poorly designed "salad fingers" Game of Thrones NFTs, collectors have gained experience and won't be fooled twice.
As a new market rises from the ashes of the old one, we will continue to Observe.
Comments