We still need to analyze and understand what exactly happened once the "fog of war" settles. Presenting below our observations of facts and a timeline of the events so far:
2 November, 2022. Coindesk publishes an article about the assets of Alameda
Alameda had $14.6 billion of assets as of June 30, according to a private document CoinDesk reviewed. Much of it is the FTT token issued by FTX, another Bankman-Fried company.
The "private document" was not included in the article but the figures implied about 40% of the firm's assets were in FTT coins.
The financials make concrete what industry-watchers already suspect: Alameda is big. As of June 30, the company's assets amounted to $14.6 billion. Its single biggest asset: $3.66 billion of "unlocked FTT." The third-largest entry on the assets side of the accounting ledger? A $2.16 billion pile of "FTT collateral."
Other significant positions that the article mentions is $3.37 billion "crypto held" and around $1 billion Solana tokens. Nothing strange for a crypto trading firm so far.
Other significant assets on the balance sheet include $3.37 billion of "crypto held" and large amounts of the Solana blockchain's native token: $292 million of "unlocked SOL," $863 million of "locked SOL" and $41 million of "SOL collateral." Bankman-Fried was an early investor in Solana. Other tokens mentioned by name are SRM (the token from the Serum decentralized exchange Bankman-Fried co-founded), MAPS, OXY and FIDA. There is also $134 million of cash and equivalents and a $2 billion "investment in equity securities."
Coindesk article mentions that the locked token values in the "private document" may be different, siting Alameda's footnote on 50% fair value discount from FTX market price. However, Coindesk further dramatizes that the values "may be low".
Also, token values may be low. In a footnote, Alameda says "locked tokens conservatively treated at 50% of fair value marked to FTX/USD order book.
2-6 November, 2022 the founder of Alameda and FTX, Sam Bankman-Fried seems to be unaware of the situation and posts about puppies, Twitter, US elections and their Voyager bailout
6 November, 2022 CZ of Binance informs publicly about the liquidation of FTX tokens from their books. The tweet replies are restricted
6 November, 2022. CEO of Alameda Research, Caroline Ellison responds in Twitter, rejects accusations, tells that the data is not complete and mentions improved debt positition of the company.
7 November, 2022 the founder of Alameda and FTX, Sam Bankman-Fried tweets "all good" - now deleted.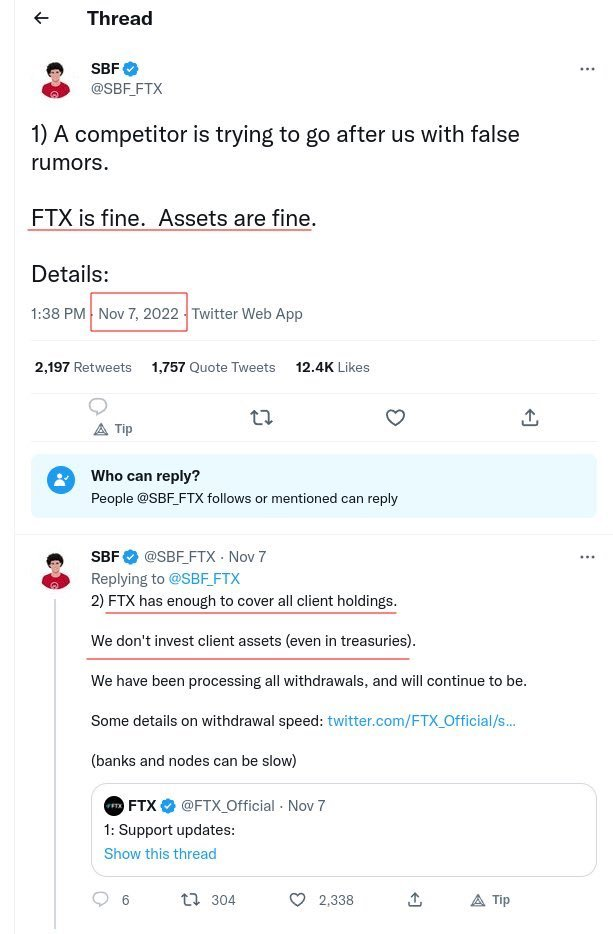 8 November, Binance's CZ announces their intent to buy FTX and starts a "full due diligence".
8 November, 2022, Sam Bankman-Fried deletes the "competitor Binance" tweet and posts and "ally Binance" tweet
We continue to observe.
Comments