EURe digital currency issuer Monerium and Ethereum-based smart wallet provider Safe have officially partnered to enable on- and off-chain payments denominated in euros.
Thanks to the collaboration, users will be able to send and receive euro/EURe directly between the Single Euro Payment Area (SEPA) and their Safe wallet on Gnosis using their Monerium IBAN.
According to The Block, Monerium's co-founder Gísli Kristjánsson remarked that the collaboration will better allow small teams to build DeFi services that challenge the usability of products like the popular money management app Revolut.
What's more, the partnership between Safe and Monerium also promises to integrate $60 billion in digital assets with the European banking system.
Monerium
Monerium is a FinTech company founded in 2015 in Iceland. In 2019, through its subsidiary Monerium EMI, it received what was claimed to be the first EU e-money license in the world for a blockchain business. This allowed the company to launch 'blockchain IBANs', a unique service that allows EU-, UK- and EEA-based individuals and companies to send and receive euros directly between bank accounts and blockchain wallets without going through crypto exchanges.
Since 2020, Monerium EMI has issued the EURe, an authorized and regulated form of digital currency that can be accessed in Web3 wallets and used in DeFi. In 2021 Monerium received $4 million in funding to accelerate the adoption of its euro-pegged token. The total investment in the project so far is estimated at $8 million.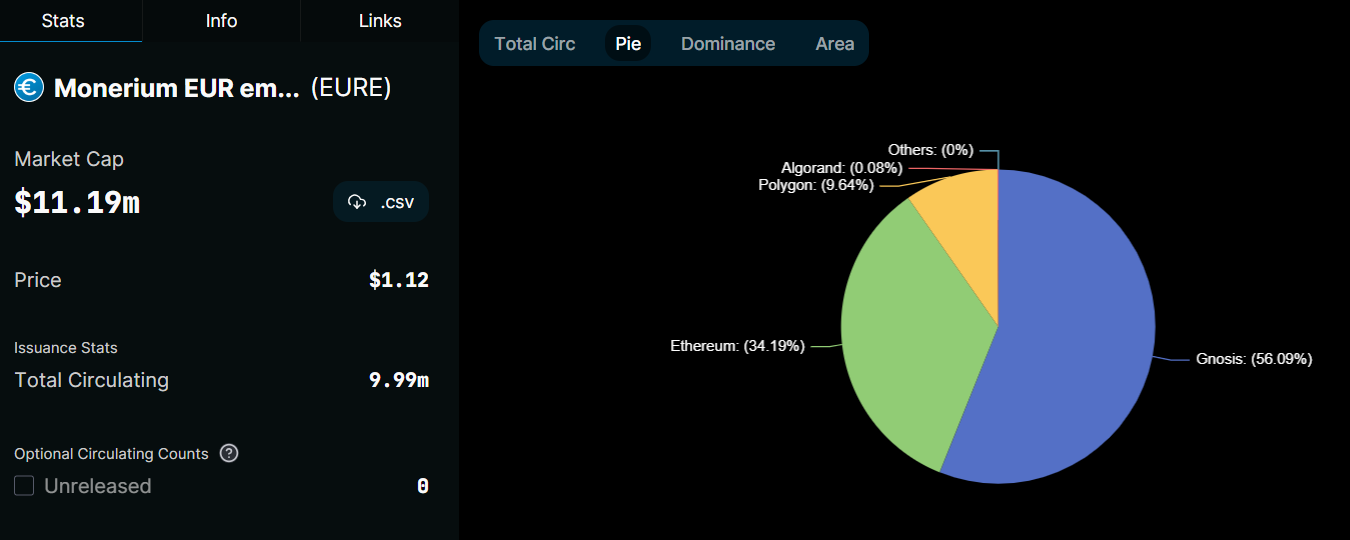 At the time of writing just under 10 million EURe tokens were in circulation on the Gnosis, Ethereum, Polygon and Algorand chains.
Interestingly, the company's website distances EURe from stablecoins and positions its euro e-money tokens as an authorized form of digital currency:
Euros are issued to the blockchain as euroe-moneytokens. Unlike "stablecoins", the Monerium euroe-moneytokens are an authorized form of digital cash which holders can unconditionally redeem straight to their bank accounts through the Monerium IBAN.
Safe Wallet
Safe (formerly known as Gnosis Safe) is a decentralized custody protocol and collective asset management platform founded in 2018. Full-stack and open-source, it branched out from Ethereum in 2021 and is currently available on more than 12 networks.
Just last year, the company raised $100M in a funding round and rebranded to "Safe", after its governing SafeDAO community voted to separate the company from Ethereum infrastructure builder Gnosis.
The money raised went towards founding the Safe Ecosystem Foundation, a non-profit organization tasked with safeguarding key assets and contributing to the ongoing growth of Safe. The company's website states that Safe accounts contain assets worth billions of dollars, and boasts several well-known users, including Vitalik Buterin.
In a tweet from 2022, Safe co-founder Lukas Schor said the company was on a "mission to transform every account in Web3 into a smart contract account, and move away from private key accounts, making the Web3 space more secure for users."
Safe smart contract wallets allow users to create any number of user addresses and choose the minimum number required to authorize a transaction. As a result, multi-signature or smart contract wallets add an additional layer of security by removing the risk of a single point of failure.
Integration with Monerium opens additional possibilities for Safe wallet users, as Lukas Schor explained:
"The IBAN integration with Safe is a game-changer for an ecosystem that is continually being challenged by a lack of banking support. With Monerium [...], owners of treasuries in Safe Smart Accounts can now seamlessly use the value held to interact with DeFi and dApps as much as they can to do business in the real world. Builders have a unique opportunity to create use-cases effectively blurring the lines between the offchain and onchain user experience, which is fundamentally the goal of true account abstraction."
Comments