The Twitter log was changed from its signature blue bird to a Shiba Inu icon on April 3. This dog graphic is the logo for dogecoin, a cryptocurrency the Twitter's current owner, Elon Musk has publicly supported in the past.
Some have concluded this was an April fool's joke that missed the actual day. But later, Elon Musk posted an old Twitter thread with account WCBChairmain from March 2022.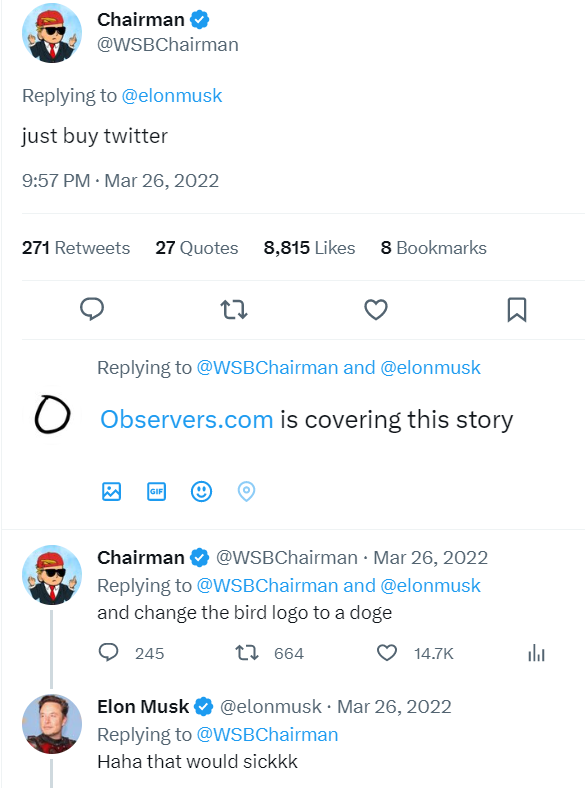 So, Elon Musk did exactly what had been suggested in the thread –  bought Twitter and changed its icon to the dogecoin dog.
This would be a great joke if it were not connected with ordinary people's finances. The logo switch has resulted in a 30% leap in the value of DogeCoin. Dogecoin was created as a joke in 2013 by Billy Markus and Jackson Palmer, software engineers at IBM and Adobe who were and are still skeptical about the crypto promise. In 2021 Palmer tweeted:
"After years of studying it, I believe that cryptocurrency is an inherently right-wing, hyper-capitalistic technology built primarily to amplify the wealth of its proponents through a combination of tax avoidance, diminished regulatory oversight and artificially enforced scarcity..."
However, the fact that DogeCoin has no promise, hadn't kept Elon Musk from gambling on it. He is frequently using his public profile to manipulate the price of the coin and supposedly gain from it. Obviously, these gains come from others' losses.
In 2022, Musk was sued for $258 billion by a crypto investor in New York for manipulating the price of the cryptocurrency. In a complaint filed in federal court in Manhattan, plaintiff Keith Johnson accused Musk, his electric car company Tesla, and space tourism company SpaceX of racketeering for touting Dogecoin and driving up its price, only to then let the price tumble.
Dogecoin is not the only crypto Elon Musk is playing with. In a much more obvious bid in 2021, Tesla announced it had bought $1.5 billion worth of bitcoin. The SEC-regulated company has mentioned in a filing with the Securities and Exchange Commission, the transaction aimed for "more flexibility to further diversify and maximize returns on our cash." That move, as well as Elon Musk's open promotion of Bitcoin on different platforms, had further accelerated the bull run of the cryptocurrency in 2021. Most of the Bitcoins were offloaded by the company in 2022, without disclosing the financial effects on Ilon Musk's wealth.
We observe that more and more restrictions are imposed on crypto-related advertising. Also recently, NBA star Jimmy Butler and other crypto influencers were hit with a $1 billion class action suit for promoting cryptocurrencies. Yet, Elon Musk continues to benefit from his large follower base and still stays untouched. How is he doing it? We continue to Observe.
Comments