On May 2 Coinbase launched its International Exchange, which "brings the safest, most trusted name in crypto to the global derivatives market," according to the company's blog post. The exchange will start by offering BTC & ETH perpetual futures settled in USDC with up to 5x leverage.
☝️
Perpetuals are crypto-native derivatives similar to futures but without a settlement date. Regular futures "align" their prices as their approach the settlement date. Perpetual contracts align their price to the underlying asset price by incentivizing or disincentivizing trades.
Here you can read more about perpetuals
.
Unfortunately, Coinbase International currently is not for everyone: it is only available to non-US institutions (but not to retail customers) in select jurisdictions. If you would like to determine your eligibility, you can complete this form. Besides the platform does not offer trading via the user interface, so you have to be comfortable trading with FIX and REST API.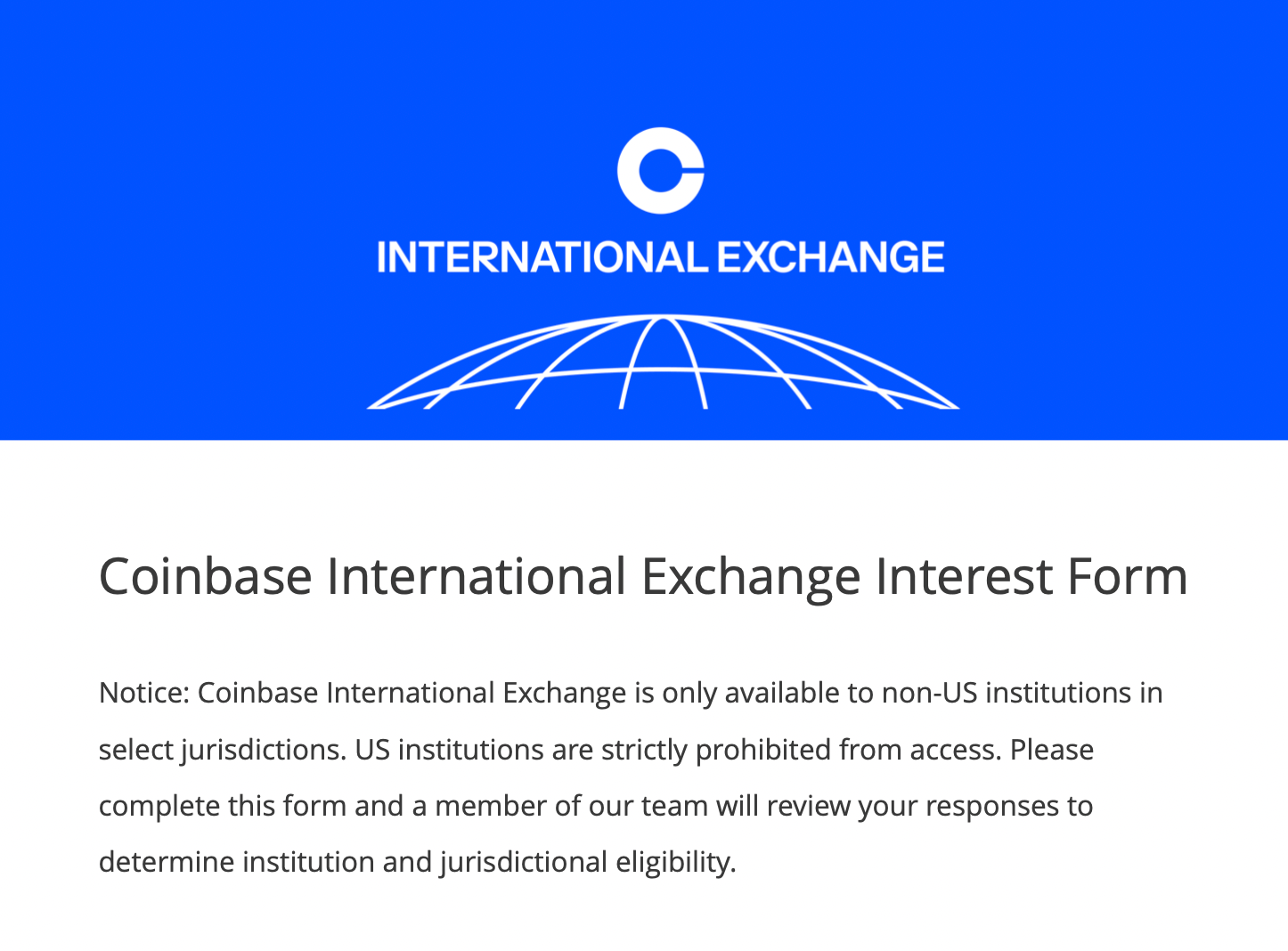 Recently we wrote that Coinbase faces multiple difficulties "grace" to American regulators and step by step starts responding to their actions. At the end of March Coinbase got a Wells notice from SEC warning that the regulator might sue the company, alleging that it had violated securities laws. At the end of April Coinbase publicly responded to the Wells notice   and tried to legally force the regulator to respond to a petition for rulemaking that the exchange filed last summer aiming to get proper regulation rules for digital assets.
To avoid such problems this time, Coinbase has gotten a regulatory license from the Bermuda Monetary Authority to launch the International Exchange.
"Rest assured that Coinbase is committed to the US, but countries around the world are increasingly moving forward with responsible crypto-forward regulatory frameworks to strategically position themselves as crypto hubs. We would like to see the US take a similar approach instead of regulation by enforcement which has led to a disappointing trend for crypto development in the US," - says the company's blog post, highlighting once again what exactly Coinbase is expecting from the US regulators.
Despite Brian Armstrong's recent words that Coinbase specifically aims to be working in the US, regulators' actions (as well as a simple willingness to expand) might have pushed the company to move out of the country - at least partially - and diversify its client base. The Coinbase International Exchange, which is part of the company's global expansion strategy, is a good way to do so. By the way, Coinbase is currently on an 8-week international expansion drive in 6 continents: South America, Europe, Africa/Middle East, Asia, Australia, and North America, so we expect more announcements soon.
Please let us know if you are eligible to try Coinbase International out and share your experience with us. Meanwhile, we will be looking forward to the first feedbacks about the exchange and to the launch of the features for the end-users.
Comments