Nigeria's central bank continues working towards its objective of moving Nigeria from a cash-driven economy to a cashless economy, with the national CBDC eNaira selected as the main driver.
In February 2023, CBN launched a USSD channel (cell phone dial code *997*50#) for eNaira with the aim of providing support to Nigerians without smartphones and increasing the usage of the CBDC and the eNaira platform.
The following month, the CBN, in partnership with the Association of Northern Agricultural and Allied Commodities Practitioners (ANAACOP), launched the "Agro eNaira Wallet Engagement" program for onboarding farmers. The initiative aims to enroll five million farmers across the northern states of Nigeria between 2023 and 2024, with the incentive of soft loans within eNaira wallet accounts.
Additionally, the CBN began what they called a sensitization campaign in April, sending various teams to different parts of the thirty-six states in the country. The campaign's objective is to raise awareness about its digital currency, eNaira, and urge citizens to use eNaira platforms for their digital payments and transactions.
The sensitization campaign, which was held over two periods, saw government officials address the public in universities and markets in Kaduna, Enugu, and other states.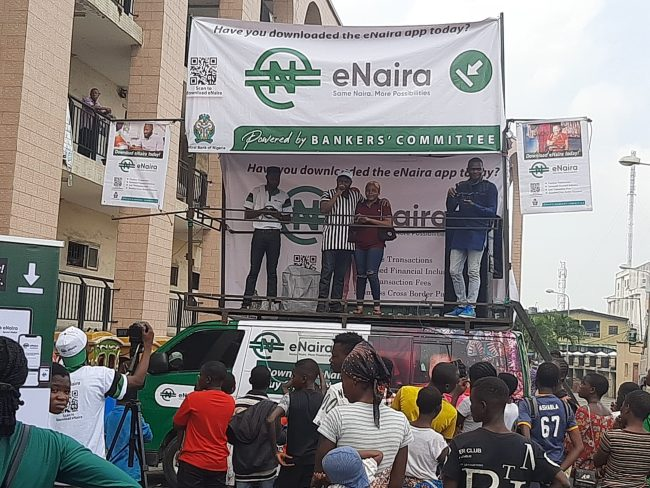 However, despite all the projects rolled out by the CBN and a huge number of opened wallets across the country, the adoption of eNaira is still slow and most of the wallets remain inactive.
There are objective reasons such as poor technical infrastructure, lack of financial literacy and the shadow economy. According to the World Economics data the size of Nigeria's informal economy is estimated at 57.7% of its GDP.
Also, according to our local Observers, there is a certain boycotting sentiment within the population because the introduction of eNaira was accompanied by punitive measures such as restrictions on cryptocurrencies and cash transactions.
Both measures had the objective to increase control over the financial flows, yet they hit society hard. In particular, Nigeria having one of the most populous crypto communities in Africa is now banned completely from participation in this industry.  
The Securities and Exchange Commission (SEC) seeks to remedy the situation, according to Abdulkadir Abbas, the agency's head of securities and investment services. In a recent interview to Bloomberg, he said that the securities regulator was weighing allowing the trading of tokens backed by equity, debt, and property, but was still averse to crypto.
While there have been many setbacks and controversies, we can see that the country is not giving up on the digitalization agenda and taking steps to push eNaira adoption and crypto regulation. We continue to Observe.

Comments