On June 2, the Central Bank of Brazil (CBB) granted a payment institution license to Mercado Bitcoin. The subsidiary of 2TM group has been waiting for this moment since 2021 when it announced MB Pay.
The authorization, published in the official journal of the federal government of Brazil (DOU), gives the cryptocurrency exchange the power to issue digital currency.
Mercado Bitcoin has dominated the cryptocurrency exchange scene in Brazil since its launch in 2013. As a national company with offices in São Paulo, it leverages the absence of language and cultural barriers while also benefiting from being the first crypto assets exchange to enter the local market.
MB Pay is a digital wallet that allows users to trade cryptocurrencies and invest in fixed-income digital assets and other asset classes. The idea is for the wallet to be a bridge between digital and traditional finance, which is why its official launch was conditional on a CBB license grant, and happened a few hours after the DOU was published.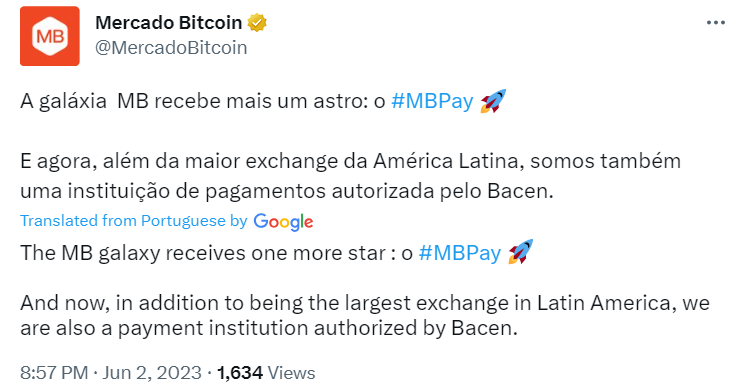 Now, its 4 million plus users can create a payment account within the exchange, easily financing real-world payments and transfers with crypto assets.
Payment accounts are the backbone of Brazil's digital money revolution and a key reason behind the increasing financial inclusion in the country. Given that payment accounts have zero fees and are easy to access (users only have to provide their full name and taxpayer number), even the poorest Brazilians can now access a financial system that they had previously been excluded from due to high-entry costs and excessive bureaucracy.
For their part, cryptocurrencies have helped many Brazilians protect themselves against inflation and to complement their income in an insecure economic setting caused by the pandemic, political crisis, and environmental catastrophe.
Brazil's central authorities seem to have understood the social and economic relevance of digital assets as they are taking active steps in regulating them.
Last month, Binance's payment partner in Brazil, Latam Gateway, was granted a payment institution license. In December, crypto.com was the first crypto exchange in the country to receive such authorization. Other competitors, such as eToro and Bybit, will most likely follow.
In the coming months, Mercado Bitcoin plans to launch a prepaid crypto card in partnership with Magalu, one of the country's most prominent Fintech companies. This will be the third crypto card in the country, following one from crypto.com, which has been available since 2021, and Binance Card, a partnership between Binance and Mastercard.
Mercado Bitcoin is also making efforts to expand to other countries and continents. Last year, the company set up shop in Mexico and entered the European Market by opening an office in Portugal.
Despite the challenge from international crypto exchanges in its home market, Mercado Bitcoin has not only been able to keep users' trust but also increase the services it provides.
Comments