Data availability solution for Ethereum Layer 2 scalability, Avail, has launched its testnet under the banner 'Clash of Nodes', in order to gamify the testing process and incentivize the active participation of validators, light clients and other users.
Bolstering Layer 2 scalability and data availability
The project was initially developed by Polygon to address the pressing data availability issues for layer 2 networks, before being spun off earlier this year. With a mainnet launch projected for early 2024, Avail is positioning itself as a crucial player in the future of blockchain scalability.
The platform's primary goal is to provide a reliable data availability solution that will enable Ethereum Layer 2s, such as rollups, to operate more efficiently by offloading data handling responsibilities.
💡
Layer 2 networks are secondary frameworks or protocols that are built on top of an existing blockchain system (the "main chain" or "layer 1"). Their aim is to enhance scalability and efficiency, handling transactions more quickly and with lower costs. They achieve this by processing transactions off the main chain while still maintaining the security and decentralization benefits of the underlying blockchain.
Data availability is becoming more critical as blockchain networks like Ethereum scale and add new layers. As more transactions are processed on layer 2 networks, ensuring that all transaction data is readily available for validation becomes challenging. Solutions to this issue generally aim to provide novel proof that all transactions are available, without needing to verify them all, thereby ensuring the network remains decentralized and secure.
Clash of Nodes is designed to thoroughly test Avail's network infrastructure by engaging validators and light client operators more deeply in its trial phase. The testnet serves a dual purpose: it helps Avail to iron out potential kinks in its system and allows participants to familiarize themselves with the network's operations before the mainnet goes live.
Participants are incentivized through a gamified rewards system, with challenges including Gladiator's Entry - author as many blocks as possible, Noble Warrior - adhere to protocol rules, Finding Yourself - adding and verifying your identity, and, .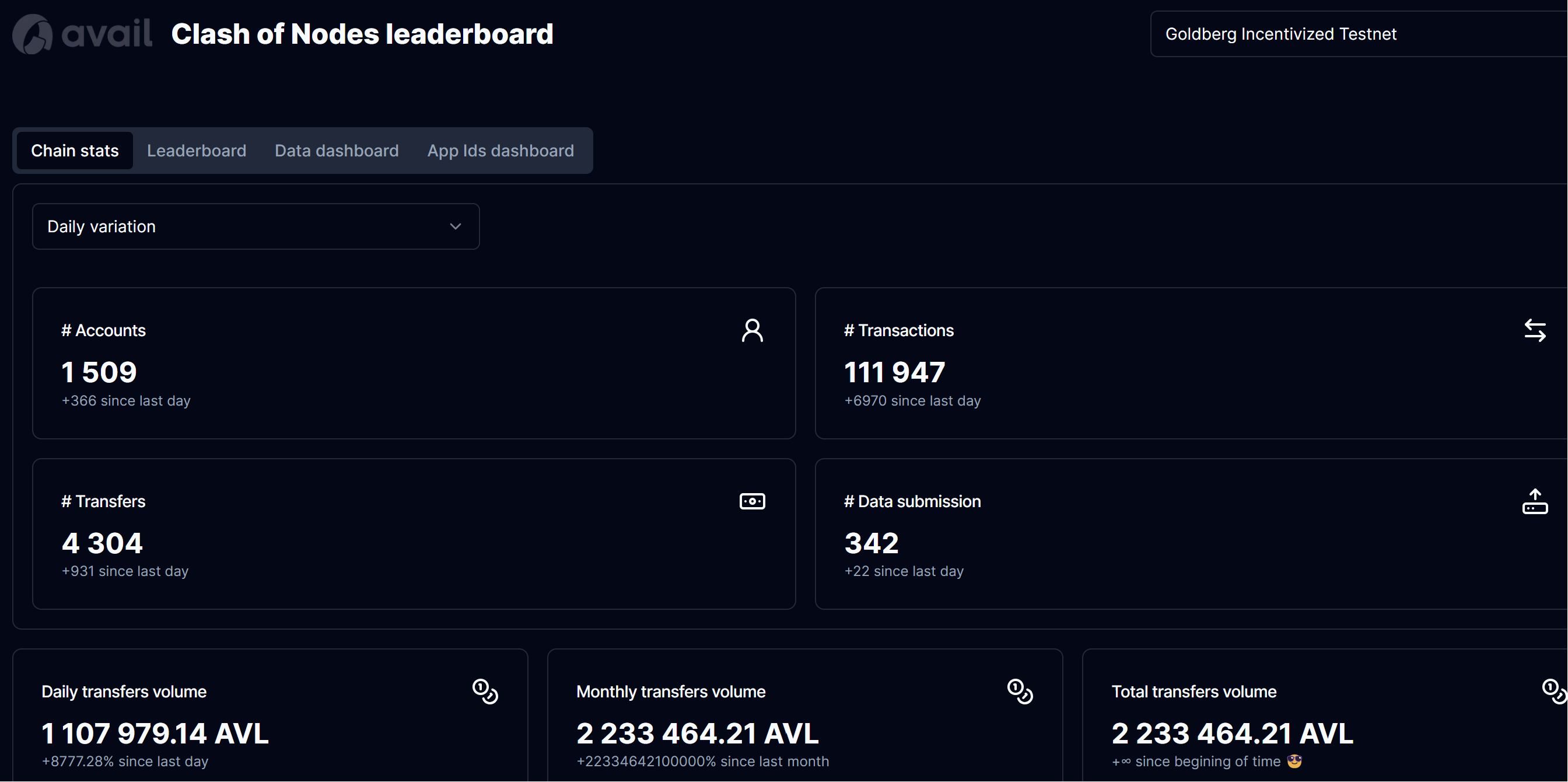 Avail's approach to the data availability problem has similarities to Celestia, another project that has recently garnered attention with its modular blockchain protocol.
By setting the stage for a mainnet launch with a strong focus on community-driven testing and development, Avail's team is validating its bet on working independently on one of the most challenging frontiers of blockchain technology. Avail's gamified testnet launch marks a significant step in its roadmap, showcasing its commitment to creating a robust environment for layer 2 networks and addressing the scalability issues head-on.
Comments