When the first wave of Artificial Intelligence (AI) hype started in 2017 it coincided with the blockchain Initial Coin Offering (ICO) season. So, many projects tried to combine the two technologies in order to attract more attention. Even though the majority of the projects failed or turned out to be scams, some of them still continue their development. We have reviewed a few prominent ones to understand how the market reacted to the new AI season that started in January this year.
AI-related crypto projects outperform the market
Coinmarketcap.com combines AI and Big Data (BG) projects in one category. At the time of writing, the top five projects by their market capitalization in that category were as follows: The Graph (Blockchain Data), SingularityNET (AI), Render Network (Computing), Oasis Network (not sure why in this category) and Fetch (AI).
It was quite clear from these project tokens' price graphs that AI hype of 2023 has attracted the interest of investors. The tokens of two AI-related projects, AGIX (SingularityNET) and FET (Fetch) have shown the highest price increase: 818% and 403% respectively. For comparison, the tokens of other technological projects in this category, not AI related, were up in the range of 100-300% in the same period, which is still good if compared to BTC (+44%).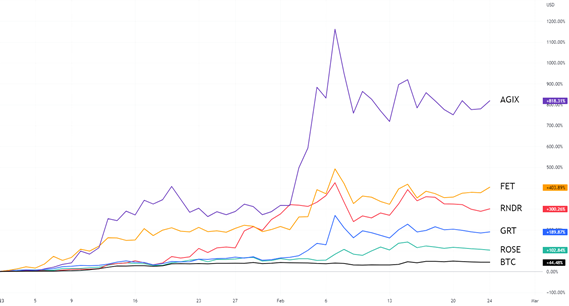 In a larger time range, from the beginning of 2021, AGIX (+57%) has outperformed the market, while FET (+738%) is already halfway to a new high, which looks like a very confident movement against the backdrop of the crypto winter.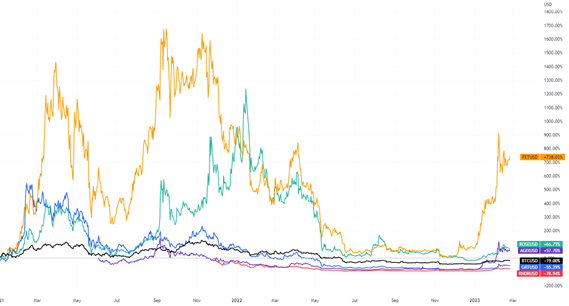 Let's take a closer look at the practical application of these AI-related projects.
SingularityNET.io
SingularityNET (AGIX) is a decentralized platform that allows AI developers to receive rewards for using their products, and users to use AI tools in their projects for a fee. The platform makes it possible to find and test tools that use AI, or find specialists who will create the desired product to order. Everything is paid for with the internal AGIX token, which also allows you to earn on staking. This is a typical use case for a decentralized token and we believe with the right tokenomics and growth in the underlying industry it can become a success.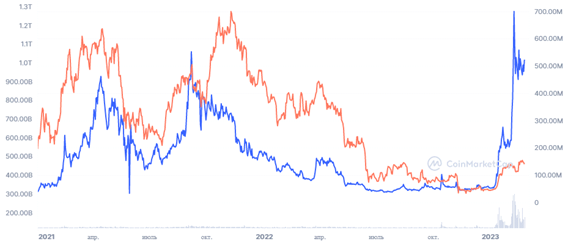 The market capitalization of AGIX has grown 10 times since the beginning of 2022 and such events normally fuel new developments in the project. However, our quick observation of their website news section did not reveal any recent development by the team.
Moreover, according to the research done by Lookonchain, there is a significant concentration among the token holders.
Fetch.ai
Fetch.ai (FET) is a blockchain platform that uses artificial intelligence and machine learning for the Internet of Things. The company created the technology of Autonomous Economic Agents (AEA) - AI-based systems that can operate without the participation of the owner. Such systems can be useful in everyday activities: from buying cryptocurrencies at a bargain price to finding the right tickets and booking a hotel room. Smart infrastructure using AEA can make transport, energy, and trade more efficient. Fetch.ai is also developing the BotSwap application to optimize decentralized exchanges such as Uniswap and PancakeSwap.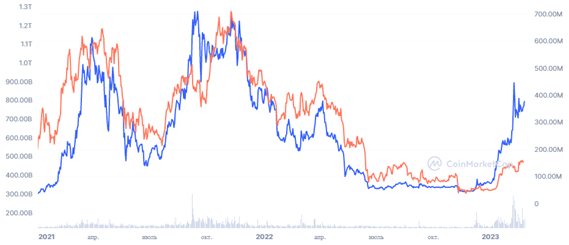 Similar to SingularityNET, Fetch.ai website had little news about the project development. There was a statement that "A new roadmap for Fetch.ai 2023 will be released in early Q1 2023." however, as of the beginning of March nothing was there yet.
Some observers suggest that AI and blockchain have nothing in common. Blockchain is decentralized and transparent, immutable at its core, AI is centralized and opaque, constantly evolving. How entrepreneurs merge these two, is something we are interested in observing.
Comments