One of the most misreported news stories this month, in the crypto sphere at least, was that of Twitter's supposed partnership with eToro, allowing users to trade in stocks and crypto from within the app. Which isn't exactly true… or even slightly true.
The feature was supposedly an extension of the social media network's 'cashtags' functionality, which has existed in some form since 2012. In December last year this was updated to provide pricing charts for a select number of major stocks, along with bitcoin and ether, when a user does a Twitter search for its ticker symbol preceded by a dollar sign (e.g. $BTC or $TSLA).
In January this year the feature was reportedly expanded to include an additional 30+ crypto tokens (and one would imagine, a wider range of supported stocks too). This latest partnership increases this range yet further, and adds a little button at the bottom labelled 'View on eToro'.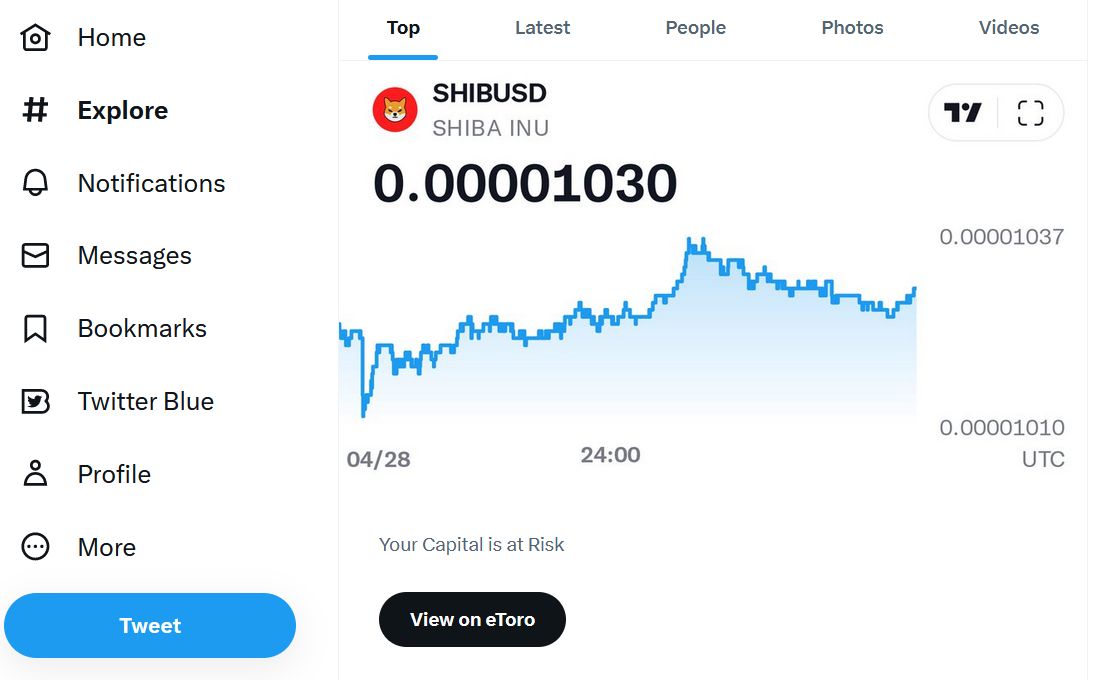 Clicking this button takes the user out of Twitter and into eToro, where they can sign up for an account to buy their desired crypto or stock. Which, unless we are very much mistaken, they could just as easily have done without Twitter.
Even worse, the pricing charts are supplied by TradingView, meaning that when you get to the eToro site, the real-time price is unlikely to be the same. When we tried the feature, ETH was quoted as $1903.59 in the app, but just $1881.68 on eToro, a $20+ difference.
One of the major sources for the news seems to have been CNBC, which headlined it, 'Twitter partners with eToro to let users trade stocks, crypto as Musk pushes app into finance'. This would be okay, except that users could have easily traded stocks and crypto in the same before the partnership. Probably better to say that Twitter had partnered with eToro, "to encourage users to trade stocks and crypto."
From this initial misleading headline, we can follow the chain of reporting as the claims get even more disingenuous. Admittedly, most of the articles paint a more correct picture in the copy, but the headlines have been pure clickbait. So to set the record straight: no, you cannot buy crypto directly through Twitter. How could you? It has no payment functionality.
But wait. As Observers reported in February, Elon Musk is actively working to implement a payments system, as part of his drive to turn Twitter into an 'everything-app'. Although there is no current ETA, the plans would seem to be in a reasonably advanced state of development, as the company had already begun to apply for state regulatory licenses in the US.
Once this goes live then there may well be the possibility to buy directly from the app, although it is likely a user would still need to sign up for an eToro account. Perhaps, as some analysts have suggested, Musk has plans to buy eToro too? At $3.5 billion it must seem a snip next to the $44 billion he paid for Twitter. But even then one would imagine Twitter users needing to go through KYC and AML procedures before they could trade.
Let's revisit that headline: 'eToro Pays Twitter to Put Affiliate Marketing Links on All Cashtag Searches'. There, fixed it… but who is going to want to read that?
Maybe, at some currently unspecified point in the future, users will be able to buy stocks and crypto directly through their Twitter app. But for now, we report what we Observe, not what everybody else is reporting.
Comments