On April 25 Voyager Digital received a letter from Binance.US terminating the agreed buyout of the bankrupt company. Binance.US officially commented on the decision to cancel the deal on Twitter, blaming U.S. regulators and saying that the "uncertain regulatory climate in the United States" was the reason.
Voyager Digital called this decision "disappointing" and announced that it will continue the liquidation process by selling off its assets and distributing the outstanding liabilities to its investors and partners.
Since then Voyager Digital has been preparing a plan for distribution. On May 8, an update appeared on its website regarding how customer funds will be returned.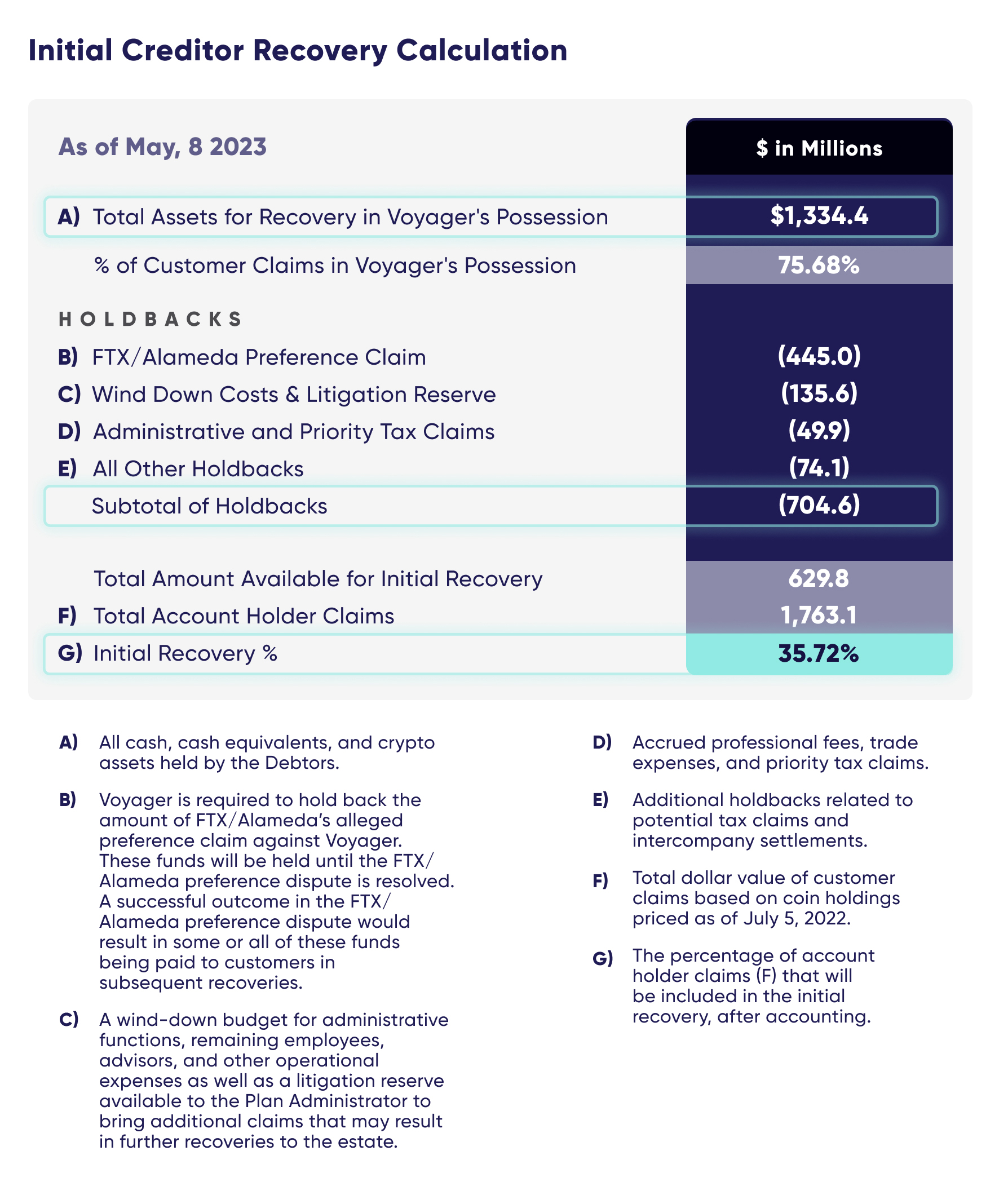 Although it reported possession of around 76% of the funds claimed by customers, Voyager Digital initially plans to distribute only $629 million, which is less than half of this amount, and only 35.72% of the amount requested by customers.
The company linked the distribution of funds beyond this initial 35.72% to the results of future litigation regarding FTX and Alameda:
"Voyager can't return all value at the same time because it is required to hold back certain amounts including the amount of FTX/Alameda's alleged preference claim against Voyager. These funds will be held until the FTX/Alameda preference dispute is resolved. A successful outcome in the FTX/Alameda preference dispute would result in some or all of these funds being paid to customers in subsequent recoveries."
Customers have been offered the option to receive their funds in the original cryptocurrency or an equivalent cash amount. The cryptocurrency will be distributed via Voyager Digital's platform.
💡
Stephen Ehrlich, Philip Eytan, and Gaspard de Dreuzy founded Voyager Digital Ltd in 2018. The business offered custody and brokerage services for cryptocurrencies. In 2021, Stephen Ehrlich, its CEO at the time, disposed of Voyager shares when the company's valuation peaked at over $3 billion. Voyager Digital declared bankruptcy in July 2022 after a default on a large loan made to the dissolved crypto fund Three Arrows Capital (3AC), the failure of which could be traced to the collapse of Terra/UST.
Since announcing its insolvency, Voyager Digital has had solid chances to avoid dissolution via a proposed buyout and to return users' funds with fewer losses.
Initially, FTX.US and Binance.US were competing for the lucrative customer base. In September 2022, FTX.US came out on top with a bid valued at approximately $1.4 billion, yet could not finalize the deal due to its own collapse two months later. After Binance remained the sole interested party, negotiations were cented around its bid of $1.3 billion until this was withdrawn.
This area of crypto asset investment and trading is a risky area with harsh rules. We continue to Observe.
Comments