Related: ZELF Has a Visa Card with Crypto Assets. But, You Can't Get It
Cuy Sheffield, the head of Visa's crypto division, during the StarkWare Sessions 2023 conference announced the company's plans to continue development in the field of blockchain technologies and work on creating its own blockchain platform on Visa.
Visa's Digital Currency Innovation Hub  is actively working on the introduction of blockchain technologies into the company's activities. Cuy Sheffield suggests that working with cryptocurrency in particular, with stablecoins, can become a serious alternative to the SWIFT system, since there are a number of restrictions in the banking messaging system. The head of the crypto division shared information that Visa has already conducted test settlement payments in stablecoins.
"We set all over Swift, so we can't move money as frequently as we'd like because there are a number of limitations that exist in those networks. And so, we've been experimenting, we publicly announced. We've been testing how to actually accept settlement payments (with stablecoins)," - said Cuy Sheffield.
Visa made the first settlement transaction combining blockchain and fiat back in 2021. By integrating Visa treasury systems into Anchorage, USDC stablecoins were accepted from Crypto.com .
💡
Anchorage Digital
is a regulated crypto platform. Anchorage helps various institutions integrate financial services and infrastructure solutions for digital assets into their activities. It is important to note that Anchorage Digital is the first federally registered crypto bank, which is why it is a reliable partner for Visa in terms of reliable storage and compliance with regulatory requirements.
For the test payments, the Visa team is using the USDC stablecoin, which is the second most popular stablecoin. Its market capitalization, according to CoinMarketCap, is currently $41.1 billion. Test payments were made on the Ethereum network.
"We've been testing how to actually accept settlement payments from issuers in USDC starting on Ethereum and paying out in USDC on Ethereum. So, these are large value settlement payments,"- said Sheffield.
During the conference, Cuy Sheffield also said that the company is betting that digital payments will become our future and gain popularity all over the world. Probably, in this regard, Visa's crypto division is engaged not only in the development of new products and the introduction of blockchain technologies, but is also actively looking towards CBDC.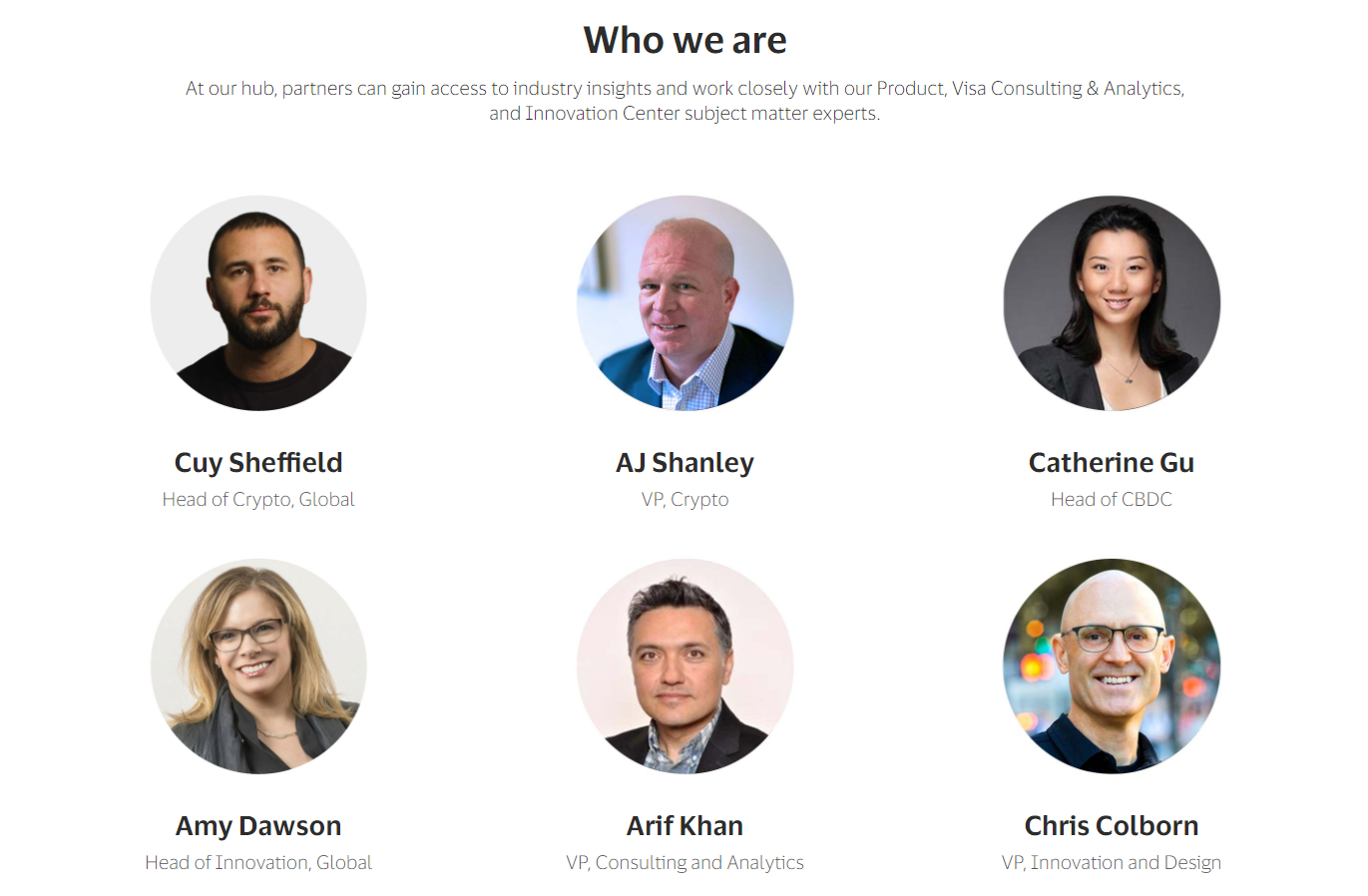 Among the experts working on the implementation of blockchain technologies in Visa, you can see Catherine Gu. She is Visa's head of work with the CBDC, and thanks to this Visa is interacting with central banks of different countries.
Settlement transactions using blockchain are not the only project that the Visa crypto department is working on. At the end of the last year, the official website reported on an interesting hackathon-sourced experiment during which Visa tested its system using blockchain smart contracts for making autopayments. In that experiment, the team used the account abstraction concept to setup regular automatic payments in non-custodial wallets.
💡
In simple terms, account abstraction in blockchains is the concept of having all accounts managed by smart contracts. This allows for pre-programming of all accounts, develop applications for payment functionality of blockchains and improve the user experience.
At the end of 2022, the crypto space was excited to report that Tether overtook Visa in transaction volumes. Even though the comparison was not exactly correct, it shows the degree of competition between traditional and new industry players. And we will continue our observations and inform you about the news!
Comments