The launch of the Reddit Polygon-based collectible avatar marketplace in July 2022 has caught the attention of many. With a crypto winter on the way and a bear market, many investors and analysts did not predict anything good for the Reddit startup. However, already in December 2022, Reddit's collectible avatar minting reached a record 255,000 avatars minted in a day.
Seven months after the launch, Reddit proved everyone wrong, and BestBrokers analyst team decided to dig deeper into the blockchain data and examine the current state of the NFT market from Reddit. As it turns out, collectible avatars market value exceeds $36 million with over 10 million items minted since its market launch.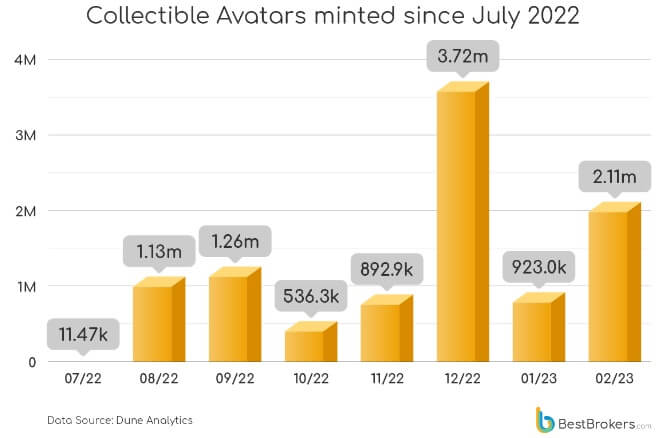 December 2022 stands out as the month with the highest amount of mints with $3.72 million. February 2023 and September 2022, follow December as the second and third, with $2.11 million and $1.26 million, respectively. These three months were also the time frames where the most significant unique user additions were recorded. According to the numbers, the total minters exceeded 10 million, while the number of Collectible Avatar holders exceeded 7.18 million.
To date, the most expensive sale ended on 24 October, 2022: user u_jwpapi paid rojomcoin creator 30 ETH for an avatar called The Hands #1, currently priced at 150 ETH on OpenSea, or over $236,000 at the time of writing. While these prices are unrealistic, they could soon be justified with the interest in avatars only growing and the number of minters (10 million) approaching the total number of NFTs minted. Way to go, Reddit! And we continue to observe.
Comments