On July 11, a U.S. court issued a final judgment in the LBRY vs. Securities and Exchange Commission (SEC) case confirming its summary judgment recognizing LBRY's tokens as unregistered securities. The court enjoined the company from further circulation and offering of its crypto tokens, unless they are registered as securities with the SEC, and ordered a penalty payment of $111,614.
LBRY was founded in 2015 by Jeremy Kauffman, who formulated it as 'a version of YouTube that would be decentralized in its construction and operation'. The platform uses its own PoW blockchain for content indexing and BitTorrent technology-based peer-to-peer file storage and distribution. Its web interface, Odysee, has a typical video hosting user interface.
LBRY does to publishing, what Bitcoin did to money
The ambitious motto of the project reflects the challenges of decentralized media. Even the strongest libertarians cannot imagine an absolutely open platform, free of any moderation. LBRY moderators drew that line by excluding pornographic content and the promotion of violence or terrorism but allowing antisemitic conspiracy theories, Nazi content, and non-mainstream COVID-19 opinions.
Also, technically, the moderators of the decentralized content network could not remove any content that was uploaded on the LBRY network. They only removed the prohibited content from Odysee, preventing it from being found via search or browsing.
SEC did to LBRY, what oppressors could not do to free speech
The libertarian project failed due to reasons other than its moderation policy, however. On March 29, 2021, the SEC charged LBRY, Inc. with selling unregistered digital asset securities (LBRY's native coin LBC) and raising more than $11 million with its offering.
In November 2022, the court satisfied the SEC's order to cease circulation of the coin and payment of compensation and penalties of $44 million. Later in May 2023, the payment was decreased by the SEC to $111,614, citing the poor economic situation of the defendant.
LBRY's case attracted a lot of attention because it could potentially have set a precedent for the much larger Ripple v. SEC battle. In February this year, John Deaton, an independent legal attorney defending Ripple, used LBRY's hearing to speculate on the applicability of the SEC's assertions regarding tokens sold on secondary markets.
What happens to LBRY from here is up to you
Wednesday's tweet by the LBRY team about the final judgment was less optimistic than the one in November last year.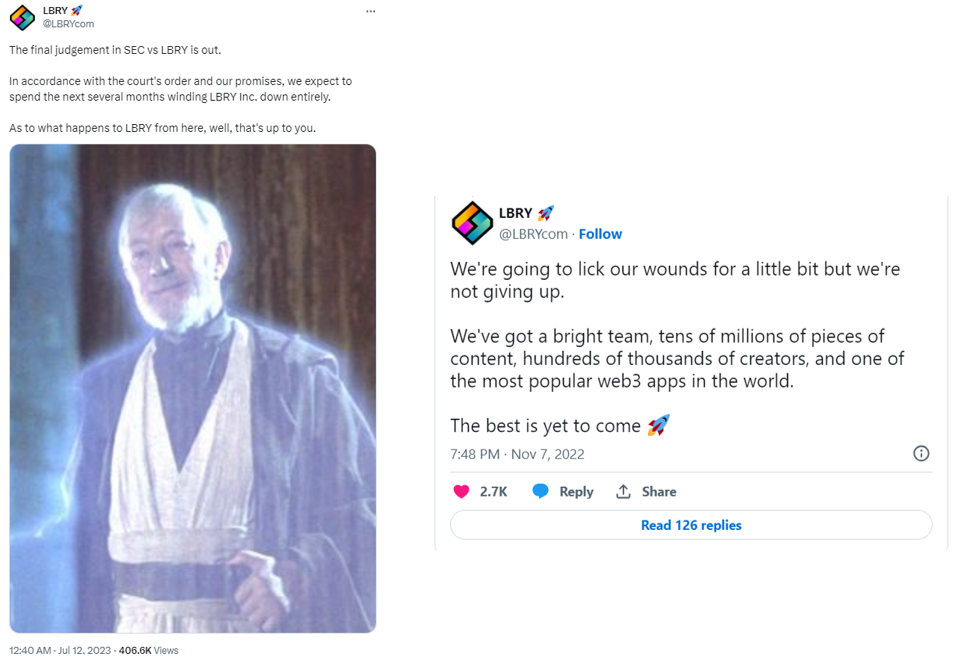 The project announced the winding down of LBRY Inc. entirely. The fate of the network infrastructure and the Odysee website is unknown.
In 2017, after the U.S. Department of Justice forced UC Berkeley to remove 20,000 lectures from its Youtube channel, LBRY publicly archived them on its platform. They are still available on Odysee's UC Berkeley channel. We recommend having a look at them as they may not be there too much longer.
Comments