According to the SEC press release, Kardashian was charged with a failure to disclose that she was paid $250,000 to publish her Instagram post promoting EMAX tokens, the crypto asset security being offered by EthereumMax. Kardashian's post contained a link to the EthereumMax website, which provided instructions for potential investors to purchase EMAX tokens. She did this without admitting or denying the SEC's findings. Additionally, she agreed to cooperate with the ongoing investigation and not to promote any crypto securities for 3 years.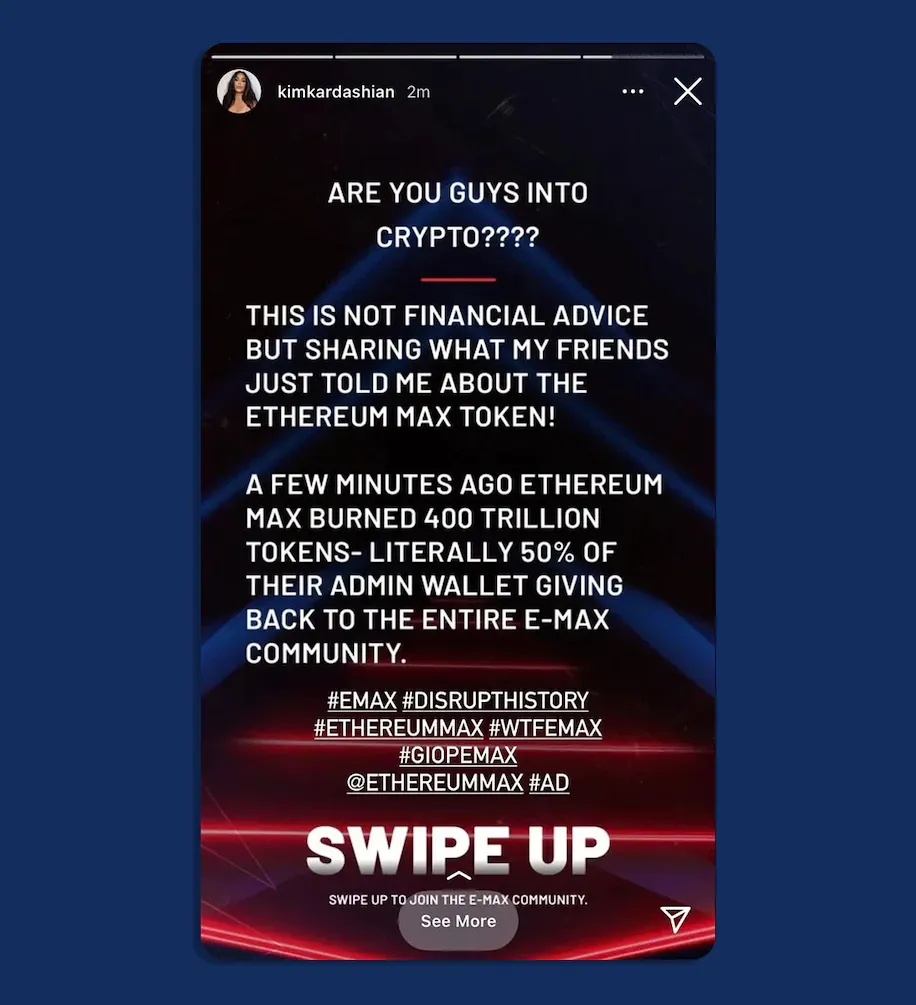 In a June 13, 2021 Instagram post Kardashian wrote, "Are you guys into crypto? This is not financial advice but sharing what my friends told me about the ethereum max token!" She added different hashtags, including #ad, along with #emax and #disrupthistory. But in the eyes of the SEC #ad is not sufficient to comply with SEC laws in regards to touting investments.
Kardashian's net worth is estimated at $1.8 billion, so a $1.26 million fine is the equivalent of a fine of less than $100 for a typical US family. For the owner of Birkin bags and diamonds, this is just pocket money, indeed.
"This case is a reminder that, when celebrities or influencers endorse investment opportunities, including crypto asset securities, it doesn't mean that those investment products are right for all investors," said SEC Chair Gary Gensler. "We encourage investors to consider an investment's potential risks and opportunities in light of their own financial goals."
This fine may be the SEC's way to send a message to other celebrities and influencers who might be promoting crypto currencies or other investment assets. Actually, Kardashian is not the first celebrity to pay the SEC fine for promoting crypto currencies. In 2020 Steven Segal paid more than $300,000 in penalties for pushing crypto, and in 2018 boxer Floyd Mayweather Jr. and music producer DJ Khaled paid over $600,000 and $150,000 in penalties for doing the same thing.
Our honest advice is: don't take advice from celebrities backing crypto. And we will continue to observe.
Comments