Chicago trading firm DRW executed intraday repo trades with France's Societe Generale and another unnamed global tier 1 bank using Broadridge's Distributed Ledger Repo (DLR) platform, according to a press release by Broadridge earlier this week.
The latest transactions follow the first intraday repo transaction on the platform, which happened in April between UBS and an Asian bank. Outside of intraday trading, DLR, which brings the benefits of distributed ledger technology to the global repo market sees a monthly volume of $1 billion in trades.
So what exactly is a repo transaction? According to Investopedia, a repo (or repurchase agreement) is "a form of short-term borrowing for dealers in government securities."
In a standard repo transaction, the dealer would sell government bonds to investors, typically on an overnight or 48-hour basis, with an agreement to buy them back at a slightly higher rate following this period. This is used to release capital from the asset in the very short-term, and is a common tool of the open market operations (OMOs) used by central banks to manage money supply.
Broadridge's DLR platform provides a one-stop-shop solution to agree, execute and settle repo transactions with greater speed and mobility of collateral. This enables the possibility of intraday repo, which was not previously possible. It also reduces the cost and risk involved in repo activity.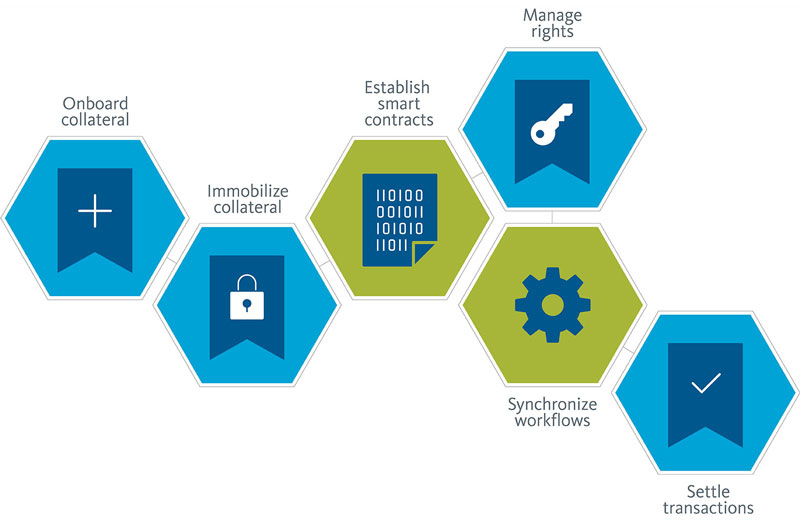 Societe Generale Americas COO, Greg Zielinski, praised the benefits of bringing this new trade type to the market, explaining, "By meshing distributed ledger technology with existing market settlement infrastructure, we can help usher in new flexibility for our clients via a secure and compliant channel."
His counterpart at DRW, Mark Wedland, noted that "Intraday repo allows us added flexibility to manage liquidity and help maximize use of capital, which was previously limited by technological barriers."
DLR has been developed on VMWare Blockchain using Digital Asset's Modelling Language (Daml). As Observers reported earlier this month, Digital Asset has just launched its Canton Network (of networks), allowing applications built in Daml to interact with each other, so the repo platform could potentially form a part of this interconnected financial ecosystem.
Broadridge was an early investor in Digital Asset, and DRW is one of the founders. Meanwhile SocGen's crypto subsidiary SG-FORGE launched its Euro-pegged stablecoin, Coinvertible, on the Ethereum public blockchain last month.
Blockchain technology continues to enable significant improvements over legacy systems as it becomes an ever more integral part of the mainstream financial ecosystem. Has the replacement of old-fashioned banking services with blockchain-based systems hit critical mass? We will continue to Observe.
Comments