The index description on the company website is as follows:
The CoinDesk Market Index (CMI) is a broad-based index designed to measure the market capitalization weighted performance of the digital asset market subject to minimum trading and exchange eligibility requirements.
CMI now includes 148 сonstituents representing different sectors (e.g. Computing, Currency, DeFi, Culture & Entertainment etc) weighted by market capitalization. The Index is based on the Digital Asset Classification Standard (DACS) that every сonstituent must be included in. Currently, DACS includes 500 digital assets, so we can expect the number of CMI constituents to grow as well.
DACS is a CoinDesk crypto analogue of the Global Industry Classification Standard developed in 1999 which is used to classify publicly traded companies.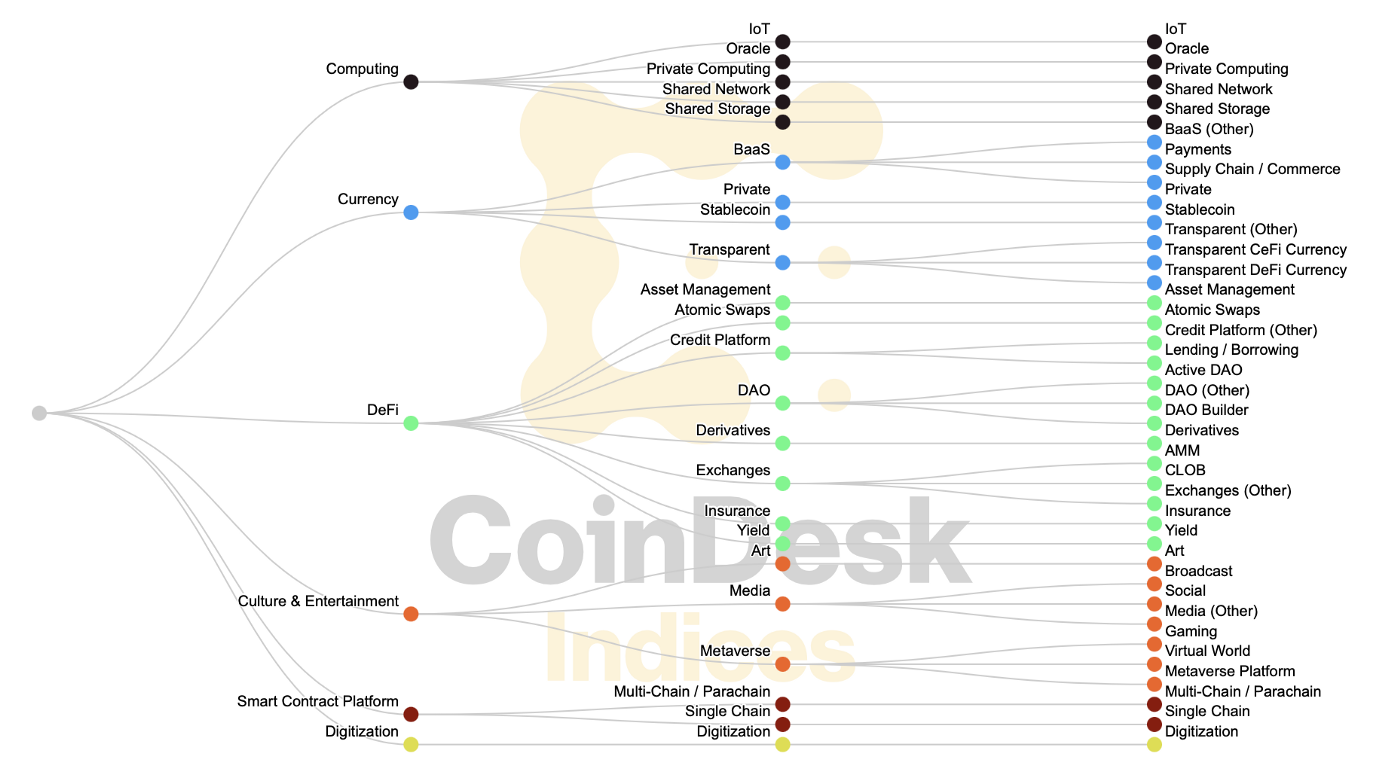 According to Jodie Gunzberg, managing director for CoinDesk Indices, the key feature of CMI, is that it's only the first of nine indexes built around DACS. Among the others high indexes it seems to be based on six different DACS sectors plus two connected to stablecoins.
"What really makes this launch unique is the family of indices, representing not just the broad market but the sectors. The first question might be, 'Is the market up or down today?' You might look at the broad market index for the answer. But then you ask, 'Why, what drove it?'"
💡 By the way, this is not the first index by CoinDesk: for example after the acquisition of TradeBlock in 2021 the company acquired the Bitcoin Price Index (XBX) which provides a USD-denominated reference rate for the spot price of Bitcoin. It is based on weighted rates from multiple exchanges. Here you can find all the CoinDesk Indexes.
Among CMI competitors are:
The set of S&P Cryptocurrency Indices.
The Nasdaq Crypto Index (NCI) which tracks 11 crypto assets (but the weight of BTC and ETH together in the basket is more than 95%).
The Bloomberg Galaxy Crypto Index ("BGCI"). Each constituent in this index represents a holding of no more than 35% and no less than 1% of the Index's overall value. The company also publishes a DeFi Index which is designed to measure the performance of the largest decentralized finance (DeFi) protocols in the digital asset ecosystem.
Right now all of these indexes show quite different data which can be confusing:
A price index can be a powerful tool for any investor, but we would highly recommend that you wait before rushing into trading based on this one. Such indexes need time to get approved by the market conditions and movements which takes time — S&P500 for example was first published in 1957. To make sure that CMI as well as its competitors are a reliable reflection of the real conditions and to choose the most representative among them we need way more time to observe.
Comments