Netizens points out that Alex Mashinsky withdraws funds from his wallets while Celsius users are unable to move their funds due to blocking. All this is happening during the trial, as a result of which personal data and transactions of Celsius users have become publicly available.
The other day it became known that the former CEO of Celsius Alex Mashinsky had been withdrawing his funds. This was happening against the background of an actively ongoing bankruptcy procedure of the company, in which one of the most pressing issues is the withdrawal of funds by ordinary users. People could not manage their funds for several months, and Mashinsky successfully transferred his cryptocurrency on October 11.
The Nansen analytical platform has released data according to which about a million dollars have been withdrawn from wallets belonging to the former CEO of Celsius since the beginning of October. According to Nansen, funds were transferred from six wallets, and transactions were carried out using USDC and the platform's own token – CEL.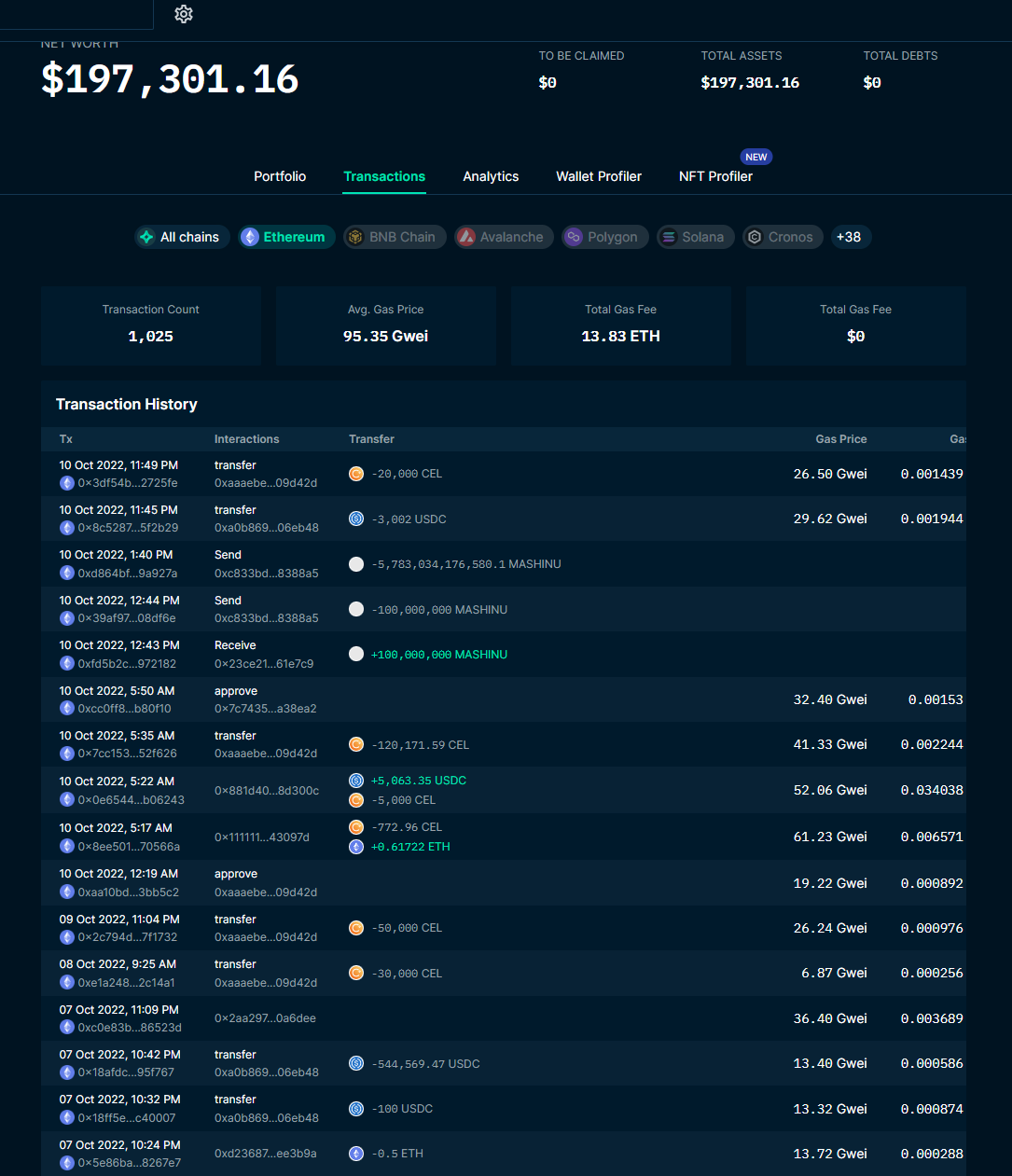 Also, Coffezilla a network user specializing in online investigations indicated the withdrawal of funds.
According to Coffezilla, there is a wallet that does not officially belong to Mashinsky, but is sponsored from the confirmed wallet of the former CEO of Celsius.
However, this is not the sum of troubles that have occurred with Celsius and its users. The most high-profile result of the bankruptcy court case for the company was a document in which personal data and transactions of Celsius users were published within 14,000 pages.
How did the document get online and become publicly available? In order to submit documents to the court, Celsius lawyers prepared a document containing confidential user information. Furthermore, the document was posted in PACER, which is a public access service for documents that are being considered in the US federal court. Later, the PDF file was moved to the Internet Archive from where it was deleted. But for all that time the document was in the public domain, it could be downloaded.
The document did not include the addresses of crypto wallets, but contained detailed information about transactions, amounts and user names. Such a leak has two possible consequences. One group may use the data to track hackers who used Celsius. But there will also be those who will use this information to commit crimes, because now it is known who owns large sums.
It seems now that Celsius is in crisis it is attracting more and more controversy. But we will continue our observations in order to monitor the progress of the court case and the consequences resulting from it for the company and its users.
Comments