On April 13, Stablecorp tweeted about the new start of QCAD. The project was dormant since 2021, when active development was paused due to financing issues.
QCAD is a stablecoin denominated in Canadian dollars. The purpose of QCAD is to enable payment transactions, facilitate trading, and support borrowing and lending activities of other crypto assets. It is distributed by authorized dealers, such as wholesale institutional organizations, which, according to the contract with SDC, can buy and sell QCAD at a fixed price. Stablecoin is available in the Ethereum, Stellar and Algorithand blockchains. According to Stablecorp's official website, 1.6 million QCAD tokens were in circulation on April 11.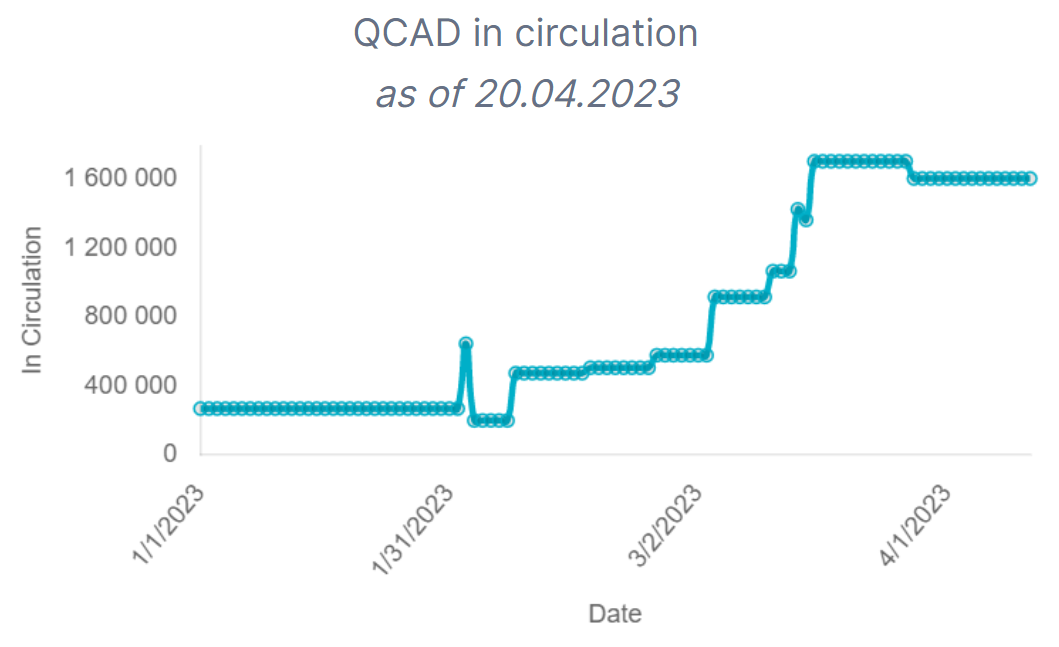 The QCAD stablecoin was launched on February 11, 2020, however, on February 25, 2021, Stablecorp announced the closure of a highly strategic round of financing in the amount of 2 million Canadian dollars for QCAD. Since then, the active development of the stablecoin has been suspended.
💡
Stablecorp
is a leading Canadian fintech company developing banking-level blockchain technologies. The company was founded by 3iQ, a Canada based digital asset manager firm and Mavennet Systems, management blockchain solution developer firm.
After more than two years of silence, Stablecorp has updated and relaunched its stablecoin project. According to the official announcement, some updates have been made to QCAD:
Stablecoin reserves are now held by a separate Tetra Trust Company (Tetra). According to the company's official website, Tetra is the first and only trust company in Canada that has a license to store digital assets.
"Transparency and properly regulated reserve structures are critical parts of the mass adoption and success of stablecoins and the digital asset market. As the only Qualified Custodian for digital assets in Canada, Tetra is excited to play such a critical role in creating an institutional grade stablecoin like QCAD. We're happy to partner with Stablecorp to deliver this valuable solution to Canadians," - said Tetra Trust CEO Didier Lavallee.
2. The new version of QCAD is being launched by an entity called Stablecorp Digital Currencies Inc (SDC). SDC is a subsidiary of Stablecorp, which is will be fully engaged in the management of stablecoin and its reserves.
3. The reserves of stablecoin will be stored in Canadian financial institutions. The accounting firm Grewal Guyatt LLP will monitor the reserves and provide "Reasonable Assurance" reports on their balances.
Stablecorp CEO Alex McDougall spoke about the restart and the increase in demand for a stablecoin pegged to the Canadian dollar.
"We are extremely excited to bring this asset back to the Canadian market at scale. With the stability of the Canadian banking system and foreign exchange rates with the US Dollar at multi-year highs, we've seen demand for QCAD climb and on-chain foreign exchange volumes with USDC rise. Now, with increased regulatory clarity from the Canadian Securities Administrators, the timing is perfect to bring Canadians a transparent, efficient stablecoin. We are thrilled to be working with Tetra Trust Company and Grewal Guyatt LLP to deliver this industry-leading structure and are eager to continue to reveal partnership and use-case announcements in the near term."
While USD pegged coins are quite common, the stablecoins pegged to EUR and other fiat currencies are just gaining popularity. The countries are concerned about their monetary sovereignty and experiment with the new technology that is already available for the greenback.  We have recently seen how Finland and Spain blessed the launch of their national EURO linked stablecoins. We will continue to Observe the future of QCAD and will report any news on the matter!
Comments