A recent tweet by blockchain data service Glassnode suggests that the Bitcoin balance held by whales has declined by 255,000 BTC since May 30. The tweet points out that "This is the largest monthly balance decline in history" and it "indicates that there are noteworthy shifts happening within the Bitcoin Whale cohort worth diving deeper into."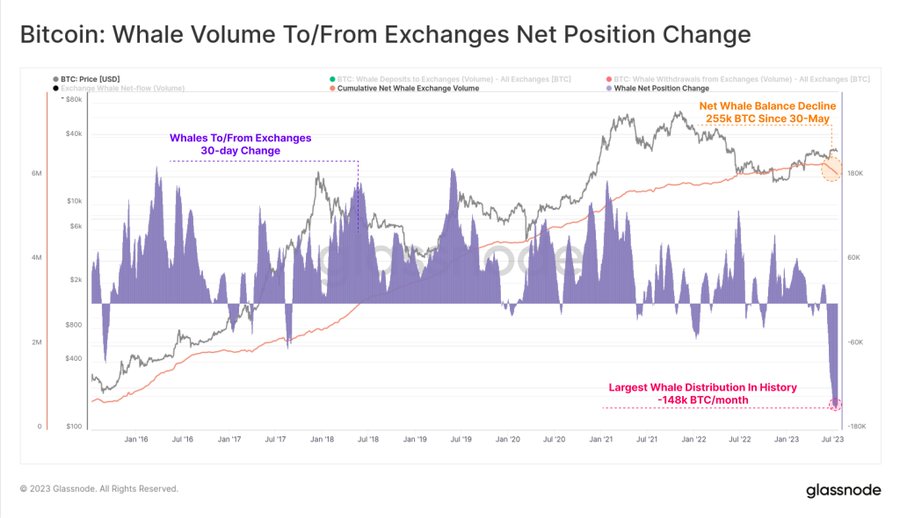 💡
The insights provided by Glassnode are based on the analysis of blockchain data, a field known as blockchain analytics. Blockchain analytics leverages the unique properties of the blockchain: its transparency, immutability, and the wealth of data it holds. Every transaction on the blockchain is recorded and publicly accessible, making it a rich resource for data analysis. With these insights, it's possible to observe and understand market dynamics in real time and identify trends, behaviors, and patterns that may not be apparent at first glance.
The 'Bitcoin whales' play a critical role in the cryptocurrency markets due to the sheer size of their holdings. Traditionally, large transactions made by these entities can cause ripple effects on the market, triggering price volatility or even shaping broader market trends. Therefore, the decreasing share of such holders may be a sign of a maturing market. Overall, this decrease is consistent with the ongoing trend.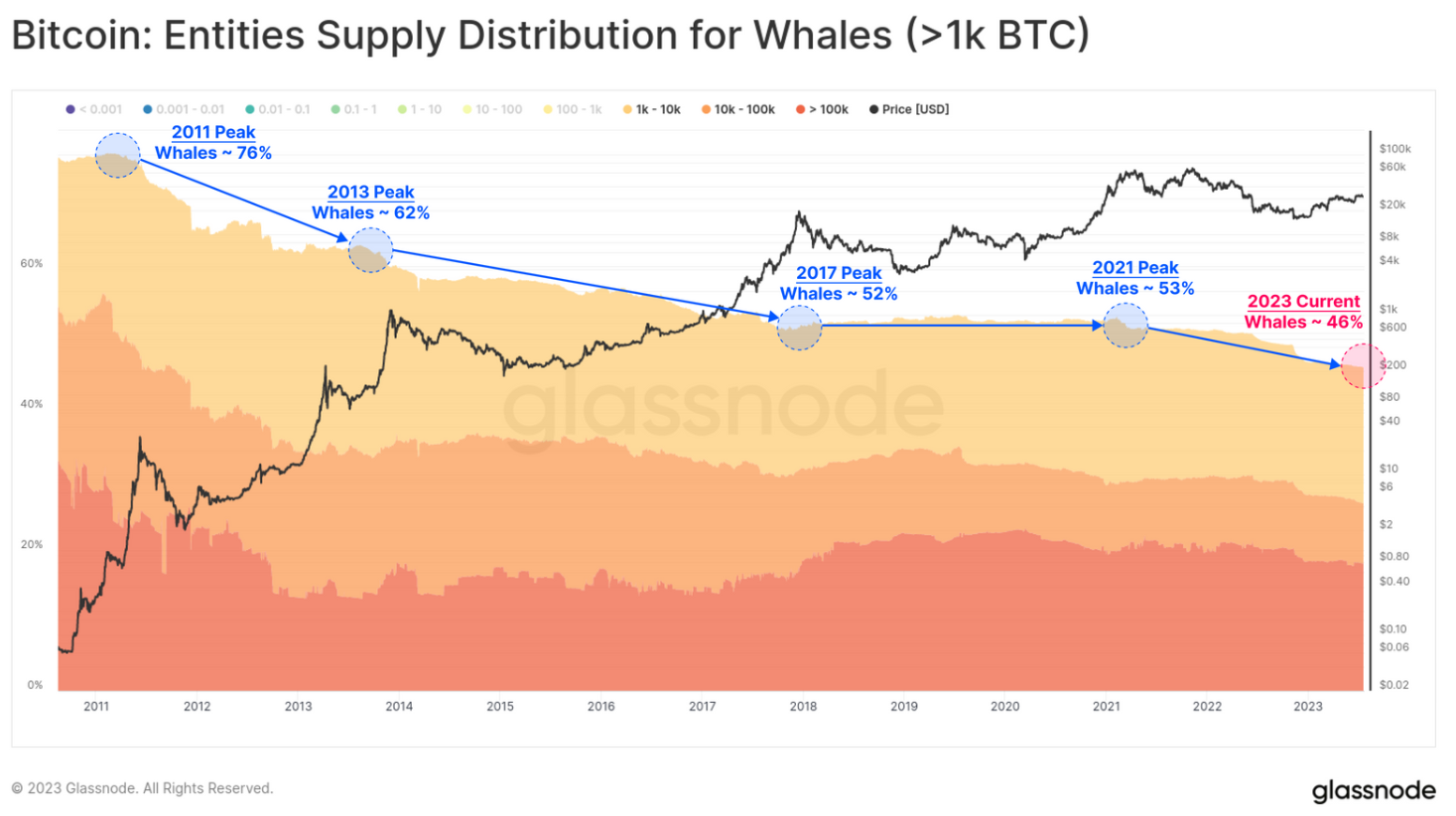 On the other hand, a decrease of this magnitude in their Bitcoin balance might indicate several other scenarios, such as the whales diversifying their portfolios, taking profits, or reacting to market conditions, which warrants a more detailed examination.
Despite this trend among the whales, another group within the Bitcoin ecosystem - the long-term holders - seems unfazed. Accumulation, the act of buying and holding a particular asset with the expectation that it will increase in value, is continuing.
Glassnode Alert, the company's other Twitter account for faster insights, shared data that suggests that the supply of Bitcoin last active ten or more years ago has reached a new all-time high of 2.88 million BTC. This indicates that early Bitcoin adopters, who have held onto their coins for a decade or more, have not been selling, but instead continue to hold, hinting at their confidence in Bitcoin's long-term value proposition.
Alongside these seasoned holders, there's also a surge in the number of smaller Bitcoin holders and new market entrants. The number of addresses holding one or more BTC recently reached a new all-time high of 1 mln BTC. Previously we Observed aggressive accumulation of Bitcoin by another small-size holder cohort, Shrimps.
The growth in this segment suggests that Bitcoin is becoming increasingly popular and accessible to a wider audience, and the market's demographic is diversifying. This is an encouraging sign that implies an increasing level of participation from smaller investors and a less concentrated (read manipulated) Bitcoin market.
Comments