Since their inception in 2019, 1inch has become a well-known player in Defi. They have offered users lending and liquidity sourcing tools, as well as other DeFi utilities. The company was founded by two software engineers, Anton Bukov, and Sergej Kunz who have been active participants in the crypto community and participated together in blockchain hackathons. They managed to raise around $200 million in investment from crypto venture firms and funds. The project has its own token, 1INCH, that is listed on well-known centralized and decentralized exchanges, and has the 87th position on Coinmarketcap by market cap at the time of writing.
On January 19, 1inch published a blog post, introducing their own hardware wallet – 1inch Hardware Wallet – as a step towards the expansion of its ecosystem. According to their release, the wallet is now at the final stage of development, and the company claims that the wallet will go on sale "later this year". The wallet is being developed by an independent development team that has received a grant from the 1inch Foundation.
Related: Jade. New hardware wallet by Blockstream
💡
A hardware wallet is a special type of crypto wallet that stores the user's private keys in a secure hardware device.They have major advantages over standard software wallets: private keys are often stored in a protected area of a microcontroller, and cannot be transferred out of the device in plaintext. There are different types of hardware wallets, they are classified by the technology used for the storage option for private keys (main processor, separate secure element, etc.) and by the connectivity type (USB, NFC, Bluetooth, etc) .
What technical aspects does the 1inch Hardware Wallet have? The device is completely wireless, no buttons - only a touchscreen, and a camera and NFC chip for information exchange. Users will be able to create sets of wallets with different seed phrases.
One of the most demanded features of modern hardware wallets is the transparent transaction signing, which has also been implemented within 1inch's hardware wallet. Transparent signing means the wallet uses its database to parse and verify the smart contract address. Previously, hardware wallets had only a "blind" singing option, where the user could not verify the smart contract the same way it was done in software wallets.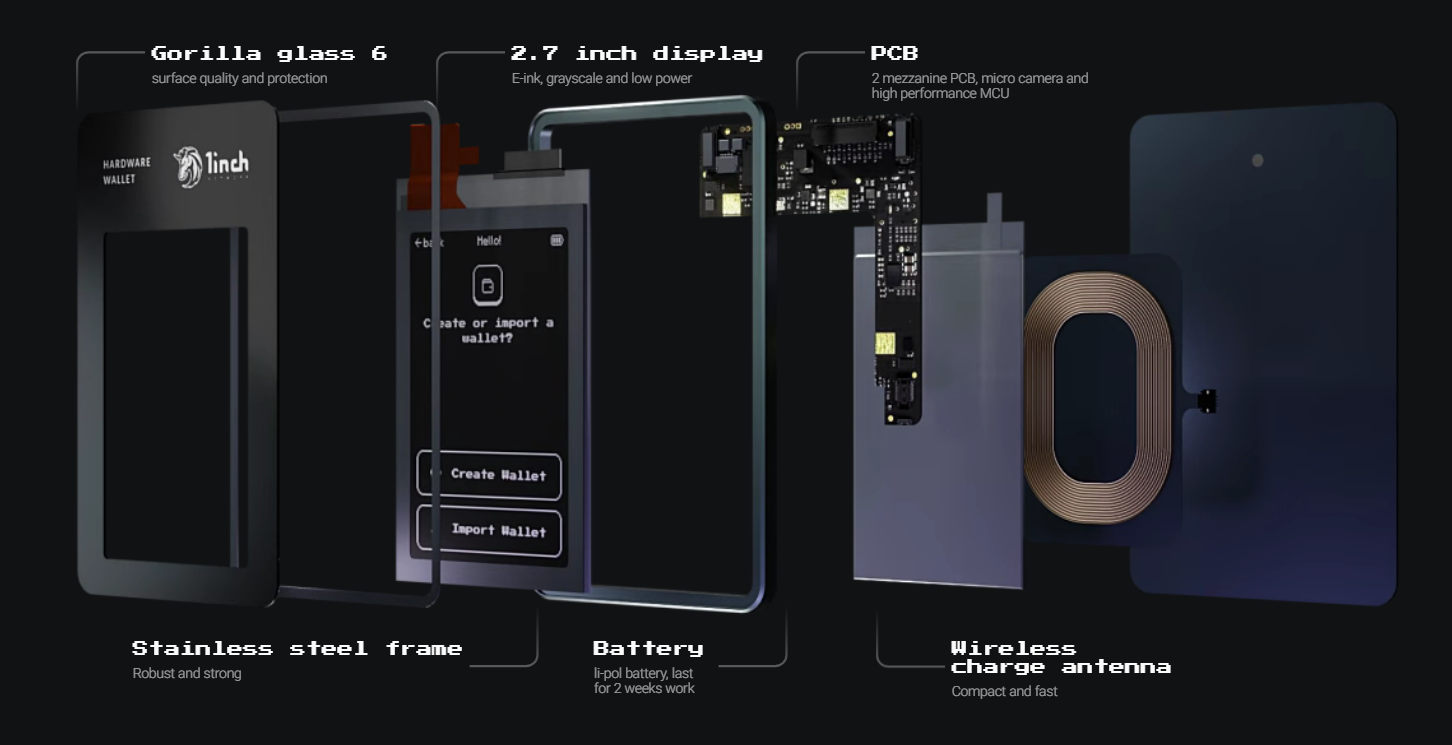 The appearance of the device is plain, with rounded edges. The device is compact, the size of a bank card and weighs 70 grams, with a thickness of only 4 millimetres. The device also supports a camera for scanning QR codes and 2.7" E-Ink grayscale touch display with light/dark modes. It is waterproof, and the screen is protected by Gorilla Glass 6 with a stainless steel frame. It will be possible to charge the device using wireless charging which will last for up to two weeks of use, according to 1inch. The wallet will be sold in five colours.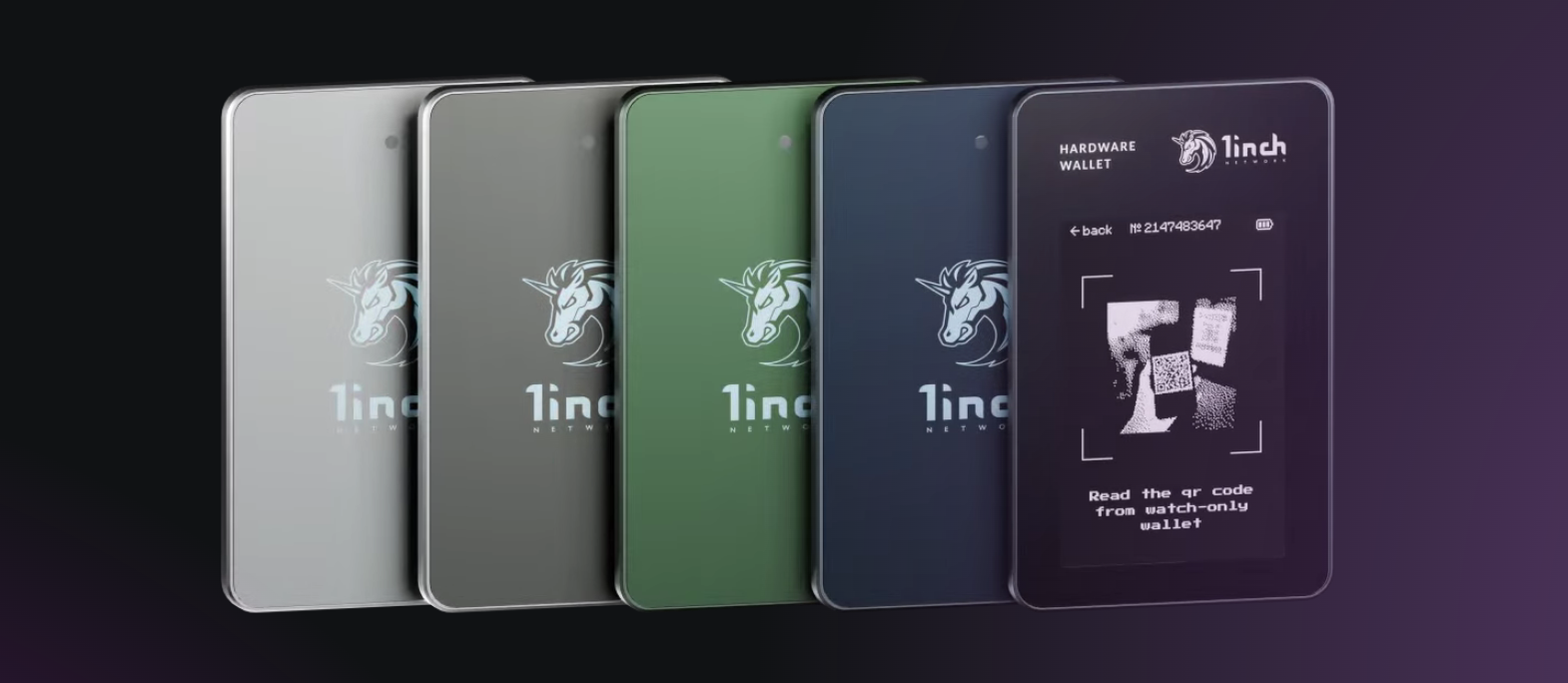 The price of the device has not been announced, as well as its release date. The only thing that is known is that the device will enter the market this year. You can sign up on the waiting list now to be informed about the release of the device immediately after sales start.
According to Allied Market Research, the global market size of cryptocurrency hardware wallets "was valued at $442.6 million in 2021, and is projected to reach $3.6 billion by 2031." The key manufacturers of cryptocurrency hardware wallets, according to Allied Market Research, are ARCHOS, BitLox, CoolBitX Technology Ltd., ELLIPAL Limited, Ledger SAS, OPOLO SARL, Satoshi Labs SRO, ShapeShift, Shift Crypto AG and Sugi (zSofitto NV). The most popular wallets in the crypto community (according to our observations) are products from Ledger and Trezor.
Well, which is better: hardware wallet or self-custodial wallet? In the first case, you get security, for which you will have to pay for. In the second case, you get a convenient but vulnerable tool for free. Decide for yourself, dear readers, which is more important for you. And we continue to observe.
Comments