The largest Web3 player in the region, Thailand's Bitkub crypto exchange is due to upgrade its Bitkub Chain to Proof of Stake (PoS) next week. The Chao Phraya hard fork from the Proof-of-Work system to PoS is expected on August 17.

Bitkub has been developing its blockchain infrastructure for over two years. It began with the consensus Proof-of-Authority (PoA) blockchain back in 2021. At the time of writing the project's website was reporting 350 million transactions, 8 million wallet addresses and around 50 dApps in development on the chain.
The project has also its own Kub coin that will be used for staking on the Bitkub Chain's PoS release. Surprisingly, the token price has not reacted to the news.
Bitkub was founded in February 2018 with a starting capital of 50 million Baht. It currently reports a 24-hour trading volume of $16 million (10 times less than that of Kraken or Huobi). The most active trading pair is USDT/THB, boasting a 24-hour volume of $5 million. The exchange holds an overwhelmingly dominant position in the country. Licensed by the Thai SEC (Securities and Exchange Commission) and supervised by the Bank of Thailand, it has a 75.4% market share.
💡
Crypto exchange UpBit holds a similar position in South Korea,
servicing
more than 80% of the South Korean market.
The driving force behind Bitkub's success is its founder and Group CEO, Jirayut Srupsrisopa, known also by his nickname Topp. He is one of Thailand's leading Bitcoin and open blockchain experts with more than eight years of experience in the industry. Many people attribute the exchange's unicorn status to Topp - making it Thailand's first FinTech startup to achieve a valuation of over US$1 billion.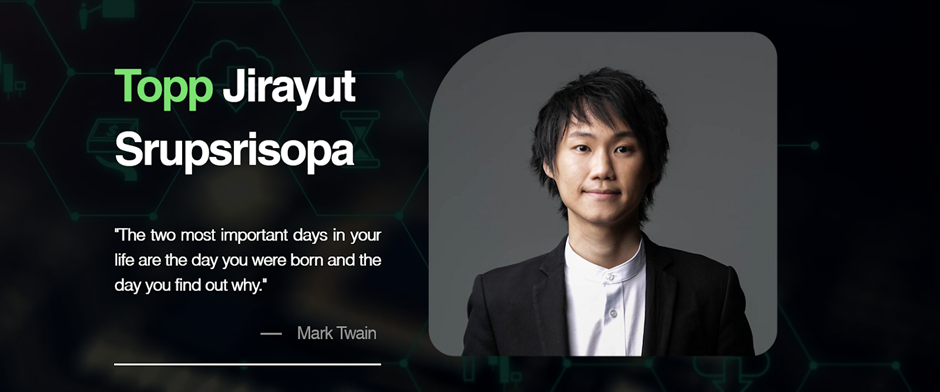 Topp's vision regarding the future plans of his company is reflected in a recent quote:
"We are not just a cryptocurrency company; we are also building the infrastructure for Thailand's digital economy."
In its most recent move, Topp brought his company into a joint venture with a local AI solutions developer Thai GPT to develop Bitkub AI, a conversational AI for the crypto platform.
The crypto industry in Thailand has experienced significant growth and interest, reflecting the country's liberal stance on blockchain technology and cryptocurrency. A recent study by Recap ranked it as the world's 10th-largest crypto hub.
Comments