Crypto custodian Prime Trust filed for bankruptcy this week, marking an end to its almost year-long struggles.
The once successful crypto startup, which had secured $107 million for the development of crypto custody infrastructure, showed the first signs of problems in November last year, after the FTX collapse. The company replaced its CEO, laid off a third of its staff, and was looking for exits. The branch in Texas and subsidiary Banq were truncated.
Two months ago the company was probed by Nevada State commercial regulator. After revealing a significant shortfall in customers' funds under custody, the company was ordered to cease all activities. While the FTX panic contributed to increased withdrawals by Prime Trust's customers, the reason behind the failure was anecdotal – according to the details of the case the specialized custodian 'discovered that it was unable to access [some of its wallets] and the cryptocurrency therein'.
Purportedly, the problem was a miscommunication between the leaving and new management of the company in 2020. New management was not aware of the archivation of Prime Trust's legacy accounts after it delegated crypto storage to the digital asset security platform Fireblocks. The custodian was unknowingly sending crypto to the wallet it had no access to for at least several months.
According to the materials of the case, to satisfy the withdrawals from the inaccessible wallets, Prime Trust turned to selling other users' assets.
At the time of the probe, Prime Trust held around $70 million in assets, mostly in crypto, from more than $150 million owed to its customers. Judging from the breakdown posted by Coinbase executive Conor Grogan, most of the first-tier crypto in their still accessible wallets was drained. 85% of this $70 million is in tokens of Audius, a niche project for music streaming assets (making also one-third of the total AUDIO tokens supply).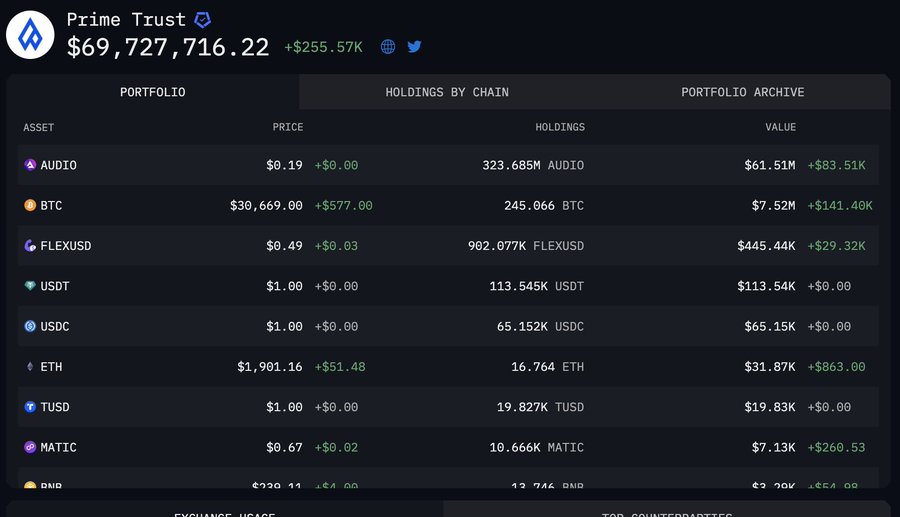 The bankruptcy petition shows that Prime Trust's top 50 creditors have claims of roughly $184 million including a single undisclosed debtor who has $55 million. The document also notes Galaxy Digital Partners LLC as "an investment banker, to represent and assist each Filing Entity in carrying out its duties under the Bankruptcy Code in connection with Chapter 11 Cases".
In an official statement, Prime Trust announced an intention to file a number of motions with the Bankruptcy Court with strategic alternatives, including potentially a sale of its assets and operations as a going concern. The process is added to our industry Observation list.
Comments