Boring Apes' Not Boring Games
27/02/2023 From our Play and Earn Observer Kirill Shevchenko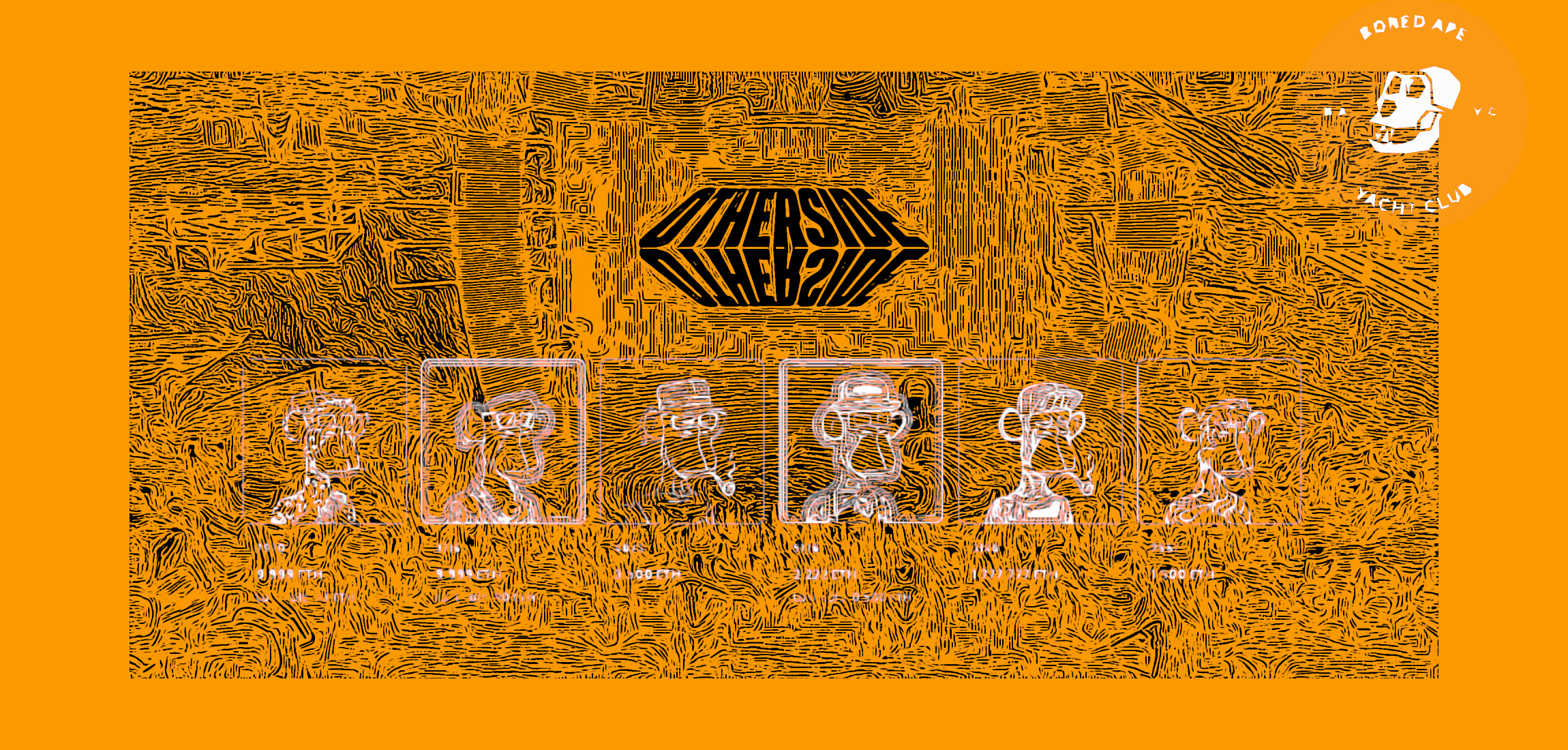 On the Otherside of the metaverse
Otherside metaverse was created by the Yuga labs studios, the Ape NFT creators. The project extends far beyond traditional NFTs. From a humble beginning in July 2022, the Otherside gamified metaverse was so massive, it didn't even crash with almost 4500 players at once! With a real competitive edge that leaves other games in the dust, this AAA game from a company with a budget of over $4 billion could revolutionize gaming. In comparison to metaverse like Decentraland, which run in browsers, this one runs super fast.
The Otherside metaverse first trip Demo with about 4500 players online: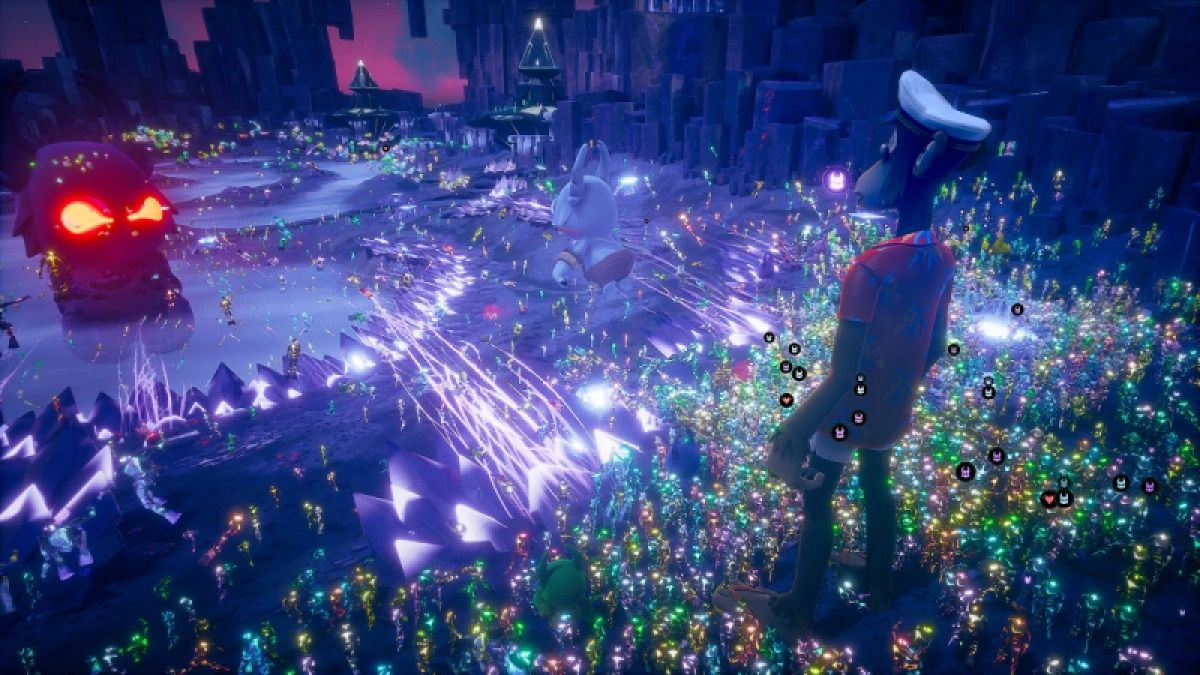 But the real question on everyone's mind is, will this game remain exclusively for the "elite" players? Will it be filtered by owning a Land or an Ape NFT, leaving the rest of us mere mortals on the ground?
Dookey Dash Minigames First
Dookey Dash is the series of the current season of Yuga Lab's minigames described below. What are minigames in principle? The companies want to keep their users entertained till the multiverse comes along - a pretty common approach. In the end, it is quite dynamic and elitist, with everyone fighting for a big score and waiting for the main game coming.
Various prizes and items are up for grabs as the competition moves forward. BAYC's Twitter and their roadmap shared on the discord channel can give us a rough idea of what's going on. You have to be on top of things because the details are deliberately kept quiet until just a few days before the event.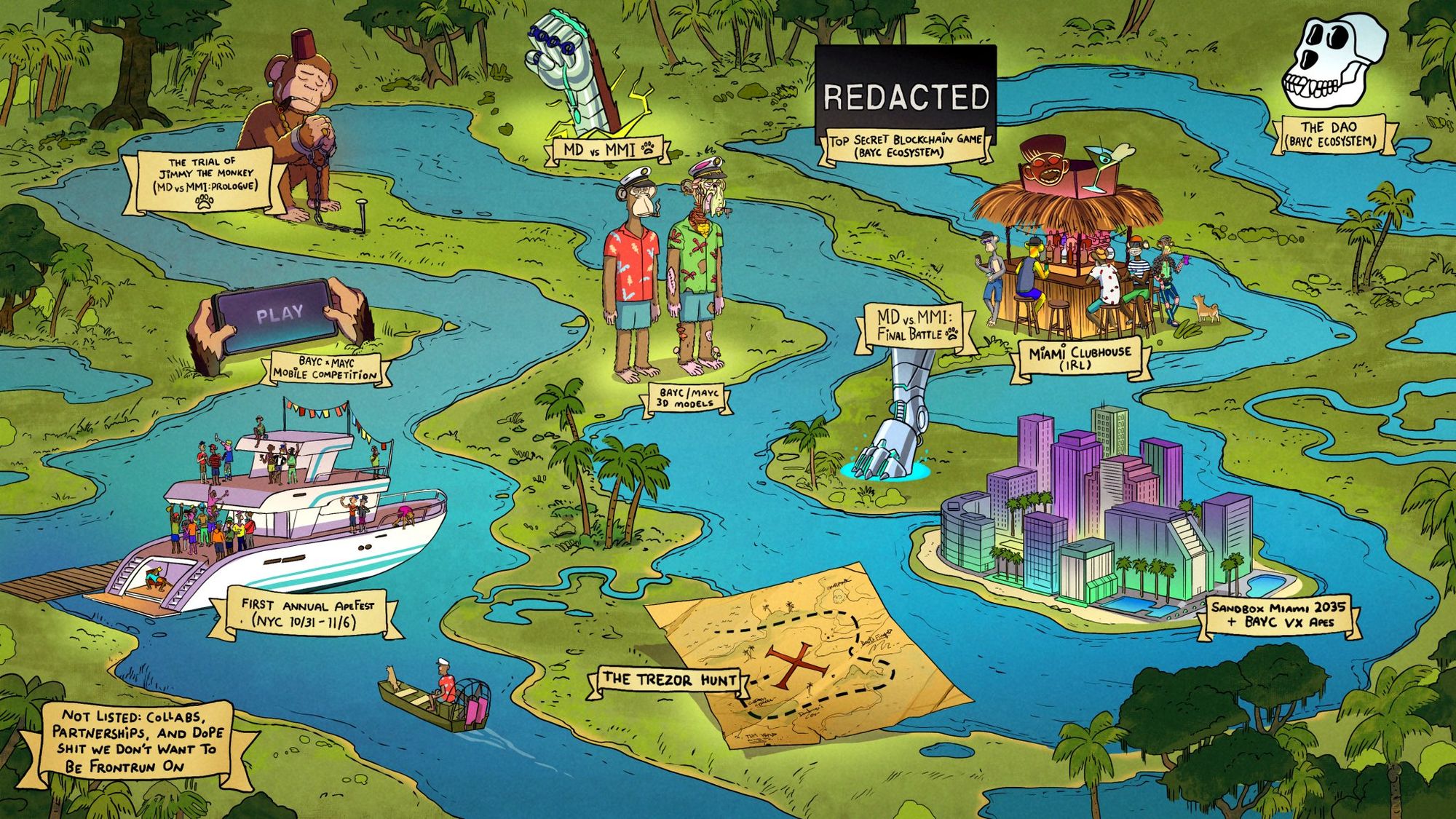 BAYC official site shows upcoming events in slides. Let's take a look at the these stages including those that have already passed.
1. The trial of Jimmy (December 21)
This video, with a heck of details, shows us how the players get the treasury box key from a drunk ape at BA party
2. Mysteries revealed (December 28)
An Ape companion tells us what trials we'll face in the future and also symbolizes the reward, i.e. companion trait, we'll receive.
3. Prepare and get your Sewer Pass (January 11-18)
Those who owned Apes or Mutant Apes could get a Sewer Pass on January 17. Depending on your NFTs combination, you could have a rare pass tier for better rewards which are yet undisclosed. Keep your eye on the twitter for updates.
On January 18th Dookey Dash minigame was launched. To access the game a so called Sewer Pass is required. The Pass is free if you have an Ape NFT. If you don't have BAYC NFT, you could get Sewer Pass NFT of varying rarity for $3,300 on the OpenSea.
💡
The game scores were attached to Sewer Pass and were not verifiable at the time of purchase. So buying a bad Sewer Pass with revealed lower game scores could result in first minigame reward loss.
4. Claim your Sewer Pass, Explore the Sewer (January 18 - February 8)
💡
Many hired paid professional gamers to play Dookey Dash. It was clear people prepared well.
There will be two minigames ahead, so let's look on the first named Explore the Sewer minigame.
Gameplay: The action racing genre where a monkey swims through a sewer to get a treasure box key. Points are earned as you dodge obstacles and collect floating items of different rarities. It depends on what prize you get and how high you can get in game score. You get faster and less visible as you play. It's easy to accelerate the character, breaking wooden barriers with your mouse.
Strategy to win: Relax as much as possible and don't worry about points or rankings. Relaxation is the key to leading this game. Don't focus on collecting items, rather, try to stay alive in the game.
There were different tiers for the Sewer Pass, with corresponding rarities for the rewards. Tires are Ape/Mutant Ape + doggo NFT combination.
💡 Those who got free Sewer Pass with NFT or bought them could resell them until February 8.
5. Game over (February 8)
You couldn't play Dookie Dash anymore from this day.
6. Scores reviewed for Sewers (February 15)
The top 1%, 5%, 10%, 20%, 50% of the players got their score for the Dookie Dash game. We can't say how much this will affect the value, but the rarity of the reward will differ by this proportion.
7. Lick the toad (February 22-happening now)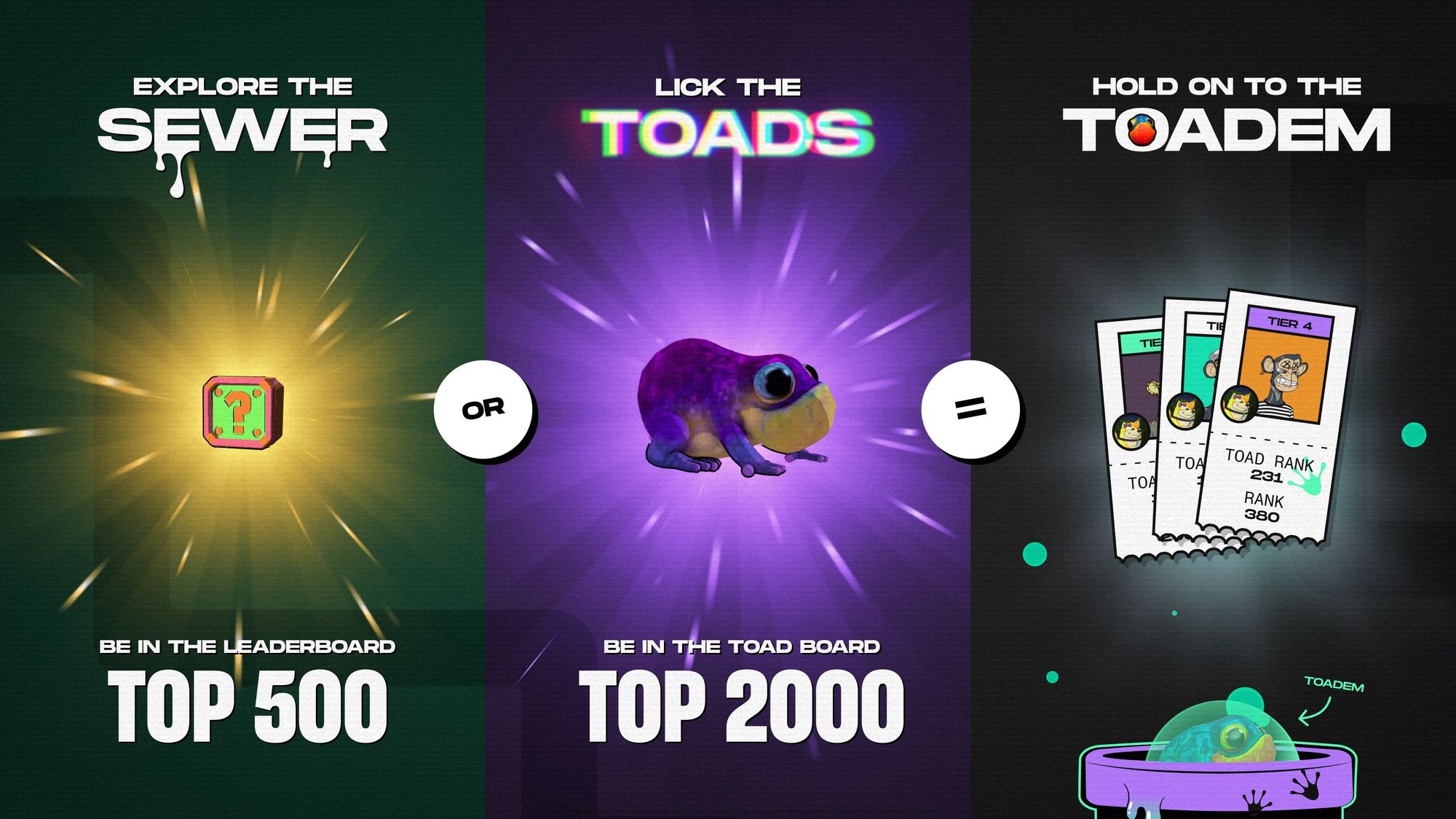 Happening now. Toad Mode is another limited-time Dookey Dash event that gives players a chance get scores and unlock traits for the next NFT - Power Source that will be minted during The Summoning starting on March 8th, 2023.
8. The Summoning (March 8)
On 8 of March players can burn their Sewer Pass NFT and mint their Power Source, a separate NFT.
In conclusion
Yuga Lab developed minigames to a high standard which completely captivated the audience - simple, uncomplicated gameplay, in BAYC's signature style, with quality sound and expensive-looking design.
However, the BAYC NFTs required for joining are had insane prices. Resellers had further inflated the cost, so the entry limit was high for the current market. Yuga Labs tried to lower this barrier with the options like Ape Mutants and the Sewer Pass. Still, the limited access created a bunch of resellers, who raised prices and discouraged ordinary gamers from joining minigames. Per our estimates, no more than 10-20 such players managed to get access to these games.
We observe a larger group that invested in the project, closely follows every update, and is willing to spend a lot of money on the releases like Sewer Pass NFT. The idea was to get more valuable NFTs and break even on the original investments. Some even hired professional players to complete minigame tasks not to waste their time. However, no matter if we're talking about BAYC or other minigames, there is still no guarantee that these games provide any decent return on the investment.
Top AAA Blockchain Games We Wait in 2023
02/02/2023 From our Play and Earn Observer Kirill Shevchenko
Industry observers talk about a great time for AAA blockchain games in 2023. We've reviewed the most notable candidates for the best 2023 AAA P2E top game chart: Illuvium,  Big Time, The Walking Dead: Empires, TCG World.
💡 Some might have noticed that we omitted Star Atlas, Shrapnel, Stormrite, Wizardia, and many other big names. That is true and there is a reason for this: choosing our candidates was all about picking games with at least some playable demo of the full gameplay. The big announcements come with screenshots, teasers, websites, and even a marketplace but, before we can touch the demo, at least in the limited model, it is difficult to judge on results. And it should not be a stripped-down version or a mini-game, but a real game. So we tried to pick games that already had those aspects in place, even if buggy, to get the clue about the proposed idea.
Illuvium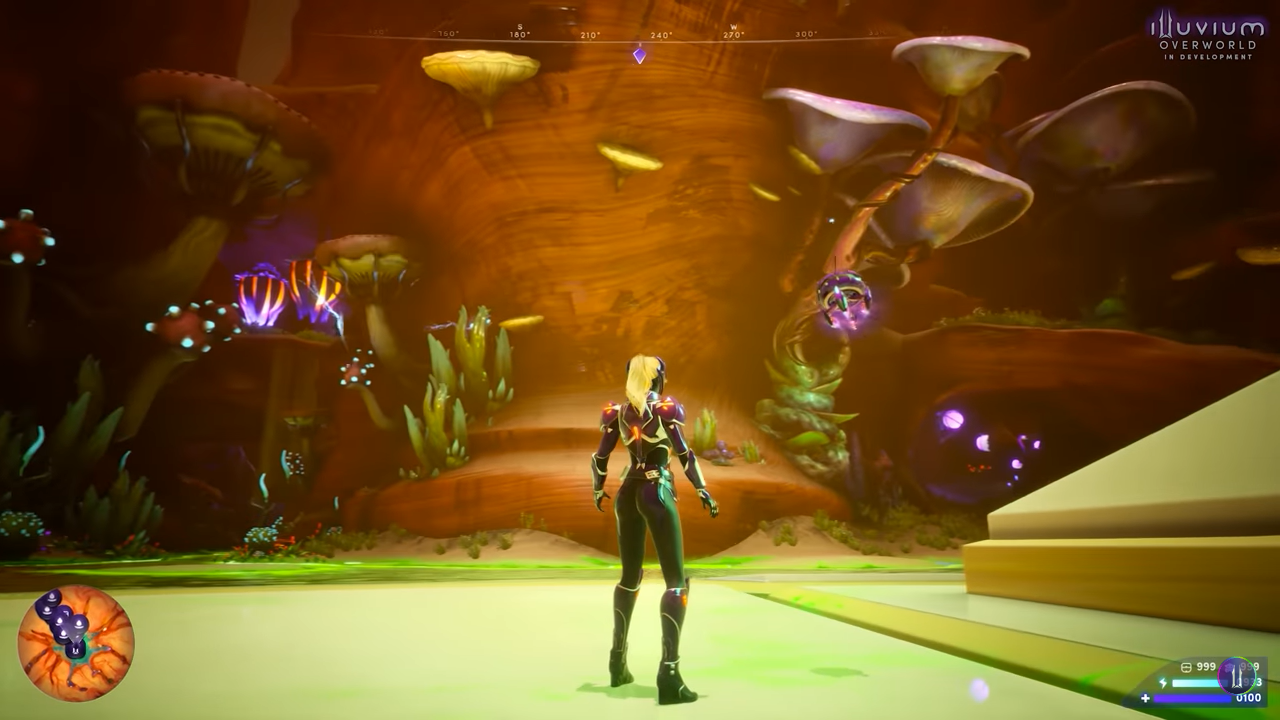 Illuvium continues the idea of Pokémon, bringing high-quality graphics, models, and controls, as well as AI battles, that have become the backbone of the game. We think that AI battles will grow in popularity because they make the game process easy for modern players: after work, you've got a short amount of time, but you still want to play, and at the same time progress at a reasonable speed without hiring boosters. In this regard, Illuvium is an ideal option that provides us with an opportunity for this without spoiling the game with auto-battle.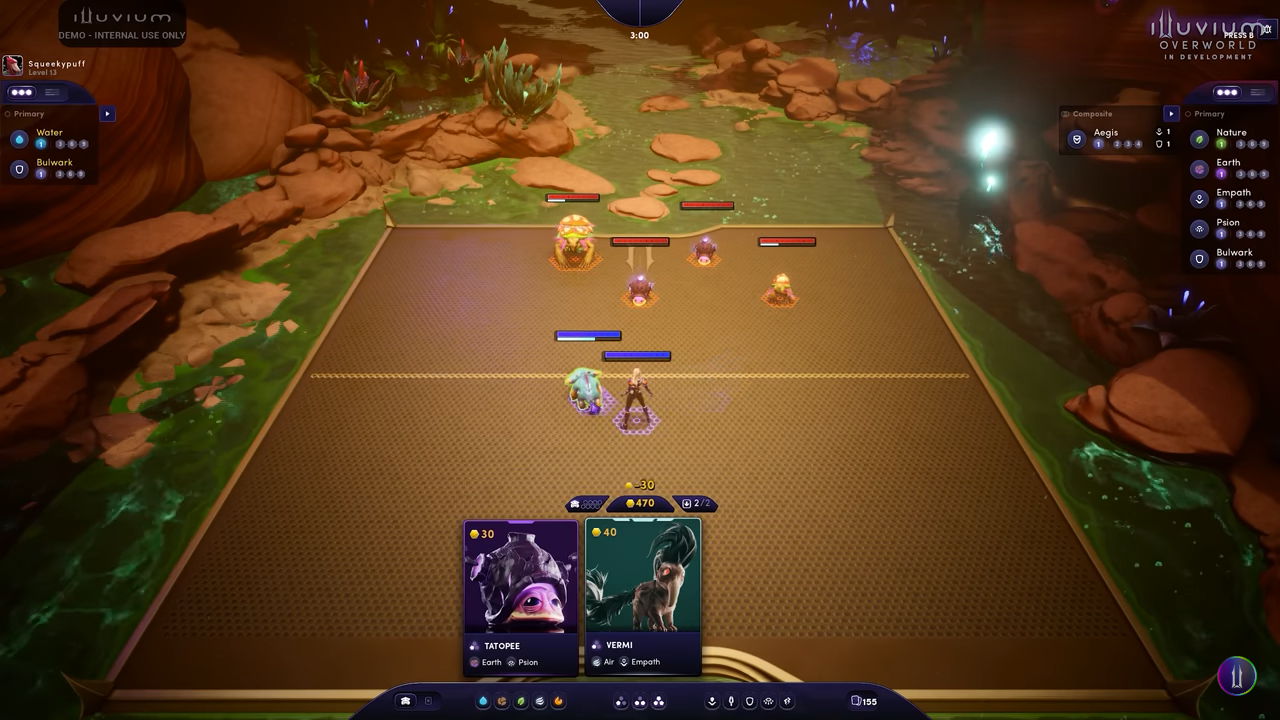 In terms of the technology, Illuvium is based on ImmutableX (God's Unchain, Ember sword, Guild of Guardians), Unreal Engine. Here's some info about platform economics:
Big Time
We'll see an action RPG with farming mobs during multiplayer in Big Time - we have been waiting for this in Lost Relics for a long time, but it hasn't arrived yet. In this game, we don't see a complex plot, but there's a stylish visual atmosphere that makes you feel adventurous while farming with your friends. There's a working demo with farming, gorgeous graphics, and a multiplayer system that's suitable for up to six people. It looks a lot like a mini-MMO (Mass Multiplayer Game) from the outside.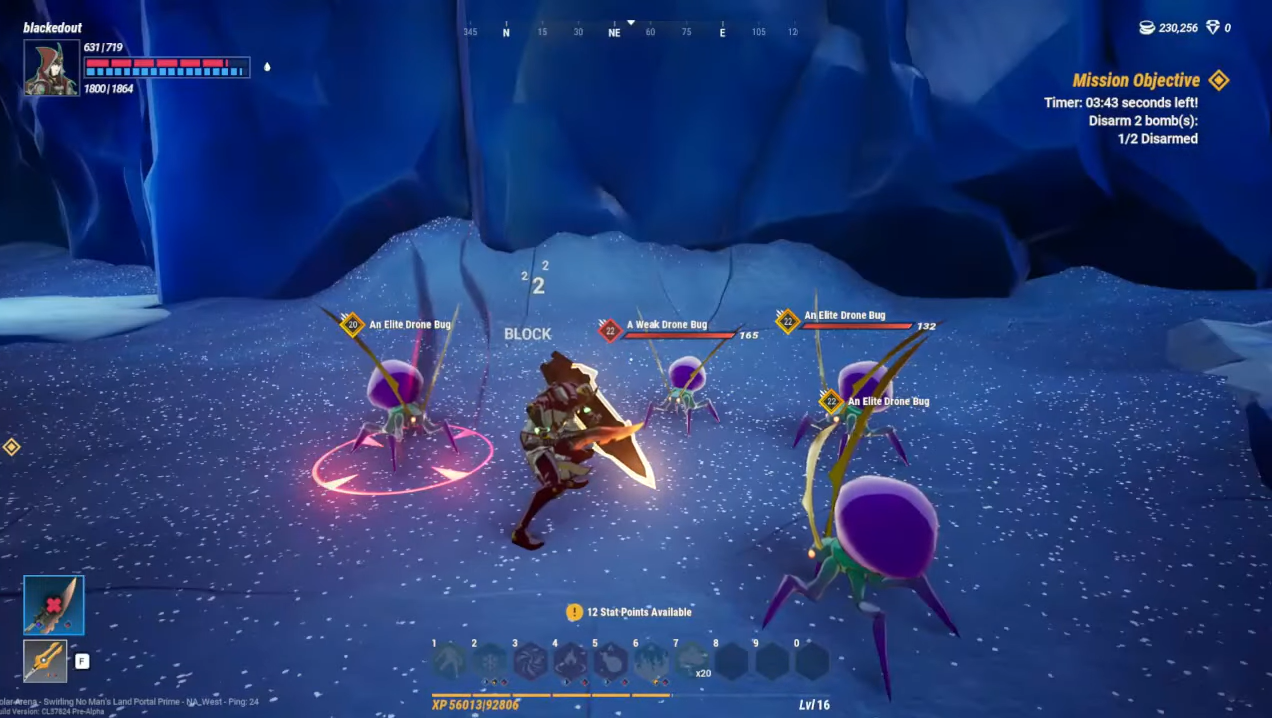 Well, we think having the freedom to decorate your own apartments with all the farmed valuables gives it a certain edge. Like trophy storage in Fable, Overlord, and TES, we are looking forward to seeing how it's implemented in this game. What would make farming items and collecting NFTs more exciting than showing friends and colleagues your finds in a well-furnished house with rooms in different eras?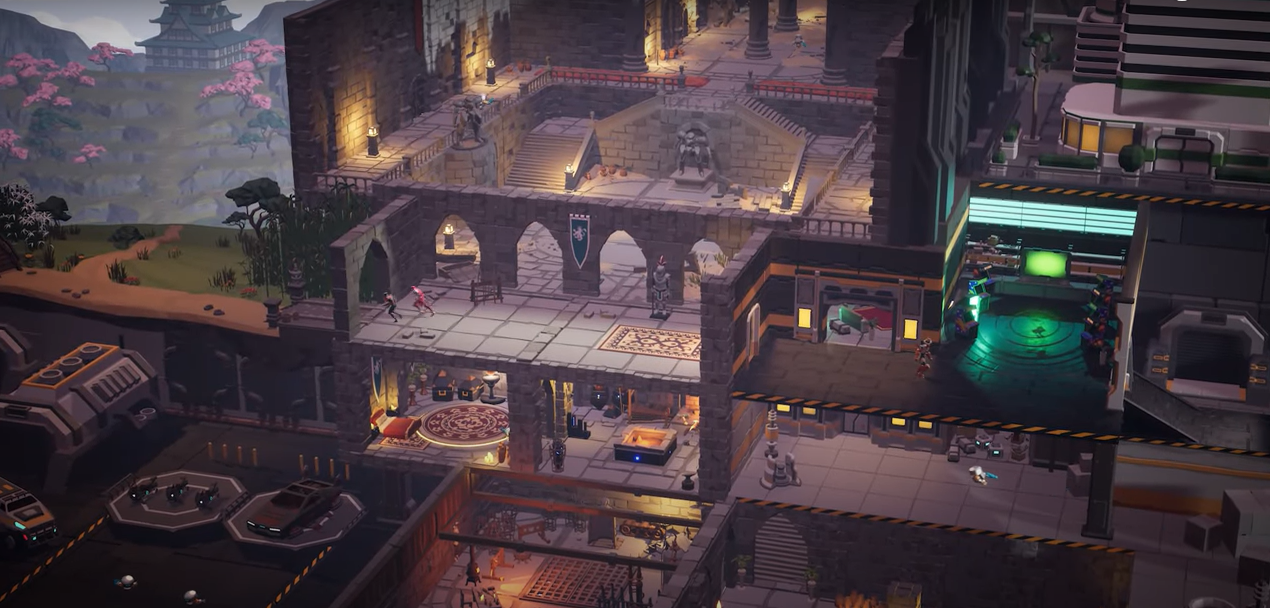 *"Big Time Studios has recruited an all-star team of game industry veterans from Epic Games, Rockstar, Riot, Activision, Blizzard and more. Individually, we've contributed to some of the best-loved franchises in gaming history, including Fortnite, Gears of War, Grand Theft Auto, Call of Duty, and Overwatch, just to name a few." *****
Source : Bigtime official site.
Two other factors that speak for Big Time's success is that their CEO used to run Decentraland, and the game's crypto coin is USDC, which makes its internal economy more stable that the others.
The Walking Dead: Empires
Ember Entertainment is making The Walking Dead: Empires under the leadership of Gala Games, based on the studio's previous mobile game Empire Z (5M+ Downloads, 4.1 star, 366K reviews).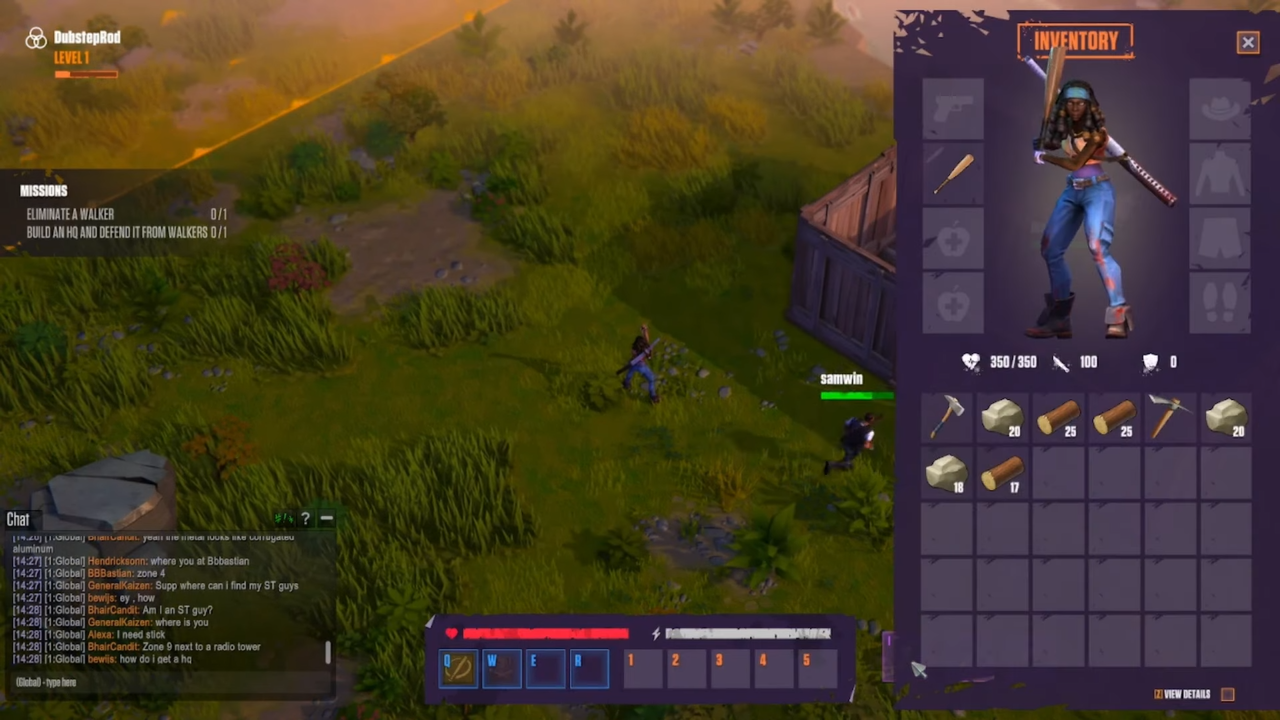 Our faith in Gala Games has been shaken a lot lately after Town Star and Spider Tanks, and we have played them pretty much for long time. So we put The Walking Dead: Empires here with serious skepticism. Even though Gala doesn't directly control the game's development, it has a huge impact on its internal workings.
Gala's other games, Town Star and Spider Tanks, are really well built from a blockchain perspective - earning, etc., and as a final products, have been made to work well with good visuals. Town Star (now in economy refresh state) and Spider Tanks are two full-fledged projects. On the other hand, we observed the overabundance of NFT in Town Star and the boring gameplay in Spider Tanks. A constant stream of upcoming NFTs in these two games creates an atmosphere of forced monetization. Gala has several very long-going projects in which players have invested money - this is Mirandus, an example of significant efforts with little results. Overall, Gala's games are boring compared to regular games. In terms of gameplay, we don't think they will able to compete with AAA companies or serious competitors.
Nevertheless, we have a functional version of The Walking Dead: Empires and the universe (metaverse), with millions of fans. Is there any other survival-style zombie apocalypse game at such a completed stage, with multiplayer options currently available?
💡 We observe some weaknesses of Gala Games strategy. They have divided their efforts between movies, music, and games, and they're trying to dominate each industry. Given that there are big players in these industries also looking to switch to WEB3, we believe the company will face difficulties with such an approach. Gala users also risk losing all their savings if they accidentally navigate to numerous Gala ADs or other Gala sites by accident. The first suggestion in Google search brings a rather complicated https://app.gala.games/ address and many other options below. We've observed that the company's internal policy - eliminating any threat, even the most insignificant - dominates over the one protecting the assets of players (lack of experience and unstable Gala platform).
On the good side, Gala has a lot of sold nodes, and a market cap of $350 million (but keep in mind the same nodes are still nominal because they're Gala Nodes (Town Star, Music, Films) and their owners cannot sell them until a vote is passed).
TCG World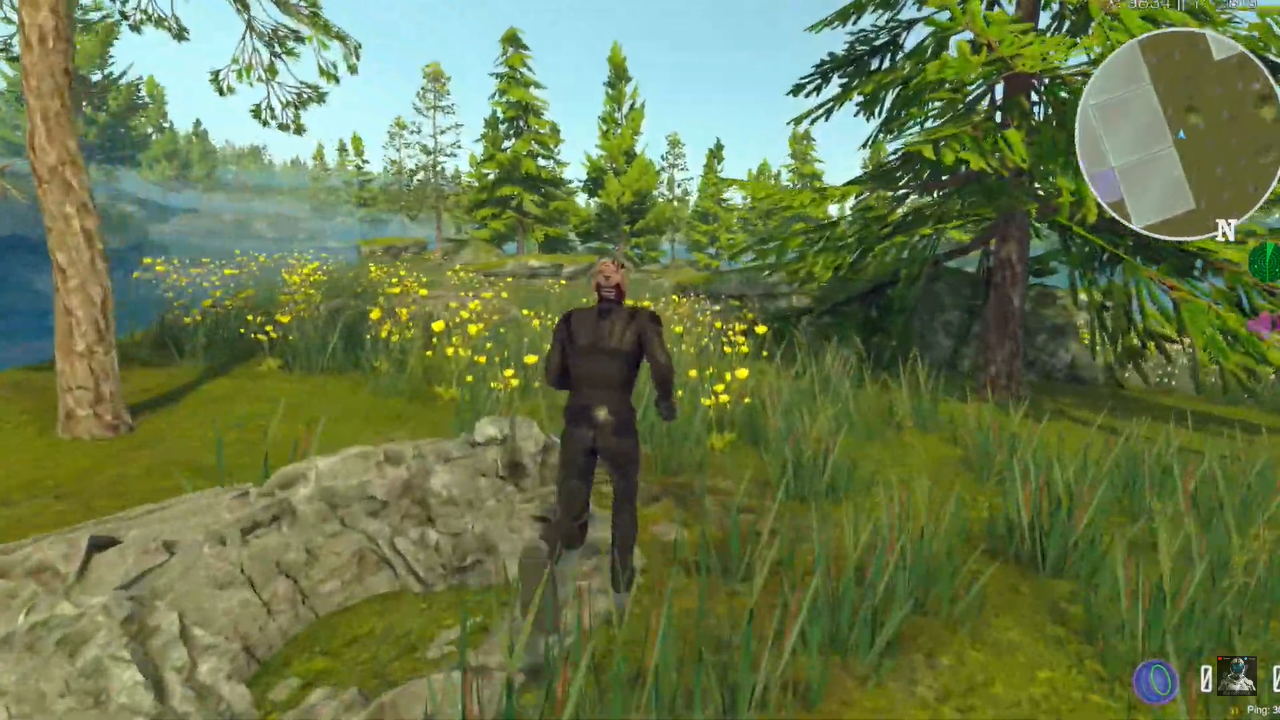 TCG World is a favorite of GTA fans in terms of its style: driving cars, stunning graphics, your own apartment with a construction mode where you can build your own mansion. It's a complete working version of the finished project that's already been done. The game includes Pokemon, Yu-Gi-Oh, Magic The Gathering, and other popular card collections**.**
💡 Do not confuse TCG World with "Pokemon Trading Card Game Online" (also known as TCG online).
The production company doesn't have a major portfolio, but their current product is quite good. We could not find anything about the studio's director - David Evans other than that he worked as a consultant for a private security firm.
The best of the best
It is difficult to choose from the above jewels , but our Oscar goes to… Big Time. We will observe it in more detail in our next article.
---
DEO Arena: 3rd Season Rewards
03/12/2022 From our Play and Earn Observer Kirill Shevchenko
The season is over and there were 3 winners, first place was 1000$, second was 300$. The rewards are usually given out 1 day after the season ends.
If you didn't check your place's statistical leaderboard status and don't know what rewards you got, ask DEO Arena Telegram support @DanijelCeresToken to check your stats.
As the season began, I played several matches and got 10.50 points and 14th place. I checked my place after the season ended, and it was 93/120 (I had to write support because I hadn't checked the rating before the season ended and I got this number).
I didn't try hard to get to the top; I just wanted to see how it worked, how transactions operated, and how support worked. All of this is now clear to me, and I understand all the risks. The support response is excellent, there is transparent competition, and a clear rewards distribution scheme. Even though things may change over time as it becomes more difficult to get to the top, right now everything looks positive.
According to DEO Arena's third season distribution, I spent 20 DEC ($3.06) and got back 2.37 XOR ($10). It's one win out of five that needed to be scored to make the list.
This makes sense - beginning projects tend to sponsor players more to get them started, so sometimes the winnings are not proportionate. The same thing happened with the crypto project, "Thetan Arena." If you want to check out this game, keep in mind the approximate distribution of winnings.
You can stay up to date with Season announcements and changes by following https://tokenceres.medium.com/ if you want to make money on the DEO Arena someday.
Observer's Hint: You can check your rewards after the season ends at https://sora.subscan.io/account/YOUR_XOR_ADDRESS?tab=transfer "YOUR_XOR_ADDRESS" is your XOR wallet address that starts with "cn".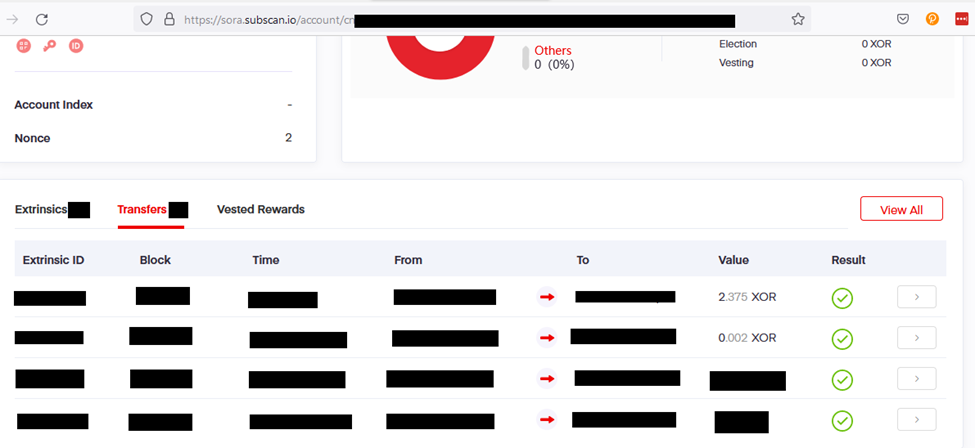 ---
DEO Arena: 3rd Season
22/11/2022 From our Play and Earn Observer Kirill Shevchenko
What's the season play all about?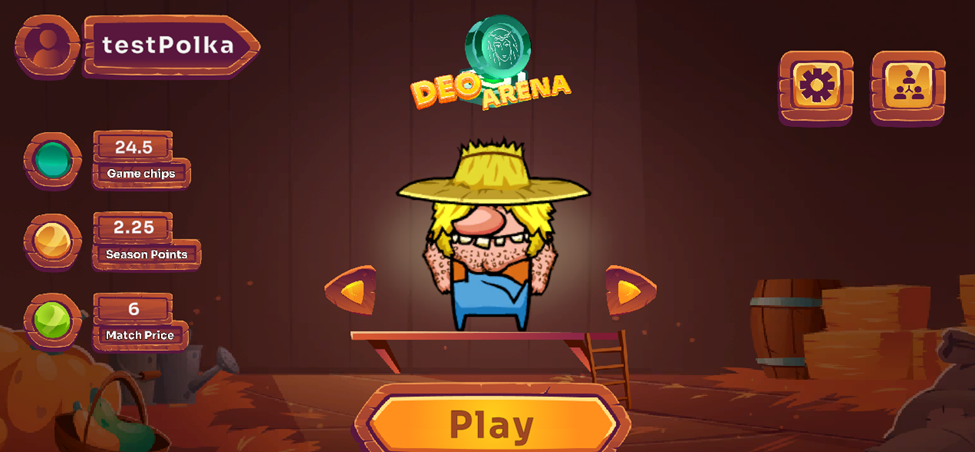 My account shows 20 chips from the between-season (I kept them to try the game competition). Match costs 6 chips.
It was fun playing the games. In the first one, the enemy was too slow. I was just about to deal damage to him and then keep his health high till the timer ended. As soon as the match got lag-filled and I had less HP than my opponent, he was missing (or may have just logged off) and I won. Every other match, I was too fast to take over the character of the other player, and I got hit because of it.
You just have to stay behind the barricades and wait for the enemy to appear. Additionally, I think for now the distance weapon is the most useful weapon in the game. The melee weapon is useless because it damages really weakly, so there's no point in taking a risk and staying close.
When you use a bomb, you can't move fast and you're really slow. You still need your enemy to be really sleepy to miss the bomb markup and run away before you can prepare it. The only option left is long-range weapons, of course.
We move our character in the same way the weapon shoots horizontally and vertically. During ranged combat, players move both horizontally and vertically along a trajectory on which their fire can meet, while also predicting where their enemies are about to run.
There will probably be four-player, clan, and large-group matches, where we'll probably see more tactics and fun use of weapons. Movement is limited, which fetters the player and is still the main limitation of the game.
There's a rating page: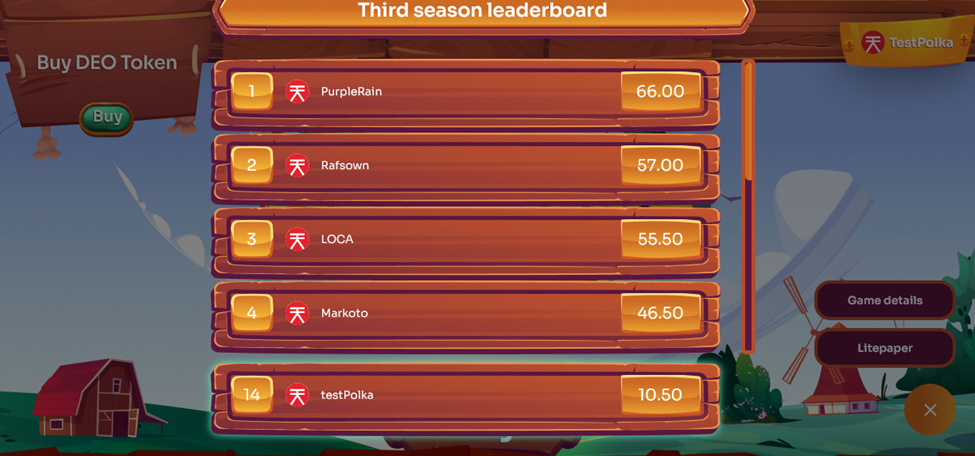 To get into the rating, you'll need to fight 5 times. Why do I say approximately? If you're stacked or something goes wrong, you'll lose/win automatically or the chips won't be spent, so there won't be a lose/win. There'll be fixes soon.
Observer's Hint: Sometimes it's better to provoke your opponent to use his distance weapon to get time for your own actions.
---
DEO Arena - p2e DEMETRA coliseum
13/10/2022 From our Play and Earn Observer Kirill Shevchenko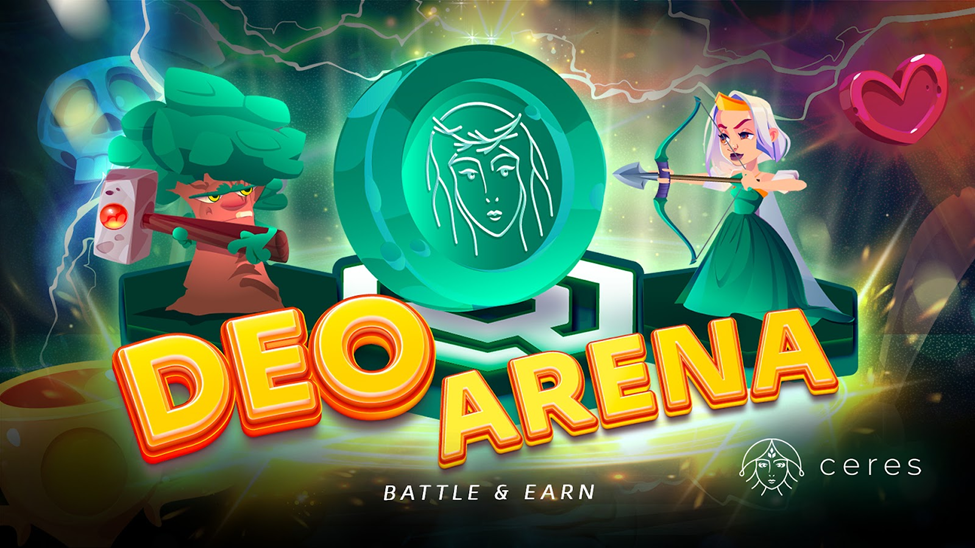 To play, you'll need a Polkadot wallet. The browser extension system makes it super easy, you will need to trade crypto for DEO and exchange it for Game Chips.
Quick instruction to setup your wallet:

---
Currently the game is available as a Player-vs-Player (PVP) game, so it is better to join during tournament seasons. One match costs 4 DEO. The winner gets 87.5% of DEO from the match prize pool (7 DEO) and 10% to 12.5% gets burned. Players will receive points in each match, based on which they will be ranked on the leaderboard within the DEO Arena League.
During a four-week season, players must play at least 100 games in order to join the league's leaderboard based on points earned during each match. The first season of XOR had a minimum prize pool of $20,000 where over 50% of participants could win prize money. Season 2 of DEO Arena had a prize pool of $5.000. There will be a third season, and you can follow the news at https://twitter.com/tokenceres
On the other hand, between seasons, DEO (Game chips) are not required and you can practice for free if you can find opponents in the chat.
The satirical characters and simple art made me think this game was raw and unfinished. Since learning it's part of the DEO token structure with a shared mining pool, I'm more confident in the project. Since it only launched on 6th attempt, please understand that this is still a raw project. It's powered by Unity3D, which is resource-intensive on weak machines. The engine constantly updates itself for security and optimization. You can choose a nickname for your character and add a referral.
Fight time!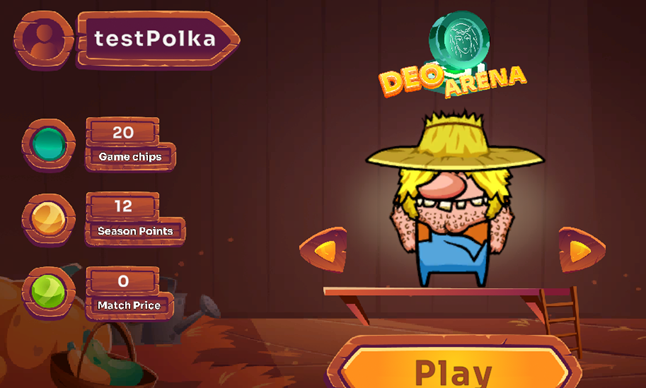 On the first screen, we see a character selection, an in-game currency list, a list of season points, and the price per match. Nice techno chill music, quite relaxing. This P2E game is so inspiring from the point of view of musical accompaniment after many beginner games. The soundtrack reminds me of indie games. Despite the short compositions, they give a feeling of coziness and comfort.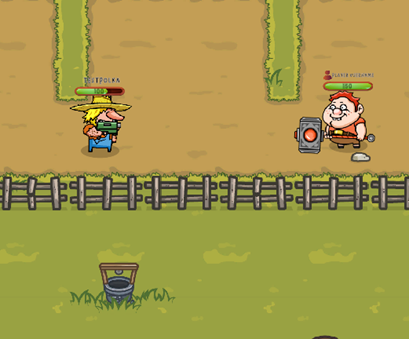 Right now, there's a 1v1 skirmish mode. Check out the skins and get playing. Here's a classic 2D drawing of the arena. You move with W, A, S, D like any other game. The left click of the mouse makes an attack, and the Q key changes the weapon. With a mechanic's bomb, it just blows the area a few seconds after it's set off. Good, I've always wanted something from the Bomber Man network classic! The controls aren't fully transferred to the keyboard, which results in a less immersive experience, but the mouse-controlled game is still quite engaging. With more people playing it'll be even more fun.
Connection expected to last 20 seconds, match lasting 2 minutes. That was too quick for me, but updates are on the way. The enemy compass compensates for the short duration of the match.
There were a few highlights to this project, the first being the sound, and the second being the atmosphere. Since the project is still new, there are a limited number of competitors - at least between seasons. Therefore, you might have to look for a competitor yourself.
In Titan arena, you could buy NFT heroes and then they would drop in price, but I like how the DEO Arena system is simpler and clearer without this feature. At the moment, I like how it lacks NFT heroes.
Observer's Hint: Stay in browser, do not switch to other applications for now
Switching to another program can cause game animations to stop for some reason, which can lead to unsuccessful game finding while playing. Everything should be fine if you stay with the game in the browser.
---
My 5 month run on StepN
01/10/2022 From our Observer Tank
I have downloaded the app on May 1, 2022
The first run only on June 12 because I had no activation code to join. (Eventually used an activation code shared by a random guy on twitter). BTW, you can find an unused activation code at the bottom of this article
Bought runner shoes for roughly $100. This is what I normally pay for my real running shoes.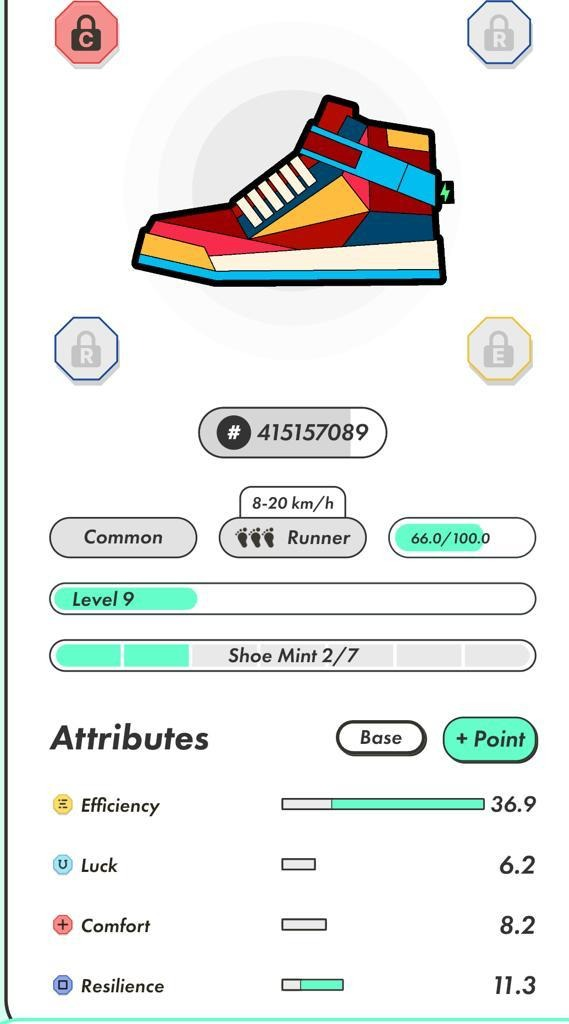 Game strategy: I run everyday anyway, why don't get something extra for that.
The first negative observations:
need to carry phone with me. I normally record runs with my Garmin watch
i normally run 20minutes per day. StepN pays only for the first 10min - that is how long it give the full "energy" slot. i was free to run at any time, now align with the "energy", that resets only after 24 hours.
need to "repair" digital shoes. On average one day earn is spent to repair one week wear
a few times the app started to count down the energy without showing running distance/speed. The lost coins are nothing, but frustrating to check during the run and restarting the app
opening the loot boxes is with my shoe luck level, you spend 5 and get 2.5. Maybe that will make sense at later stages
IOS removed the marketplace, i wanted to buy another pair of sneakers. Now can check prices only online
Overall training stats have not changed much. I used to have weekly averages in between 20-24km, but also had at least 1-2 long runs during the month. Need to admit, the last three months were quite busy too.
It took me exactly 3 months to earn a new pair of shoes. I bought my second pair of sneakers from the GST earned from running. It cost 1.1 SOL. Bought Mint 1 Level 5 running shoes. Continue to run and observe.
Observer's Hint: Pause run until counting starts
Happened to me several times: quite frustrating when you run, the energy goes to zero but the speedometer is flat and no earnings. At some point I realized that putting on pause and restarting when it starts counting kms is a solution. But one day it didn't start till the end of my run. Ruined all fun from the run - I was checking it every single minute. So my hint is: just run, 10-20 lost GST does not matter.
Activation code: 45691332
Good luck, stepners!
---
Mirandus, how do I earn Materia game Test Coins and what is the profit?
30/09/2022 From our Play and Earn Observer Kirill Shevchenko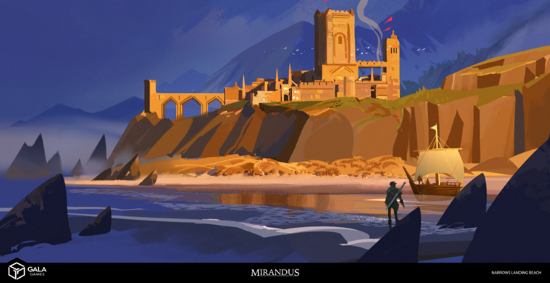 You should know a few things before you meet Mirandus in the gala games. First, you'll need an Exemplar. The minimum cost today is 13,368 Gala (see Gala's price here: https://www.tradingview.com/symbols/GALAUSDT/ ).

Right now, it's only in test mode (no release date has been announced). But why should you spend money to get in? We're gonna start accumulating tokens "Materium" that aren't tokens yet (it's kind of like a test token right now). In this way, you'll get early test tokens that will be converted to normal ones when the game starts.
Observer's Hint: What is Exemplar?
Without Exemplar, the player is unable to enter the world, which http://mirandus.game/items/ is a crucial piece of equipment. Simply put, it's your character in this MMO crypto game that you buy to play.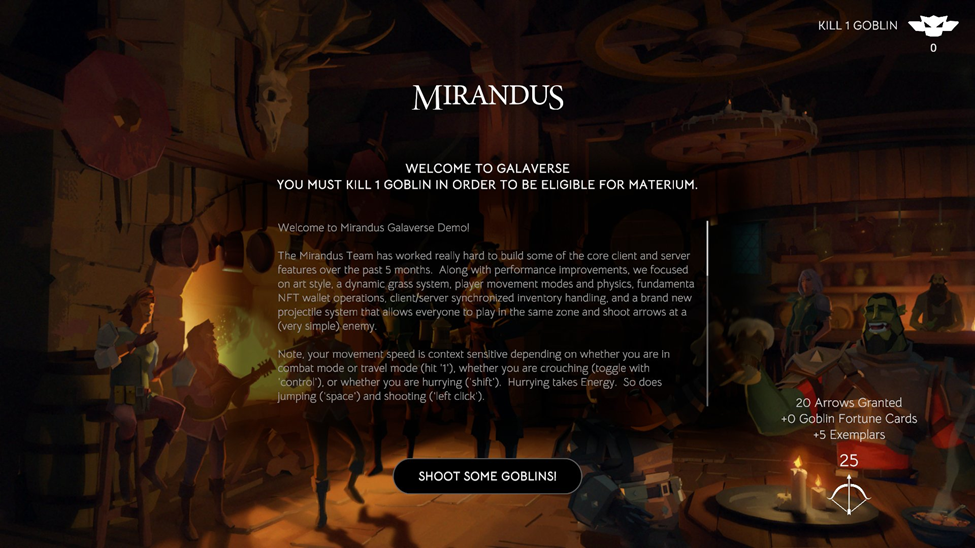 The earlier you get the Exemplar, the sooner you'll get tokens. You can get tokens by following the news in the discord and doing simple tasks. At the moment, tokens come out every few months. The more Exemplars you buy, the more Materium you can collect, and the rarer the Exemplars, the more Materium they provide. Tokens will be used in future game mechanics to strengthen players, magic, crafting, and movement. The demand will grow, so it's worth stocking up now.

●      Human Exemplars (Rare) - 100 Materium per Exemplar
●      Orc/Dwarf Exemplar (Epic) - 400 Materium per Exemplar
●      Halfling Exemplar (Legendary) - 1000 Materium per Exemplar
●      Elf Exemplar (Ancient) - 4000 Materium per Exemplar (per Exemplar from most recent play test)
When you first start a game, what scares you? Because it's a test version, it's not optimized. You can fix this by changing the screen resolution to the minimum and then launching the game with the minimum settings.
Some of the Mirandus team members have worked on games like:
- World of Warcraft
- Fallout New Vegas
- Dungeons & Dragons Online
- The Lord of the Rings Online
- God of War 2
- The Outer Worlds
- The Last of Us: Part 2
- Uncharted 4
There's real weight to the fact that this project will give a solid return on investment.
---
Splinterlands GLS league game updates, Runi cards coming
20/09/2022 From our Play and Earn Observer Kirill Shevchenko
In September 2022, Splinterlands announced a Tower Defence game that would be directly connected to Splinterlands. Beta version is expected by the end of 2022. A co-op PvE and PvP mode is also in the works.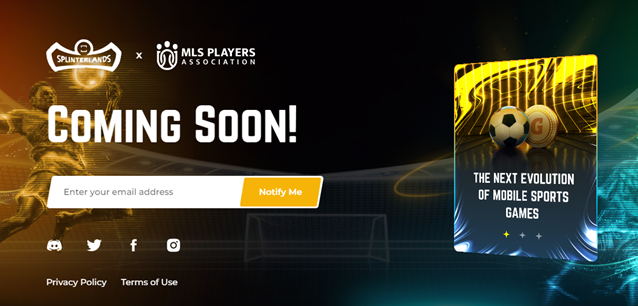 The Splinterlands soccer is also coming: the team made a whitepaper about Genesis League Soccer: https://whitepaper.genesisleaguesports.com/. You can buy Genesis League Packs on October 18 during the presale. The GLX tokens will be dropped to everyone who holds an SPS stake in Splinterlands.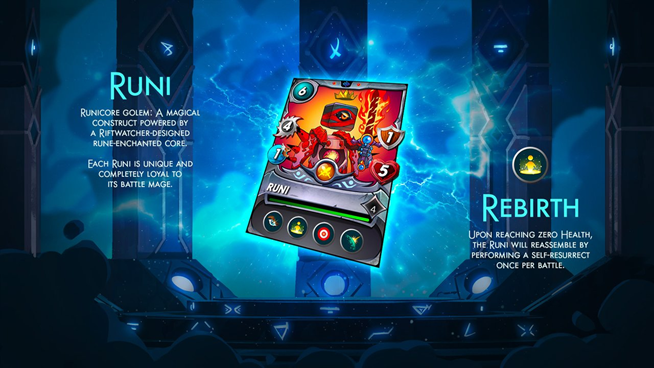 Runi cards
NFT Runi Cards are unique since no one else has the same art. The Runi is a Neutral Legendary 6-mana Monster. Each of them will cost $500 in ETH. The card will be available for pre-sale with a 50% discount on September 22 with vouchers and ETH + gas fees. A Runi can be staked or unstaked at any time. Official sale will be on October 25th.
Observer's hint: Don't get banned from Splinterlands.
From September 14, more than 24 countries may be banned from playing Splinterlands due to its server being located on Amazon CloudFront. It all started with the introduction of the eighth package of sanctions, which affected an additional +24
The error message is:
"The Amazon CloudFront distribution is configured to block access from your country. We can't connect to the server for this app or website at this time. There might be too much traffic or a configuration error. Try again later, or contact the app or website owner. If you provide content to customers through CloudFront, you can find steps to troubleshoot and help prevent this error by reviewing the CloudFront documentation"
Use a VPN or any other method that is legal in your country as a solution.
If you want bots playing the game, one of the best choices is https://www.archmage.app/ or renting a US-based server or a server in a country that is not banned for your own bot (Splinterlands is officially bot-friendly).