---
DEO Arena: 3rd season
22/11/2022 From our Play and Earn Observer Kirill Shevchenko
What's the season play all about?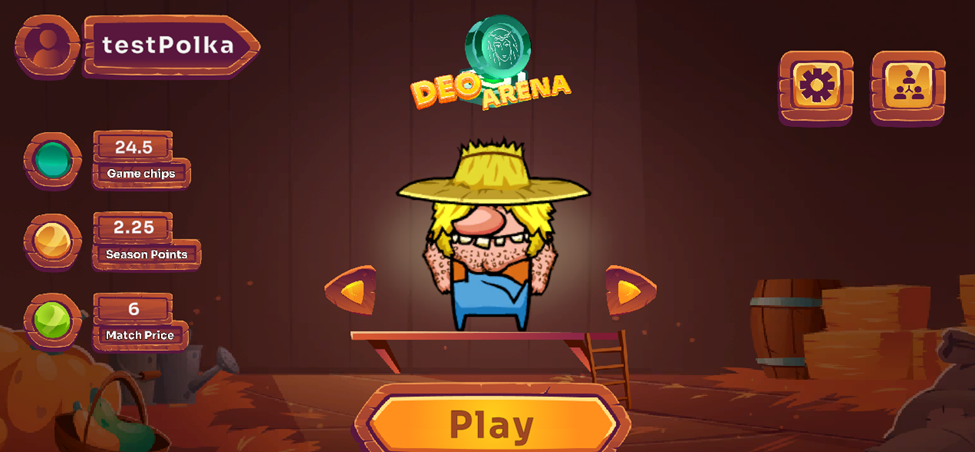 My account shows 20 chips from the between-season (I kept them to try the game competition). Match costs 6 chips.
It was fun playing the games. In the first one, the enemy was too slow. I was just about to deal damage to him and then keep his health high till the timer ended. As soon as the match got lag-filled and I had less HP than my opponent, he was missing (or may have just logged off) and I won. Every other match, I was too fast to take over the character of the other player, and I got hit because of it.
You just have to stay behind the barricades and wait for the enemy to appear. Additionally, I think for now the distance weapon is the most useful weapon in the game. The melee weapon is useless because it damages really weakly, so there's no point in taking a risk and staying close.
When you use a bomb, you can't move fast and you're really slow. You still need your enemy to be really sleepy to miss the bomb markup and run away before you can prepare it. The only option left is long-range weapons, of course.
We move our character in the same way the weapon shoots horizontally and vertically. During ranged combat, players move both horizontally and vertically along a trajectory on which their fire can meet, while also predicting where their enemies are about to run.
There will probably be four-player, clan, and large-group matches, where we'll probably see more tactics and fun use of weapons. Movement is limited, which fetters the player and is still the main limitation of the game.
There's a rating page: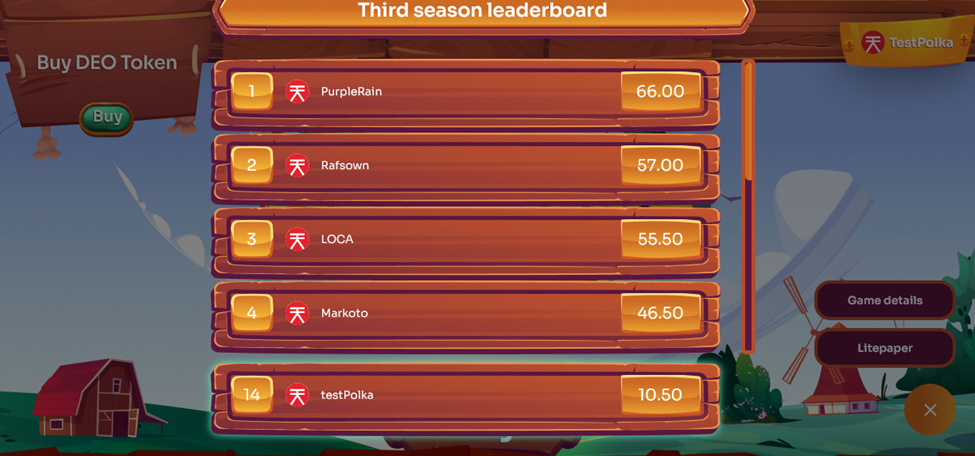 To get into the rating, you'll need to fight 5 times. Why do I say approximately? If you're stacked or something goes wrong, you'll lose/win automatically or the chips won't be spent, so there won't be a lose/win. There'll be fixes soon.
Observer's Hint: Sometimes it's better to provoke your opponent to use his distance weapon to get time for your own actions.
---
DEO Arena - p2e DEMETRA coliseum
13/10/2022 From our Play and Earn Observer Kirill Shevchenko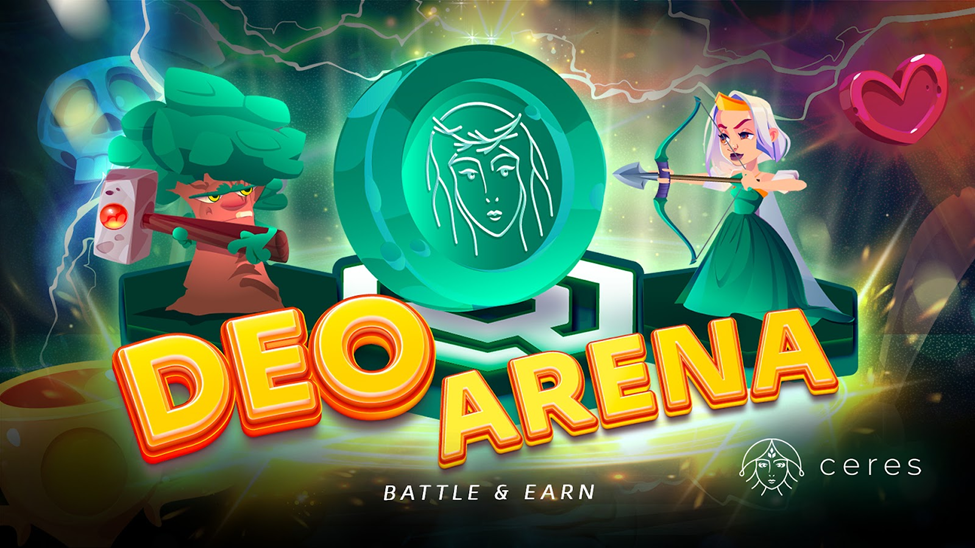 To play, you'll need a Polkadot wallet. The browser extension system makes it super easy, you will need to trade crypto for DEO and exchange it for Game Chips.
Quick instruction to setup your wallet:

---
Currently the game is available as a Player-vs-Player (PVP) game, so it is better to join during tournament seasons. One match costs 4 DEO. The winner gets 87.5% of DEO from the match prize pool (7 DEO) and 10% to 12.5% gets burned. Players will receive points in each match, based on which they will be ranked on the leaderboard within the DEO Arena League.
During a four-week season, players must play at least 100 games in order to join the league's leaderboard based on points earned during each match. The first season of XOR had a minimum prize pool of $20,000 where over 50% of participants could win prize money. Season 2 of DEO Arena had a prize pool of $5.000. There will be a third season, and you can follow the news at https://twitter.com/tokenceres
On the other hand, between seasons, DEO (Game chips) are not required and you can practice for free if you can find opponents in the chat.
The satirical characters and simple art made me think this game was raw and unfinished. Since learning it's part of the DEO token structure with a shared mining pool, I'm more confident in the project. Since it only launched on 6th attempt, please understand that this is still a raw project. It's powered by Unity3D, which is resource-intensive on weak machines. The engine constantly updates itself for security and optimization. You can choose a nickname for your character and add a referral.
Fight time!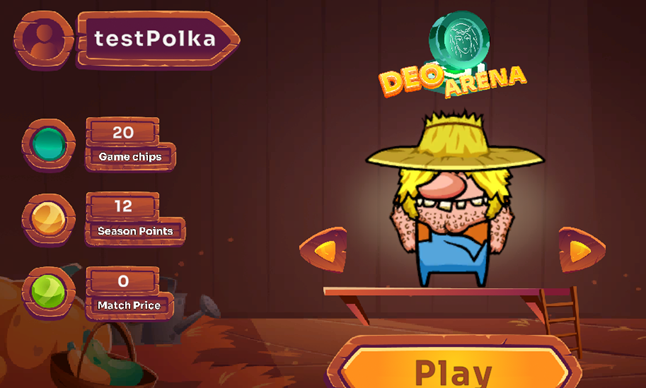 On the first screen, we see a character selection, an in-game currency list, a list of season points, and the price per match. Nice techno chill music, quite relaxing. This P2E game is so inspiring from the point of view of musical accompaniment after many beginner games. The soundtrack reminds me of indie games. Despite the short compositions, they give a feeling of coziness and comfort.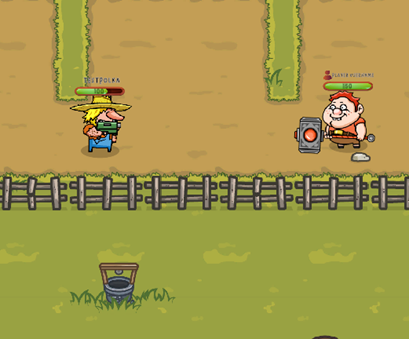 Right now, there's a 1v1 skirmish mode. Check out the skins and get playing. Here's a classic 2D drawing of the arena. You move with W, A, S, D like any other game. The left click of the mouse makes an attack, and the Q key changes the weapon. With a mechanic's bomb, it just blows the area a few seconds after it's set off. Good, I've always wanted something from the Bomber Man network classic! The controls aren't fully transferred to the keyboard, which results in a less immersive experience, but the mouse-controlled game is still quite engaging. With more people playing it'll be even more fun.
Connection expected to last 20 seconds, match lasting 2 minutes. That was too quick for me, but updates are on the way. The enemy compass compensates for the short duration of the match.
There were a few highlights to this project, the first being the sound, and the second being the atmosphere. Since the project is still new, there are a limited number of competitors - at least between seasons. Therefore, you might have to look for a competitor yourself.
In Titan arena, you could buy NFT heroes and then they would drop in price, but I like how the DEO Arena system is simpler and clearer without this feature. At the moment, I like how it lacks NFT heroes.
Observer's Hint: Stay in browser, do not switch to other applications for now
Switching to another program can cause game animations to stop for some reason, which can lead to unsuccessful game finding while playing. Everything should be fine if you stay with the game in the browser.
---
My 5 month run on StepN
01/10/2022 From our Observer Tank
I have downloaded the app on May 1, 2022
The first run only on June 12 because I had no activation code to join. (Eventually used an activation code shared by a random guy on twitter). BTW, you can find an unused activation code at the bottom of this article
Bought runner shoes for roughly $100. This is what I normally pay for my real running shoes.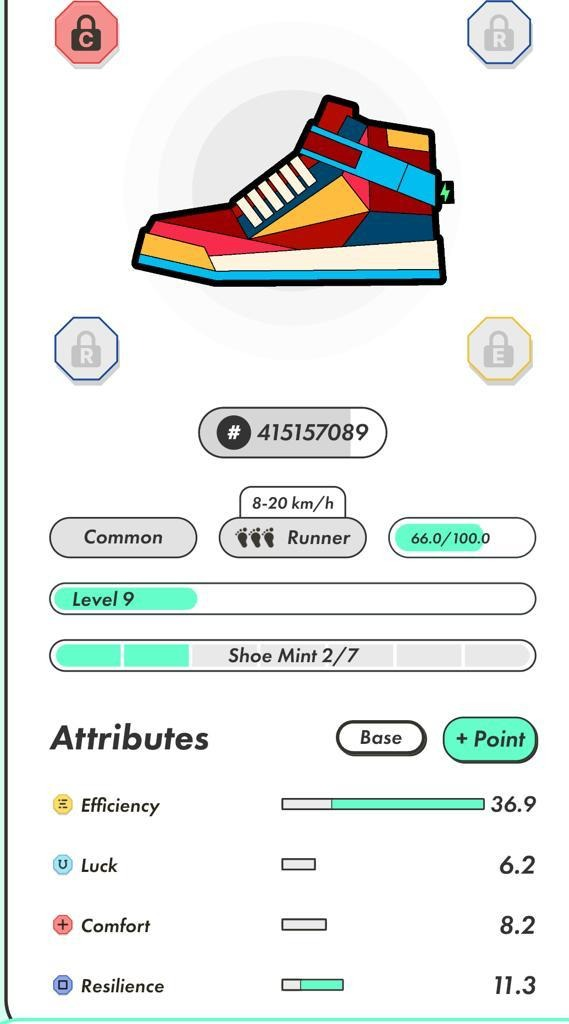 Game strategy: I run everyday anyway, why don't get something extra for that.
The first negative observations:
need to carry phone with me. I normally record runs with my Garmin watch
i normally run 20minutes per day. StepN pays only for the first 10min - that is how long it give the full "energy" slot. i was free to run at any time, now align with the "energy", that resets only after 24 hours.
need to "repair" digital shoes. On average one day earn is spent to repair one week wear
a few times the app started to count down the energy without showing running distance/speed. The lost coins are nothing, but frustrating to check during the run and restarting the app
opening the loot boxes is with my shoe luck level, you spend 5 and get 2.5. Maybe that will make sense at later stages
IOS removed the marketplace, i wanted to buy another pair of sneakers. Now can check prices only online
Overall training stats have not changed much. I used to have weekly averages in between 20-24km, but also had at least 1-2 long runs during the month. Need to admit, the last three months were quite busy too.
It took me exactly 3 months to earn a new pair of shoes. I bought my second pair of sneakers from the GST earned from running. It cost 1.1 SOL. Bought Mint 1 Level 5 running shoes. Continue to run and observe.
Observer's Hint: Pause run until counting starts
Happened to me several times: quite frustrating when you run, the energy goes to zero but the speedometer is flat and no earnings. At some point I realized that putting on pause and restarting when it starts counting kms is a solution. But one day it didn't start till the end of my run. Ruined all fun from the run - I was checking it every single minute. So my hint is: just run, 10-20 lost GST does not matter.
Activation code: 45691332
Good luck, stepners!
---
Mirandus, how do I earn Materia game Test Coins and what is the profit?
30/09/2022 From our Play and Earn Observer Kirill Shevchenko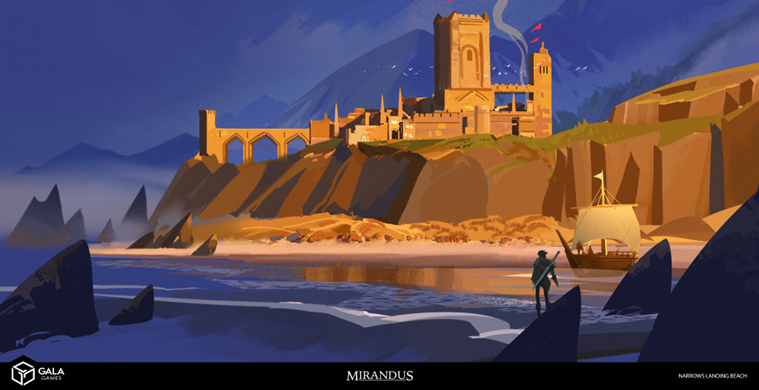 You should know a few things before you meet Mirandus in the gala games. First, you'll need an Exemplar. The minimum cost today is 13,368 Gala (see Gala's price here: https://www.tradingview.com/symbols/GALAUSDT/ ).

Right now, it's only in test mode (no release date has been announced). But why should you spend money to get in? We're gonna start accumulating tokens "Materium" that aren't tokens yet (it's kind of like a test token right now). In this way, you'll get early test tokens that will be converted to normal ones when the game starts.
Observer's Hint: What is Exemplar?
Without Exemplar, the player is unable to enter the world, which http://mirandus.game/items/ is a crucial piece of equipment. Simply put, it's your character in this MMO crypto game that you buy to play.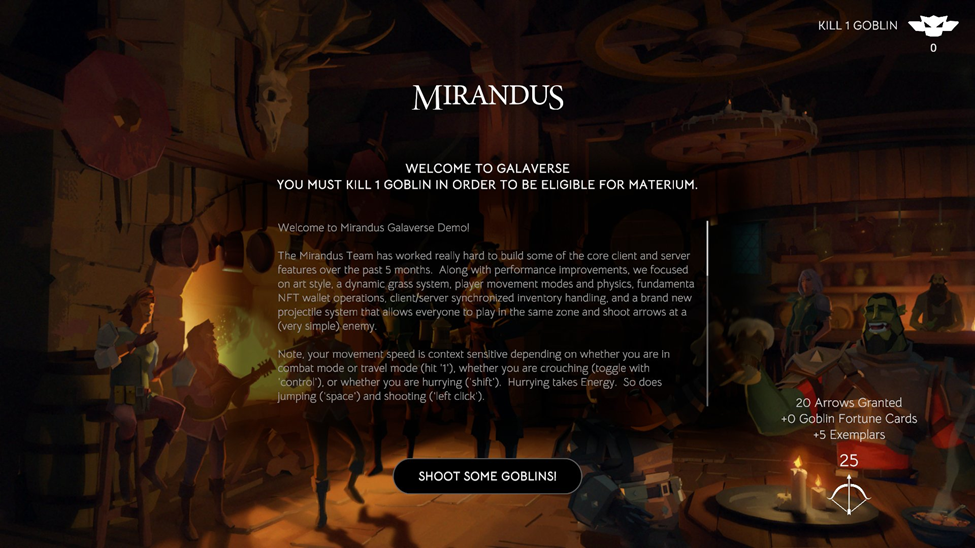 The earlier you get the Exemplar, the sooner you'll get tokens. You can get tokens by following the news in the discord and doing simple tasks. At the moment, tokens come out every few months. The more Exemplars you buy, the more Materium you can collect, and the rarer the Exemplars, the more Materium they provide. Tokens will be used in future game mechanics to strengthen players, magic, crafting, and movement. The demand will grow, so it's worth stocking up now.

●      Human Exemplars (Rare) - 100 Materium per Exemplar
●      Orc/Dwarf Exemplar (Epic) - 400 Materium per Exemplar
●      Halfling Exemplar (Legendary) - 1000 Materium per Exemplar
●      Elf Exemplar (Ancient) - 4000 Materium per Exemplar (per Exemplar from most recent play test)
When you first start a game, what scares you? Because it's a test version, it's not optimized. You can fix this by changing the screen resolution to the minimum and then launching the game with the minimum settings.
Some of the Mirandus team members have worked on games like:
- World of Warcraft
- Fallout New Vegas
- Dungeons & Dragons Online
- The Lord of the Rings Online
- God of War 2
- The Outer Worlds
- The Last of Us: Part 2
- Uncharted 4
There's real weight to the fact that this project will give a solid return on investment.
---
Splinterlands GLS league game updates, Runi cards coming
20/09/2022 From our Play and Earn Observer Kirill Shevchenko
In September 2022, Splinterlands announced a Tower Defence game that would be directly connected to Splinterlands. Beta version is expected by the end of 2022. A co-op PvE and PvP mode is also in the works.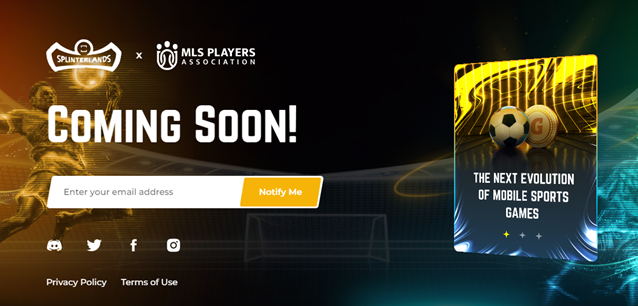 The Splinterlands soccer is also coming: the team made a whitepaper about Genesis League Soccer: https://whitepaper.genesisleaguesports.com/. You can buy Genesis League Packs on October 18 during the presale. The GLX tokens will be dropped to everyone who holds an SPS stake in Splinterlands.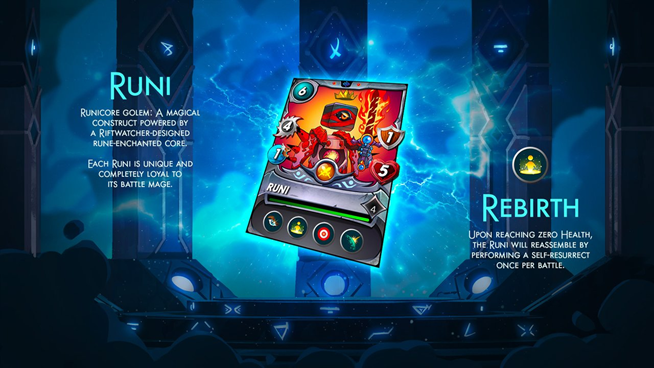 Runi cards
NFT Runi Cards are unique since no one else has the same art. The Runi is a Neutral Legendary 6-mana Monster. Each of them will cost $500 in ETH. The card will be available for pre-sale with a 50% discount on September 22 with vouchers and ETH + gas fees. A Runi can be staked or unstaked at any time. Official sale will be on October 25th.
Observer's hint: Don't get banned from Splinterlands.
From September 14, more than 24 countries may be banned from playing Splinterlands due to its server being located on Amazon CloudFront. It all started with the introduction of the eighth package of sanctions, which affected an additional +24
The error message is:
"The Amazon CloudFront distribution is configured to block access from your country. We can't connect to the server for this app or website at this time. There might be too much traffic or a configuration error. Try again later, or contact the app or website owner. If you provide content to customers through CloudFront, you can find steps to troubleshoot and help prevent this error by reviewing the CloudFront documentation"
Use a VPN or any other method that is legal in your country as a solution.
If you want bots playing the game, one of the best choices is https://www.archmage.app/ or renting a US-based server or a server in a country that is not banned for your own bot (Splinterlands is officially bot-friendly).